Two world leaders who are the subject of ongoing investigations met in the White House on Monday to reaffirm their commitment to each other: President Donald Trump and Israeli Prime Minister Benjamin Netanyahu.
"It's a great honor to have Prime Minister Netanyahu and Mrs. Netanyahu with us. They've been friends for a long time. We have, I would say, probably the best relationships right now with Israel that we ever had. I think we're as close now as, maybe, ever before," Trump announced while welcoming the Israeli leader and his wife to the oval office.
"We are very close on trade deals. We are very, very close on military and terrorism and all of the things that we have to work together on," Trump added.
The U.S. relationship with Israel is at a high point. Since December, Trump has recognized Jerusalem as Israel's capital without extracting any concessions from the Israelis in regard to its treatment of Palestinians in the West Bank and Gaza, and he promised to move the U.S. embassy to Jerusalem from Tel Aviv as soon as possible.
On Monday, Trump even suggested that he may personally attend the ribbon cutting ceremony for the new embassy. Past administrations had refrained from making these moves to avoid offending the Palestinians and making a Middle East peace deal impossible. The eastern half of Jerusalem has long been envisioned as the future capital of a Palestinian state if a two-state solution is reached between Israel and the Palestinians.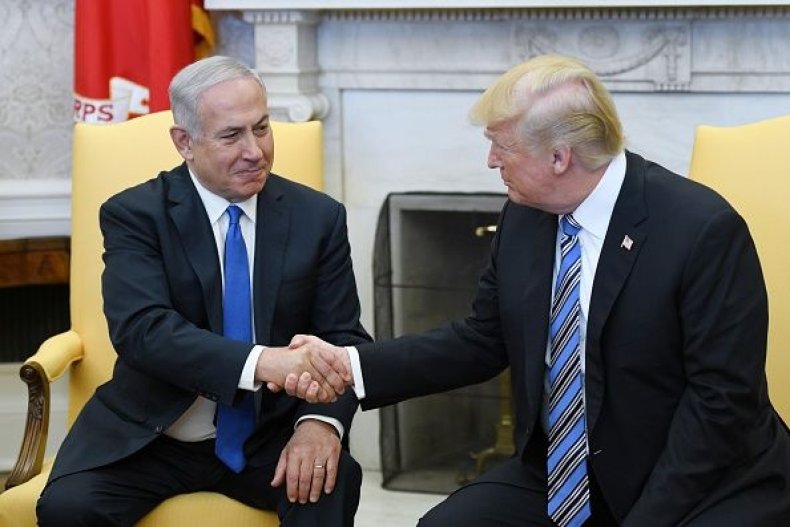 Both Trump and Netanyahu said Monday they hope to oversee a peace deal between the Israelis and the Palestinians, but a promised proposal for a peace plan has yet to emerge from either administration, experts say.
"Yet again, President Trump and Prime Minister Netanyahu talked vaguely about their desire for peace -- and failed to put forward any viable vision for how to get there. Their refusal to endorse the two-state solution is endangering Israel's future and standing in the way of real diplomatic progress," Jeremy Ben-Ami, president of the non-profit J Street, said in a statement.
"Instead of pursuing a two-state solution, these leaders would rather celebrate the US 'taking Jerusalem off the table' - a destructive, unnecessary action that undercuts the credibility of American leadership and the prospects for peace," he added.
The leader of the Palestinian Authority has repeatedly said that Trump's decision to recognize Jerusalem as the capital of Israel has disqualified the U.S. from helping facilitate peace negotiations.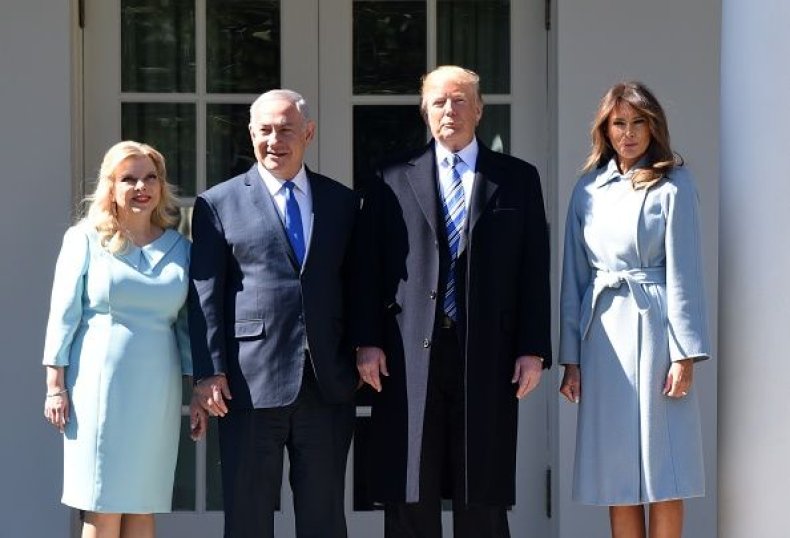 Nevertheless, Trump has been praised by some Jews and evangelicals, who believe that God has chosen Trump to restore Jewish control over sacred sites in Jerusalem. Activists lobbying for the construction of a Jewish Temple in Jerusalem say Trump is playing a role similar to the Persian emperor Cyrus the Great, who allowed the Jews to return to Israel from exile. On Monday, Netanyahu echoed this sentiment.
"I want to tell you that the Jewish people have a long memory. So we remember the proclamation of the great King Cyrus the Great—Persian King. Twenty-five hundred years ago, he proclaimed that the Jewish exiles in Babylon can come back and rebuild our temple in Jerusalem," Netanyahu said to Trump.
"And we remember how a few weeks ago, President Donald J. Trump recognized Jerusalem as Israel's capital. Mr. President, this will be remembered by our people throughout the ages," he added.
Also uniting the men is the fact that they are both the subjects of ongoing investigations at home. Police in Israel has recommended that Netanyahu be indicted in two cases involving bribery and corruption. Israel's attorney general will soon decide whether to indict the prime minister.
Trump's campaign, meanwhile, is being investigated for having potentially collaborated with Russians to influence the outcome of the 2016 presidential election. The special counsel investigation is reportedly looking into Trump, his family and his inner circle.
Showing a united front will bring both men political benefits at home, experts say.
"Trump and Netanyahu, two leaders who have long shared much in common, can now add to this list that both of them are surrounded by legal investigations and scandals that might bring their political careers to an abrupt end. Both are looking to the other for some sort of support which they can use to shore up domestic backing as they navigate the legal jeopardy they are embroiled in," Yousef Munayyer, executive director of the U.S. Campaign for Palestinian Rights, told Newsweek.
"Netanyahu wants to show Israelis that no Israeli can handle the US-Israel relationship better than himself. Trump wants to show his base that he continues to enjoy Netanyahu's approval which is important because the Israeli Prime Minister is revered in the American political right," he added.