Obama's Letter to Trump: Has the President Taken His Predecessor's Inauguration Advice?
In keeping with U.S. presidential tradition, former President Barack Obama left a handwritten note for his successor, Donald Trump, to collect in the Oval Office following his inauguration on January 20.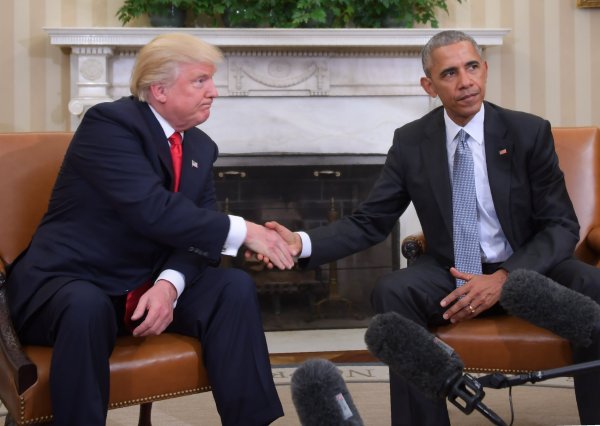 Though neither president has directly revealed the contents of that letter CNN has obtained a copy, reportedly from one of the visitors to the White House to whom Trump showed it. The contents, less than 300 words in total, show that Obama gave Trump four specific reflections for consideration as he began his time in the White House.
During his first seven months in office, President Trump has been harshly critical of some aspects of his predecessor's legacy and even mocked Obama personally. But Trump has also spoken with fondness of Obama's letter to him, telling ABC News a week after his inauguration that the note was "a beautiful letter…so well-written, so thoughtful, so thoughtful…I doubt too many of them were written in this manner."
So, has Trump taken his predecessor's advice?
First Point: Building Ladders to Success
After an introduction about both men's fortunate positions, Obama's first reflection focuses on opening pathways to success for "every child and family that's willing to work hard." "We've both been blessed, in different ways, with great good fortune. Not everyone is so lucky," Obama wrote to Trump, a billionaire businessman.
Trump marketed himself as the jobs president during his campaign and the president has had success in this field. In his first full six months in office from February to July, the Trump administration oversaw the creation of 1.1 million jobs, roughly equal to the number created during Obama's last half-year in office, according to CNN Money. But that hasn't continued, with the number of jobs added in August just 156,000, making it the slowest August in six years.
The businessman-turned-politician also unveiled a $4.1 trillion budget proposal in May that prioritized a 10 percent hike in military spending and increased border security funding, while taking deep cuts out of welfare programs including health care for poorer citizens, food stamps and disability payments. He has also attempted to repeal and replace Obamacare, so far without success. Trump's first budget also proposed cutting corporate tax rates and reducing taxes on the highest earners from 39.6 percent to 35 percent, prompting accusations that the plan would increase inequality.
Second Point: Leading the World
Obama's second point to Trump concerns U.S. leadership on the global stage, which he calls "indispensable."
"It's up to us, through action and example, to sustain the international order that's expanded steadily since the end of the Cold War, and upon which our own wealth and safety depend," wrote Obama.
On this point, Trump's efforts have been mixed. A cornerstone of the Republican's presidential campaign was putting America first, and Trump vowed that the United States would not serve as the world's policeman. But since taking office, Trump has changed his isolationist stance on a number of international issues, including by launching an airstrike targeting the Syrian regime of Bashar al-Assad and increasing U.S. military commitment in Afghanistan.
Read more: Donald Trump turns on China and South Korea after North Korea nuke test
The biggest international issue of Trump's presidency has been North Korea's continued nuclear proliferation. On this matter, the U.S. president has not shirked his responsibilities, though has insisted on a vocal and bombastic stance, ending Obama's policy of "strategic patience." He threatened Kim Jong Un's regime with "fire and fury" should they continue in their efforts to develop an intercontinental ballistic missile (ICBM), capable of delivering a miniaturized nuclear warhead to the U.S. mainland, and has tweeted to suggest "talking is not the answer." But Trump has also called upon others, most notably Pyongyang's main ally China, to do more to de-escalate the situation.
North Korea's purported test of a hydrogen bomb on Sunday—its biggest nuclear test to date—poses a further challenge in international leadership for Trump. So far, the U.S. president has condemned Pyongyang's actions, but also criticized China and South Korea for misguided policies toward North Korea.
Third Point: Upholding the Integrity of the Office
The third reflection offered by Obama concerned the nature of the presidency. Describing himself and Trump as "just temporary occupants of this office," Obama charged Trump with maintaining the traditions—specifically rule of law, separation of powers, equal protection and civil liberties—that "our forebears fought and bled for." The former president said that Trump must "leave those instruments of our democracy" at least as strong as he found them.
After Trump's first seven months, this is perhaps the most contentious point in Obama's letter. President Trump has been dogged by judicial investigations into alleged collusion between his presidential campaign and the Russian government.
Trump's response to the Russia probes has been characterized by some critics as a flouting of the rule of law and separation of powers. The president has fired the former head of the FBI, James Comey; heaped pressure on Robert Mueller, the special counsel leading the Department of Justice probe into the matter; and reportedly even contemplated pardoning himself and his close allies.
In the field of civil liberties, Trump has also come in for heavy criticism. The president's decision to bar transgender people from the U.S. military was widely condemned, and has seemingly been delayed by his defense secretary, Jim Mattis. Trump's reaction to racially motivated fighting at a white nationalist rally in Charlottesville also provoked condemnation, after the president blamed both sides for the violence and initially refused to directly condemn white supremacist groups.
Fourth Point: Taking Time for Family and Friends
Obama's last piece of wisdom was of a more personal kind. "Take time, in the rush of events and responsibilities, for friends and family," wrote Obama. "They'll get you through the inevitable rough patches."
Trump spent his first four months in office without his wife Melania Trump in the White House; the first lady remained in New York so that the couple's 11-year-old son, Barron, could complete his school year in Manhattan. White House aides were reportedly glad when the first lady arrived in Washington, as they hoped she would be a calming influence on the president.
Though he put his older sons in charge of his businesses, he has kept his daughter Ivanka close, making her and her husband, Jared Kushner, senior advisers. They have frequently traveled with him, including to the Middle East and Europe on his first foreign visit as president.
Despite criticizing his predecessor for golfing and vacations, President Trump has also shown a willingness to take a break while in office. Trump booked 17 days away at his golf course in New Jersey in August, but rejected characterizations of the trip as a vacation, claiming he had taken refuge at his golf resort while construction work took place at the White House.
​