With Trump and Putin Distracted, Xi Moves In On Ukraine
This article first appeared on The Daily Signal.
Kiev, Ukraine—In the days and weeks after Kiev celebrated achieving its foreign policy holy grail—the promise of lethal U.S. anti-tank weaponry—China announced a laundry list of new infrastructure projects across Ukraine, pulling back the curtains on what some say is a looming competition for influence in the embattled, post-Soviet state.
"There is indeed an obvious and irresolvable contradiction in the short- and long-term interests being pursued by American and Chinese investment in Ukraine," Vladislav Davidzon, editor-in-chief of the English-language Odessa Review news magazine, told The Daily Signal.
Amid the backdrop of Russia's ongoing proxy war in the eastern Donbas region, Chinese infrastructure investments in Ukraine collectively dwarf the total value of the long-awaited U.S. weapons deal.
Those Chinese projects include a $500 million loan from China's CCEC trading firm—announced Dec. 22, the same day as the U.S. Javelin deal—to finance affordable housing for, among others, Ukrainian war veterans and people displaced by the conflict in the Donbas.
Ukraine's future is no longer—if it ever was—a binary struggle between a pro-Western and a pro-Russian future.
Now, China is decidedly in the mix, making steady inroads in Ukraine through wide-ranging financial investments and infrastructure projects intended to prepare the country for its role in China's One Belt, One Road land trade route across Asia to Europe—a mantelpiece of Chinese foreign policy also known as the New Silk Road.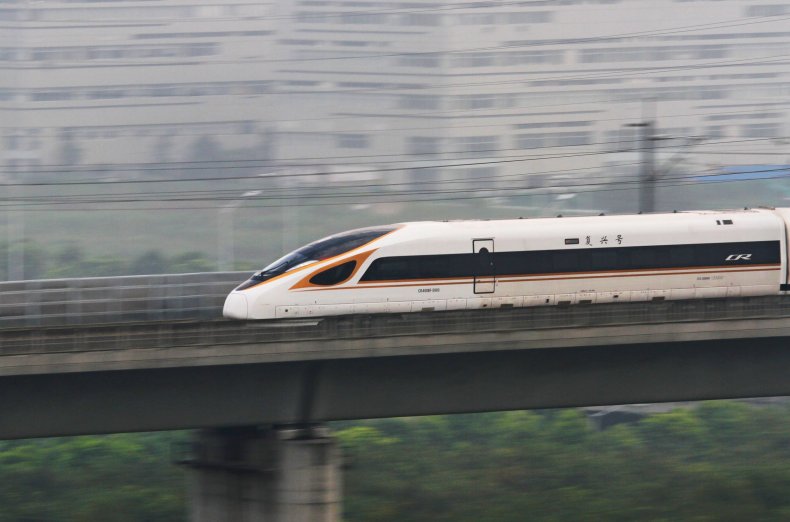 As China's economic clout in Ukraine grows, it could mean a loss of U.S. influence, some experts say, possibly even playing to Moscow's advantage.
"If Chinese investment and Russian aggression in Eastern Europe are not matched by corresponding U.S. economic and military measures in coming years, the U.S. and its partners risk ceding influence in the region to hostile revanchist powers," Franklin Holcomb, a Russia and Ukraine analyst at the Institute for the Study of War, told The Daily Signal in an earlier interview.
Upping the Ante?
Since the outset of Russia's hybrid war in 2014, Ukrainian officials had been soliciting America for lethal weaponry—the Javelin anti-tank missile in particular—as a way both to defend itself from Russian aggression on the battlefields of the Donbas and to deter Moscow from future offensives.
Former President Barack Obama never approved the move, ostensibly due to fears of escalating the conflict by sparking a tit-for-tat arms race with Russia.
However, after months of deliberation, news broke Dec. 22 that the administration of President Donald Trump had approved a Javelin weapons package for Ukraine reportedly worth $47 million, comprising 210 anti-tank missiles and 35 launchers.
Earlier in December, the Trump administration also approved a $41.5 million deal for Tennessee-based Barrett Firearms Manufacturing to sell Model M107A1 sniper rifles, ammunition, and accessories to Ukraine.
So far, the U.S. weapons deal has not spurred Russian military escalation, as some had feared. Instead—whether by design or by happenstance—there's been a steady drumbeat of announced Chinese infrastructure projects in Ukraine.
First, news of Chinese company CCEC's $500 million loan for housing mortgages came Dec. 22, the same day as the Javelin deal.
CCEC also has plans to build a $400 million passenger railway connecting Kiev with its Boryspil International Airport, as well as an ambitious solar energy farm near the contaminated Chernobyl nuclear energy facility.
Days later, on Dec. 28, Ukraine's Ministry of Economic Development reported that China and Ukraine had agreed to speed construction of grain elevators, silos, port terminals, highways, and railroads as part of a larger plan to promote renewable energy and improve cooperation between the two countries' customs authorities.
The same week, the Odessa region signed a cooperation agreement with China's Jiangxi province—a move reportedly intended to improve transportation infrastructure in the Ukrainian region, the major point of entry for trade with China.
And China Harbor Engineering Co. announced Dec. 29 it had completed dredging 4.4 million cubic meters of soil from Ukraine's busiest port of Yuzhny. The $38 million project was completed three months ahead of schedule, officials said.
"The dredging is a key part of the Ukrainian government strategy to make Yuzhny an important transport hub on the crossroads of global trade and a link in the China-proposed Belt and Road Initiative," the Chinese news site China Daily reported in October.
In the days that followed, Chinese plans for a ring road around Kiev were announced, along with other Chinese road projects in the vicinity of Ukraine's capital city.
Chinese companies also have plans to build a $2 billion new metro line in Kiev.
All of these Chinese projects had been in the works well prior to the Trump administration's decision on the Javelins, and are not likely to be tit-for-tat Chinese reprisals for the U.S. weapons deal, experts say.
Still, the concurrent timing of the announcements highlights Beijing's burgeoning economic footprint in Ukraine, and could foreshadow a new geopolitical rivalry unfolding between China and the West over influence in Ukraine.
"The Americans are not putting as much hard capital on the table in terms of long-term investment in infrastructure as the Chinese are, and those lesser publicized investments in grain elevators, highways, and metro lines in Kiev may play out in ways that the Americans may not like sometime in the future," said Davidzon, the Odessa Review editor-in-chief.
Overall, bilateral trade between Ukraine and China went up by 17 percent last year, making China Ukraine's third-largest trading partner behind the European Union and Russia.
China is now the top purchaser of military equipment from Ukraine, totaling $90 million in sales in 2016. And from June 2016 to July 2017, Ukrainian grain supplies to China went up by 11 percent over the preceding one-year period.
For its part, in May 2017, the U.S. Congress approved at least $560 million in financial assistance for Ukraine in fiscal year 2018. The overall sum included more than $410 million for various nonmilitary assistance programs.
On the commercial front, U.S. firms have made inroads in Ukraine in other areas, such as key deals for supplying coal and nuclear fuel supplies—supplanting Russian commercial sources in the process.
Business as Usual
Ukraine and China established their strategic partnership for the New Silk Road project in 2011—a time when Russia still had considerable sway over Ukraine.
At that time, Hu Jintao was president of China and Kremlin ally Viktor Yanukovych was Ukraine's president.
In a Dec. 3, 2013, meeting with newly minted Chinese President Xi Jinping in Beijing, Yanukovych pledged increased bilateral ties and laid the groundwork for more Chinese infrastructure projects from 2014 to 2018 in order to integrate Ukraine into China's New Silk Road Economic Belt.
"Xi said the two countries should work to build a fair and just new international political order, tackle global challenges, and protect mutual interests," the Chinese news agency Xinhua reported, describing the 2013 meeting between Yanukovych and Xi in Beijing.
That December 2013 meeting between the Chinese and Ukrainian presidents came only two weeks after protests erupted in Kiev's central square—the Maidan—over widespread discontent with Yanukovych's decision to ditch a trade deal with the EU in favor of closer economic ties with Russia.
In fact, on Nov. 30, just days prior to the Beijing meeting with Xi, Yanukovych had unleashed his infamous special police force, the Berkut, to violently disperse the Maidan protesters—sparking even more widespread riots the next day.
Those protests eventually swelled to become a full-blown revolution that ended with Yanukovych's ouster the following February. (He subsequently fled to exile in Russia.)
Yet, the Sino-Ukrainian strategic partnership that the deposed Ukrainian president set in motion has continued without a hiccup under the helm of Ukraine's post-revolutionary government, even as that same government courts closer ties to its Western partners and follows through on a political and economic divorce from Moscow.
Since its former straw man in Kiev was the one who originally proposed the idea, a common line of thinking among experts is that Moscow may well see the recent deepening of Sino-Ukrainian relations as a positive development—or, at least a tolerable one.
"While the Russians may not like this dynamic particularly much, Moscow is too dependent on good will from China in strategic and economic terms to do much about it," Alexander Clarkson, a lecturer in European studies at King's College London, told The Daily Signal.
"The Russians need the Chinese far more than the Chinese need the Russians," Clarkson said. "There is also a convergence of interests in terms of staving off threats of reform and revolution in two authoritarian regimes. But as the more powerful partner, Beijing can always set the terms of cooperation with Moscow."
The Bottom Line
One area in which Ukrainian and Chinese relations have evolved significantly since 2014 is the military-industrial sector.
For one, China is now Ukraine's top buyer of military equipment.
China also has recruited Ukrainian military engineers and scientists for its own military technology programs, putting them to use in myriad ways, including the development of tanks and aviation technology.
Ukraine suspended military sales to Russia in March 2014 in the wake of Russia's invasion and seizure of Crimea. And the following June, as Russia's proxy war in the Donbas escalated, Ukrainian President Petro Poroshenko completely banned cooperation with Russia in the defense sector.
Ukraine's boosted defense trade with China has, to some degree, supplanted its lost defense business with Russia.
Still, Chinese investments in Ukraine are about a mutual bottom line with no democratic reform quid pro quos (as Western investments typically have). This characteristic appeals to Moscow, some say, despite whatever misgivings Kremlin officials may harbor about losing political sway and business in Ukraine to China.
"I don't really think any Chinese investment in Ukraine will cause a Beijing-Moscow rift," Clarkson said.
"For both the Ukrainians and the Chinese, this is purely business, a convergence of economic interests particularly in the transport and agricultural sectors," he added. "Both sides could potentially make a lot of money from each other, so deals were there to be done whoever is in power in Kiev."
Middle Way
Following Ukraine's pro-Western revolution in 2014, Moscow embarked on a hybrid warfare campaign to retain influence over its former Soviet vassal.
Russia invaded and seized Ukraine's Crimean Peninsula, then launched a proxy conventional war in eastern Ukraine as well as a countrywide hybrid assault comprising cyberattacks and weaponized propaganda.
Since 2014, Russia has fueled the conflict in eastern Ukraine by sending weapons and its own troops to support the proxy separatist territories it controls.
The war is not over. The conflict has so far killed more than 10,300 Ukrainians, and on average, one Ukrainian soldier still dies in combat every three days.
However, Russia's gambit to re-establish influence in Ukraine has failed. Today's Ukraine—both in terms of politics and public opinion—is resolutely pro-Western and more anti-Russian than ever.
Nevertheless, Ukraine has paid a heavy price for its post-revolutionary, pro-Western pivot.
Each time Ukraine accepts Western aid, whether financial or military, or takes a step toward furthering ties with the West, it risks the chance of a Russian reprisal.
Whether in the form of artillery barrages in the east or countrywide cyberattacks on utilities and banks, Moscow has used multiple means of aggression since 2014 to destabilize Ukraine's democratic metamorphosis.
U.S. support has helped Ukraine defend itself from Russian aggression and keep its reforms on track despite Moscow's myriad means of interference.
"In the short term, the diplomatic, economic, military, and political support proffered by the Americans is certainly irreplaceable, and is what ensures that the state does not collapse, though all such overt support is obviously an irritant to Russia," Davidzon said.
Russia doesn't see China as a zero-sum game competitor for influence in Ukraine like it does the West. Moreover, going toe-to-toe with China over Ukraine ultimately would not be in Moscow's overall best interests.
So, some say that Chinese investments could offer Ukraine a "middle way" to rebuild its economy without provoking further Russian retribution.
"Big deals between Ukraine and China will neither draw Beijing away from Moscow nor Moscow from Beijing," Clarkson said. "It's all strictly business."
Still, others argue that China's increased clout in Ukraine ultimately will be Russia's loss.
"The fact remains that China and Russia are strategic competitors in the long term, and China has no interest in Russia's projecting military power into Eastern Europe," Michael Druckman, resident program director for Ukraine at the International Republican Institute, a U.S. think tank, told The Daily Signal.
Hearts and Minds
After four years of constant combat, about 60,000 Ukrainian troops remain engaged in a static, trench warfare conflict against a combined force of about 35,000 pro-Russian separatists, foreign mercenaries, and Russian regulars.
The war is mostly fought at a distance using indirect fire weapons like artillery, rockets, and mortars. Snipers also frequently engage targets across no man's land, which can vary in width from a few kilometers in some places to others where the two sides are so close they can shout insults to one another.
Conventional combat operations are confined along a 250-mile-long front line in Ukraine's embattled southeastern Donbas region. Although, Russia's hybrid tactics—like cyberwarfare and weaponized propaganda—affect the entire country.
Tactically, the U.S. Javelins will give the Ukrainian troops a potent defense against Russian armor on the battlefields of the Donbas.
Still, the delivery of U.S. anti-tank weaponry won't likely affect the overall outcome of the war, nor will it give Ukraine the means to parry a full-blown Russian invasion. The move will, however, make any Russia escalations of the current conflict much costlier in terms of casualties and destroyed military hardware.
Beyond their battlefield utility, the Javelins are a potent moral booster for Ukrainian troops enduring their fourth straight Continental winter in the trenches. And, above all, together with the authorization for the sale of U.S. sniper rifles to Ukraine, U.S. lethal weapons deliveries are a foreign policy home run for Kiev.
Poroshenko, Ukraine's president, touted Trump's decision to send Ukraine Javelins as "a transatlantic vaccination against the Russian virus of aggression."
Game-Changer
Chinese investments, on the other hand, are a less diplomatically glitzy win for Ukraine.
However, in the long run, Ukraine's key role in China's One Belt, One Road trade route could be a real game-changer for its economy.
During a Dec. 5 visit to Kiev, Chinese Vice Premier Ma Kai announced plans for $7 billion in joint projects between China and Ukraine. In turn, Ukrainian Prime Minister Volodymyr Groysman announced that 2019 would be the "year of China" in Ukraine.
"China has been and still remains our strategic partner and our strategic priority," Groysman said after the meeting with Kai.
Although many experts say Russian and Chinese interests in Ukraine are more or less complementary, there have been intimations that Ukraine might leverage its new economic relationship with Beijing to put pressure on Moscow to back off its aggression.
For instance, Poroshenko issued a statement after Kai's December visit in which the Ukrainian president stressed "the importance of China's adhering to the consistent position of respect for the territorial integrity and sovereignty of Ukraine."
For China, its burgeoning influence in Ukraine could provide an opportunity to play peacemaker with Moscow—a move that would upstage longstanding U.S. and European efforts to end the conflict.
"With its investments, China becomes friends with everyone in Ukraine," Fatima-Zohra Er-Rafia, a corporate consultant and researcher who specializes in Asia, told The Daily Signal.
"[China] can then advise both parties wisely to avoid an escalation of the situation while keeping in mind that it needs stability in the region for its own geo-economic goals—such as the New Silk Road," Er-Rafia said. "And, since China is a member of the U.N. Security Council, China can also be a part of the solution to the Ukrainian issue, showing the world once again that China is a key player in Eurasia and beyond."
No Strings Attached
Ukraine is haltingly evolving away from a Russia-style, post-Soviet kleptocracy. But the allure of no-strings-attached Chinese cash could dampen the imperative for making reforms that Western aid packages, through their pro-reform riders, have tried to foster.
Recently, Ukraine has taken a few jabs from its Western partners for its halting reforms.
The European Union announced Dec. 1 that it was withholding the final 600 million-euro (about $718 million) tranche of a larger 1.8 billion-euro (about $2.2 billion) financial assistance package to Ukraine due to insufficient reform progress.
And a U.S. congressional authorization for $500 million worth of military aid for Ukraine in fiscal year 2018 is contingent on a determination by the U.S. secretary of defense "that Ukraine has taken substantial action to make defense institutional reforms critical to sustaining capabilities developed using security assistance."
For Kiev, then, another potential bright side to China's economic investments is that they don't come with a to-do list of reforms.
"The Chinese government also does not care about the Ukrainians making difficult decisions and meeting reform targets to access those funds, which makes them an attractive investor in many ways," said Davidzon, the Odessa Review editor-in-chief.
Conversely, some experts see reason to celebrate the convergence of Western and Chinese economic interests in Ukraine.
One line of thinking is that Ukraine's pro-Western momentum is irreversible and the process of courting international investments—whether from the West or from China—will incentivize Kiev to follow through on its reform agenda for the sake of creating a more investor-friendly environment.
"I believe Ukraine's future is now firmly planted in the West and that America and the EU remain its most important partners," said Druckman, the resident program director for Ukraine at the International Republican Institute.
"Ukraine's ability to fight corruption and strengthen rule of law through good governance will make it a stronger and more reliable partner for foreign investment, including Chinese, rather than one based on corruption and the lack of accountable governance," Druckman said.
Nolan Peterson, a former special operations pilot and a combat veteran of Iraq and Afghanistan, is The Daily Signal's foreign correspondent based in Ukraine.