Trump and Tillerson Must Confront Authoritarians About Human Rights, says Condoleezza Rice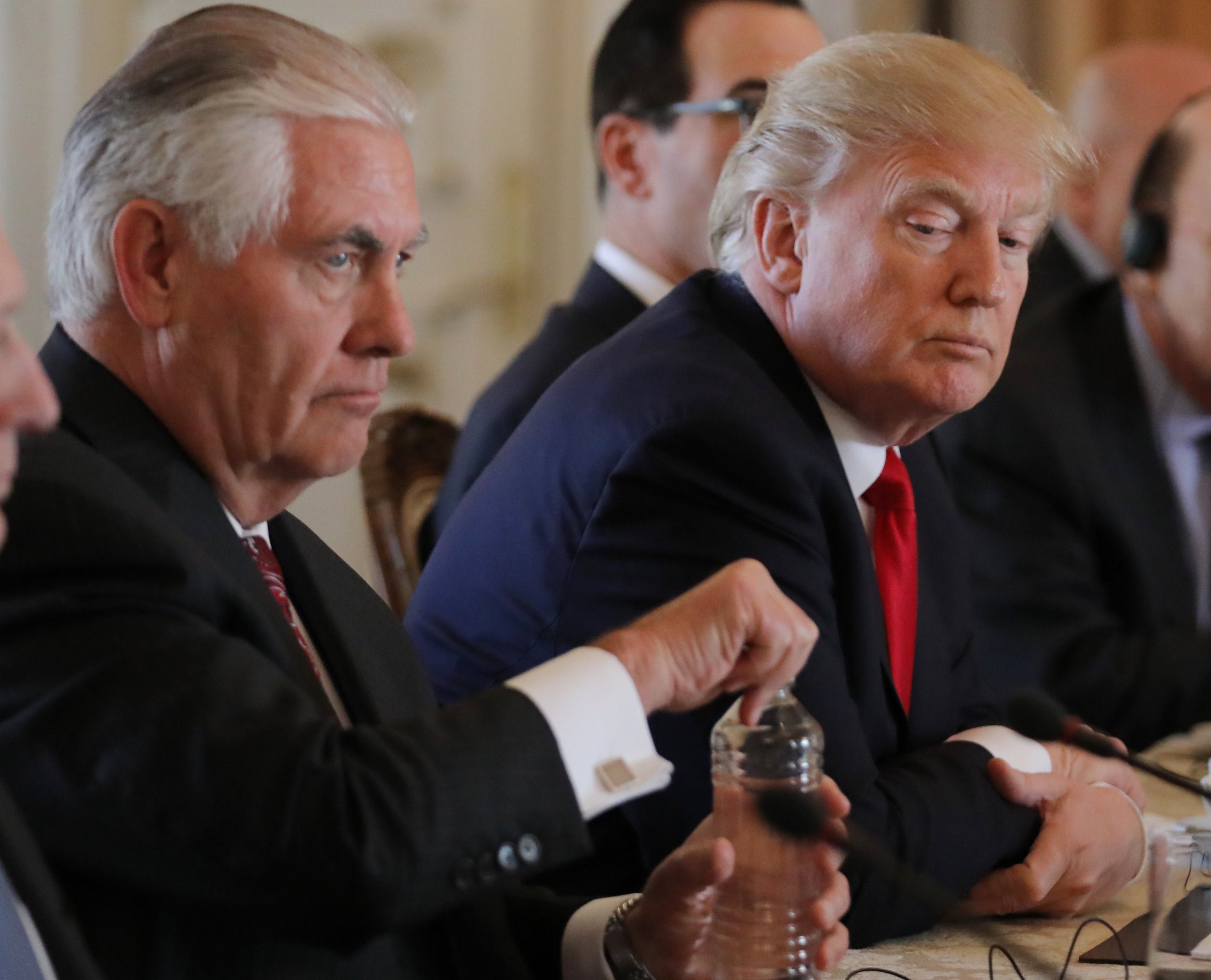 Former Secretary of State Condoleezza Rice needled President Donald Trump and Secretary of State Rex Tillerson on their human rights stance during an interview Sunday night. Rice, who served in George W. Bush's administration, questioned whether the U.S. could gain from turning away from promoting human rights. Pushing for rights in oppressive countries actually serves American interests, she she told John Dickerson during an interview on CBS News' "Face the Nation."
On Wednesday Tillerson told his State Department employees the U.S. would break from Obama-era policies that put pressure on countries like China, Saudi Arabia, and Egypt to improve their human rights records.
"In some circumstances, if you condition our national security efforts on someone adopting our values," Tillerson said, "we probably can't achieve our national security goals or our national security interests." American policies, he said, "should change."
Rice suggested that not pushing for reform could have the opposite effect on U.S. goals. "When countries that we have good relations with and want good relations with actually reform before there are revolutions, our interests are served too," she said.
"In the long run our interests are better served when we have democracies that don't hire child soldiers, that don't harbor terrorists as a matter of state policy, that don't traffic in human beings, that don't start wars with one another," she continued.
Rice served from 2005 to 2009 as secretary of state under Republican President George W. Bush and didn't reserve her criticism for Tillerson alone. She also bit into President Trump's approach to authoritarians.
Read more: Trump is endangering U.S. national security with vacant positions, cuts at State Department
Human rights groups have condemned Trump for taking a softer approach to autocratic leaders than his predecessor. In April he greeted unelected Egyptian President Abdel Fattah al-Sissi at the White House and said on Twitter the U.S. is eager to renew a "historic partnership" with him. The Obama administration never extended an invite to the Egyptian leader and issued a scathing assessment of his human rights record in 2015.
Trump has also praised Russian President Vladimir Putin, who has a track record of cracking down on dissent and introduced laws targeting Russia's gay and lesbian community. During his meeting with Chinese leader Xi Jinping in early April the U.S. president refused to push the subject of human rights.
"I have no problem with the president meeting with those leaders," Rice said, "But we always need to speak for our values as well. And our values are the belief that we were endowed with certain rights by our creator. It can't be true for just us and not for them."
Rice has received her own fair share of criticism for her role in the disastrous war in Iraq that started in 2003 and aimed to establish a democracy there. She writes about her experience in her book "Democracy: Stories From the Long Road to Freedom," which she discussed with CBS News.
Most of democracy promotion isn't about military intervention but "supporting those within their countries that want to have the simple freedoms that we have, the right to say what you think, to worship as you please, to be free from the knock of the secret police at night," Rice said. She cited Liberia and Ukraine as examples where the U.S. has tried to help in this way.
"Democracy takes time and we have to be a little bit more patient and a little bit more helpful in speaking out for those who are still trying to get there," she said.