Trump Slams Anna Wintour for Vanity Fair's Hillary Clinton Video, Appearing to Target Wrong Editor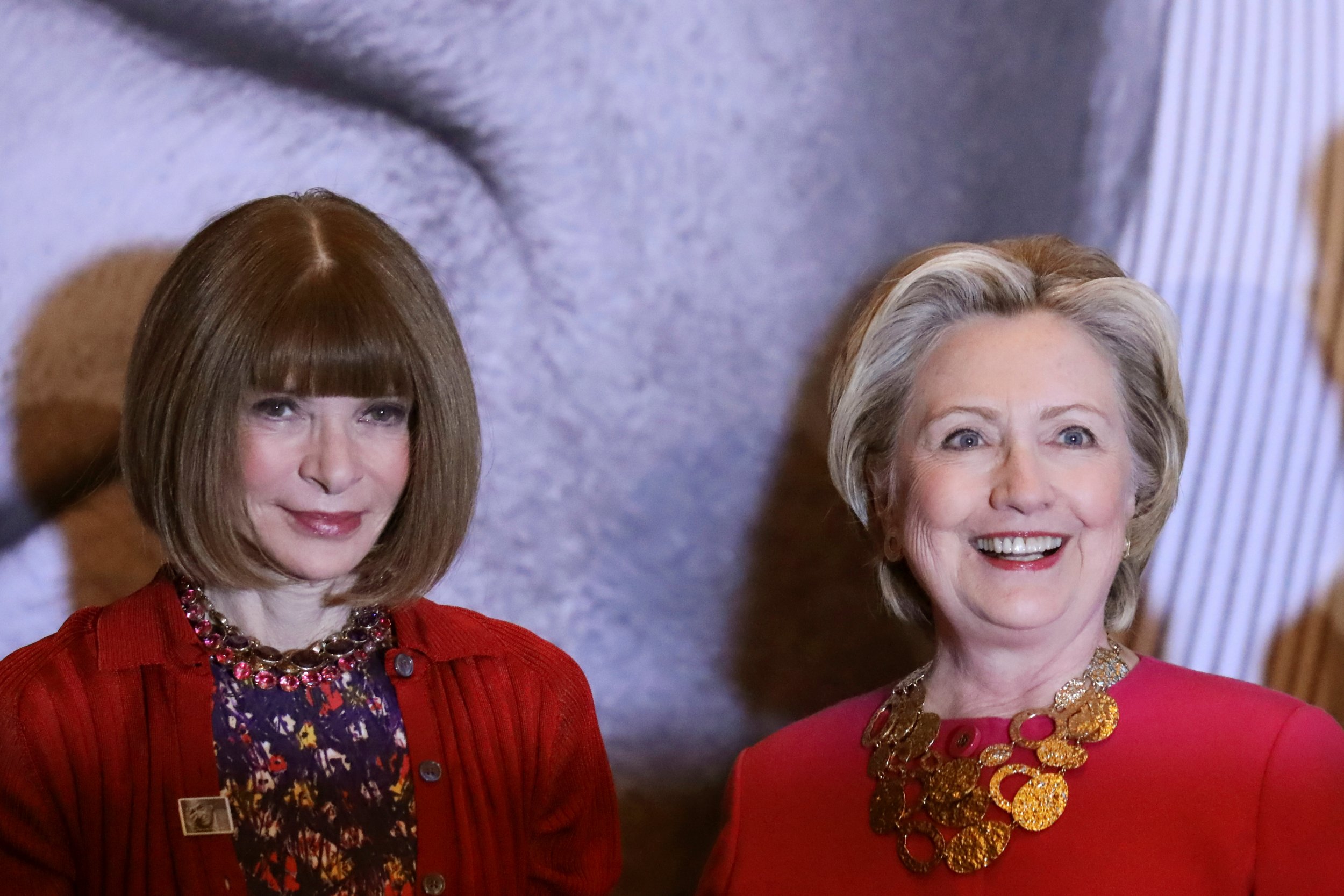 President Donald Trump on Thursday appeared to target the wrong editor in a tweet bashing Vanity Fair for its controversial comedy video mocking Hillary Clinton—even though the commander in chief has fixated on the magazine for decades.
"Vanity Fair, which looks like it is on its last legs, is bending over backwards in apologizing for the minor hit they took at Crooked H. Anna Wintour, who was all set to be Amb to Court of St James's & a big fundraiser for CH, is beside herself in grief & begging for forgiveness!" Trump wrote.
Wintour does not work at Vanity Fair. The British journalism icon is the artistic director of Condé Nast, the company that owns Vanity Fair, and is the editor-in-chief of another one of its magazines, Vogue. For a magazine editor, Wintour took exceptional steps to advocate for Clinton during her 2016 campaign, holding fundraisers and voter registration events for the Democratic nominee. Vogue also gave Clinton its first-ever presidential campaign endorsement.
Vanity Fair's newly appointed editor is Radhika Jones, but until December the magazine was run by Graydon Carter, a celebrity editor who helmed the monthly for 25 years—and often ended up in Trump's crosshairs.
Vanity Fair has been receiving some online scorn this week for a short comedy video it produced in which six of its young writers give Clinton advice on how to spend her 2018. The tips mocked Clinton's campaign memoir, What Happened, and suggested the former secretary of state and first lady take up "a new hobby in the new year: volunteer work, knitting, improv comedy—literally anything that will keep you from running again."
Critics of clip called the jokes sexist and degrading to Clinton's decades of public service.
There are several ironies in Trump's tweet, the first being that he himself has continued to mercilessly mock Clinton more than a year after the election. Trump posted dozens of tweets berating Clinton throughout 2017, and even his Thursday tweet referenced his insult nickname for her, Crooked Hillary.
It's also unclear if Trump made a mistake in singling out Wintour or if he indeed intended to blame her for the Vanity Fair video. Either way, Wintour has not apologized or begged for forgiveness. Vanity Fair spokeswoman Beth Kseniak issued an apology for the video, writing, "It was an attempt at humor and we regret that it missed the mark." But Vanity Fair has not removed the video.
Years before fixating on "fake news" from the presidential podium, Trump kept a bull's-eye on Vanity Fair and Carter, as the two men have had an enmity dating back to the 1980s. Between 2012 and 2016, Trump posted more than two dozen tweets about Carter, repeatedly saying the editor was "failing" at running Vanity Fair and incorrectly predicting he would either get fired or kill the magazine. He also insistently said Carter, who co-owns two restaurants in Manhattan, runs "bad food restaurants," and at one point he called the editor "bad food Graydon Carter."
Carter, 68, who became a luminary in the media and entertainment worlds during his Vanity Fair tenure, announced his retirement in September. He penned a column bashing Trump nearly every month of 2017 and suggested in his most recent piece that the United States might be developing "Stockholm syndrome" with its president. He warned that "entire countries" could take on "the characteristics of [their] captors, regardless of their awfulness."