Trump Announced He'll Release 'Extremely Complete' Personal Finance Report Before Election, But Not Necessarily His Tax Returns
President Donald Trump told reporters he would release an "extremely complete" report of his personal finances prior to the 2020 election. However, Trump remained silent when reporters asked if that meant he'd release his tax returns.
Speaking to reporters about claims Air Force members stayed several times at the Trump-owned resort in Turnberry, Scotland after refueling — among other allegations that Trump has used his status as president to increase government spending at his properties — Trump promised his financial records would show he doesn't need the extra income.
"At some point prior to the election, I'm going to be giving out a financial report of me, and it will be extremely complete. I'm going to give out my financial condition and you'll be extremely shocked that the numbers are many, many times what you think," Trump said, as he left the White House Monday on a trip to North Carolina.
"I don't need to have somebody take a room overnight at a hotel," he added.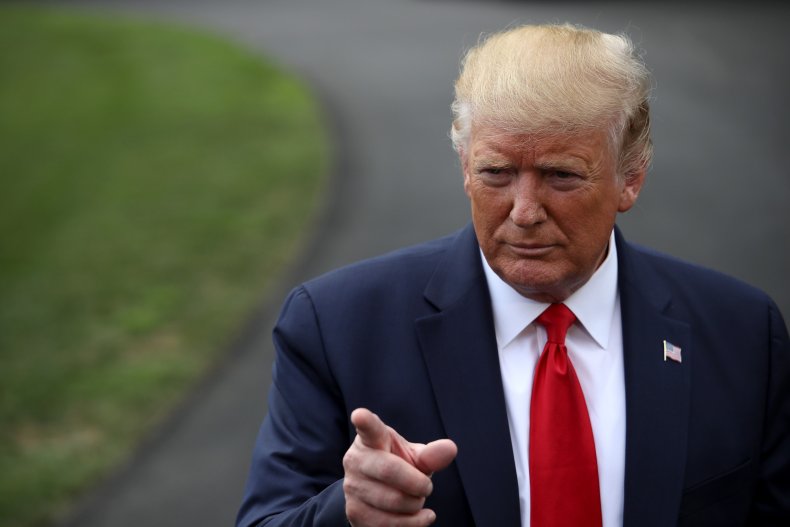 Before the 2016 election, Trump was the only presidential candidate from a major party since Republican Gerald Ford to refuse to release his tax returns. Trump claimed he was unable to release the returns while he was being audited by the IRS. Though it's not a legal requirement for presidential candidates to share tax returns, it's a long-standing tradition.
Last month, Trump came under fire for suggesting the 2020 G7 summit be held at the Trump National Doral Miami Golf Resort. Many saw Trump's offer as a violation of the Emoluments Clause of the Constitution, which keeps a president from accepting "any present, Emolument, Office, or Title, of any kind whatever, from any King, Prince, or foreign State" without Congress' consent.
"Using the presidency to advertise your business's products and for personal profit is an abuse of power and an impeachable offense," George Conway wrote on Twitter. Conway is a conservative lawyer and the husband of White House counselor Kellyanne Conway, as well as a frequent critic of the president.
Last week, Vice President Mike Pence was criticized for staying at the Trump International Golf Links and Hotel Doonbeg during his trip to Ireland. The Doonbeg resort is 140 miles from Dublin, where Pence's meetings with Irish Taoisech Leo Varadkar, Irish President Michael D. Higgins and business leaders.
Monday, Democratic Rep. Jamie Raskin of Maryland said that if Trump has been directing government money into his businesses, it's an "absolutely impeachable" offense.
"He can't be taking that money," Raskin said. "It's absolutely impeachable for the president to be violating the emoluments clauses."