President Donald Trump said Tuesday that the GOP would look for another location in which to hold the Republican National Convention (RNC) after North Carolina lawmakers balked at the event, citing fears of community spread coronavirus.
Trump has stated his desire to hold a large-scale, in-person convention despite the threat of the community spread of coronavirus. His location of choice for the RNC was the Spectrum Center in Charlotte, North Carolina. Pushback came from North Carolina Governor Roy Cooper, who said he wasn't sure if the coronavirus situation in the state would make holding an event such as the RNC tenable.
"Governor Cooper is still in Shelter-In-Place Mode," Trump tweeted Tuesday, "and not allowing us to occupy the arena as originally anticipated and promised. Would have showcased beautiful North Carolina to the World, and brought in hundreds of millions of dollars, and jobs, for the state."
Newsweek reached out to the Trump campaign for comment. This story will be updated with any response.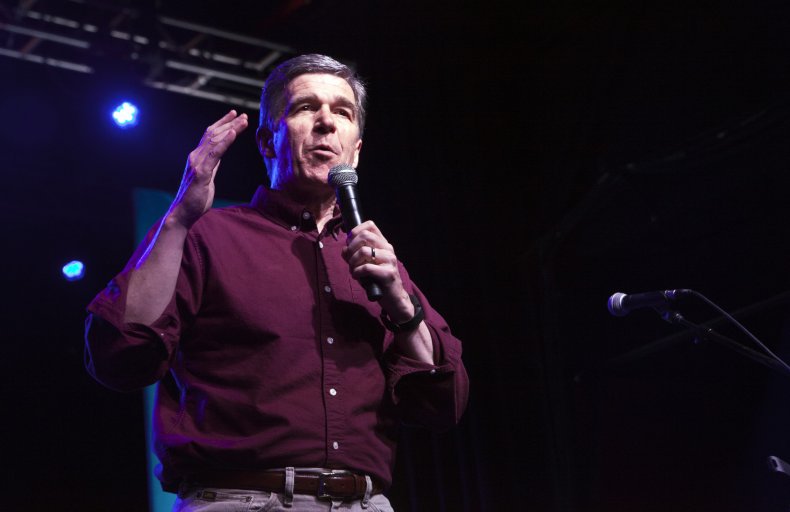 While Governor Cooper still expressed hope that the event could be held in his state, he wrote in a Tuesday letter to Chairwoman Ronna McDaniel of the Republican National Committee and President and CEO of the Republican National Convention that the convention would have to be "scaled-down."
Republican leadership had expected the convention to include approximately 19,000 people inside the Spectrum Center for the convention, as well as lodging and hospitality providers "at capacity."
"As much as we want the conditions surrounding COVID-19 to be favorable enough for you to hold the Convention you describe in late August, it is very unlikely," Cooper wrote. "Neither public health officials nor I will risk the health and safety of North Carolinians by providing the guarantee you seek."
Chairwoman McDaniel responded to Cooper's retraction Tuesday by saying the GOP still held out hope it could hold the RNC in Charlotte, "but we have an obligation to our delegates and nominee to begin visiting the multiple cities and states who have reached out in recent days about hosting an historic event to show that America is open for business."
Should the GOP's plans to hold the RNC in North Carolina fall through, Georgia Governor Brian Kemp suggested in May that his state would be the perfect place to "safely host" the convention.
Florida Governor Ron DeSantis said during a May news conference that his state was ready to "have the conversation" about moving the RNC to his state.
"Florida would love to have the RNC," DeSantis said. "Heck, I'm a Republican. It would be good for us to have the DNC [Democratic National Convention] in terms of the economic impact when you talk about major events like that."
Democrats are expected to hold their national convention at the Fiserv Forum in Milwaukee, Wisconsin in August 2020.