President Donald Trump has announced a peace deal between the United Arab Emirates and Israel, the first deal of its kind between Israel and an Arab nation in more than 25 years.
Trump, Abu Dhabi Crown Prince Sheikh Mohammed bin Zayed Al Nahyan and Israeli Prime Minister Benjamin Netanyahu "spoke today and agreed to the full normalization of relations between Israel and the United Arab Emirates," according to a joint statement by the three nations published Thursday by the White House.
"The historic diplomatic breakthrough will advance peace in the Middle East region and is a testament to the bold diplomacy and vision of the three leaders and the courage of the United Arab Emirates and Israel to chart a new path that will unlock great potential for the region," the statement said. "All three countries face common challenges and will mutually benefit from today's historic achievement."
"Today's announcement is a significant advance for the region and for diplomacy. It immediately stops annexation and the potential of violent escalation. It maintains the viability of a two-state solution as endorsed by the Arab League and international community," UAE ambassador to the U.S. Yousef al-Otaiba said in a statement.
"It creates new dynamics and possibilities in the peace process," he added. "It bolsters the stability of Jordan."
Jordan, which borders the partially Palestinian-administered West Bank territory currently subject to Israeli discussions of annexation, was the last Arab country to strike a peace deal with Israel in 1994. The only other Arab country to do so was Egypt in 1979.
"Although the peace treaties between Israel and Egypt and Jordan have not yet fulfilled their full potential, since the 1978 Camp David Accords and the 1994 Wadi Arava Agreement, we have witnessed significant economic development in Egypt and Jordan, an unmistakable dividend of peace," Secretary of State Mike Pompeo said in a statement.
"Today's normalization agreement between Israel and the Emirates holds similar potential and the promise for a better day for the entire region. The United States congratulates Israel and the Emirates for their important achievement. Blessed are the peacemakers. Mabruk and Mazal Tov," he added.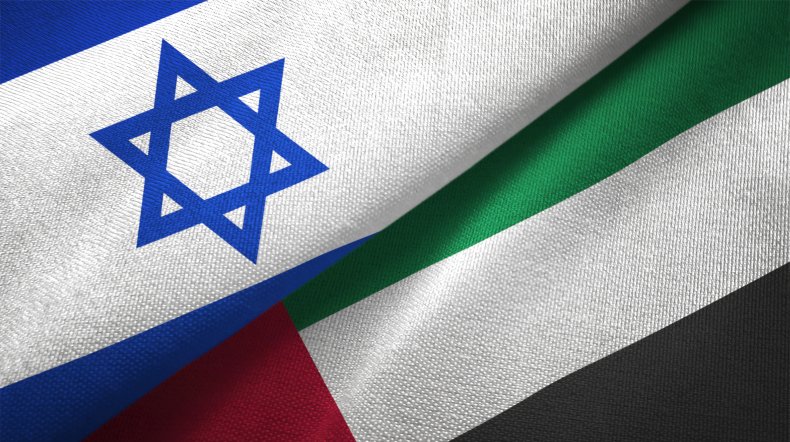 White House senior adviser Jared Kushner hinted that another country may soon deal with Israel following the UAE agreement.
Currently consisting of 22 nations, the largely Muslim Arab League waged war with majority-Jewish Israel upon its 1948 creation, which was accompanied by civil war among the population of the former U.K. mandate and mass displacement of Palestinians, many of whom settled in other Arab countries. Those nations fought two more major wars with Israel in 1967 and 1973, and Palestinian movements have continued to this day to clash with Israeli forces.
Trump announced a new Middle East peace deal coordinated with Netanyahu in January, but it was met with a mostly hostile reaction from the region, though the UAE was one of three Arab countries—the other two being Bahrain and Oman—to send representatives to attend the unveiling ceremony at the White House. Palestinians have boycotted the agreement and have broken all ties with the U.S. and Israel.
Sheikh Mohammed said his country's agreement with Israel "was reached to stop further Israeli annexation of Palestinian territories" in a statement published Thursday. "The UAE and Israel also agreed to cooperation and setting a roadmap towards establishing a bilateral relationship," he added.
Trump called it a "HUGE breakthrough" between "our two GREAT friends" in a tweet shared by Netanyahu, who said it was a "historic day."
Though countries of the Arabian Gulf, such as the UAE, continue to profess support for the Palestinian cause for statehood, they have increasingly viewed Iran as their top priority in recent years as the Islamic Republic expanded support for allied groups abroad and advanced its missile capabilities.
Earlier this month, UAE Foreign Minister Sheikh Abdullah bin Zayed al-Nahyan and Iranian Foreign Minister Mohammad Javad Zarif recently held a call in what was seen as a tensions-easing development between the two Persian Gulf states. The UAE has also expressed support for Syrian President Bashar al-Assad, an Iranian ally and longtime foe of Israel.
Still, the former U.S. special representative for Iran Brian Hook took the opportunity Thursday to praise the administration's "maximum pressure" against Iran. Trump left a 2015 nuclear deal with Iran, also backed by China, France, Germany, Russia and the United Kingdom, and began imposing unilateral sanctions on Tehran as his administration has attempted to rally international support to isolate the revolutionary Shiite Muslim power.
"What we see today is a new Middle East," Hook said.
Criticism also poured in toward the move from Palestinian groups. Abbas Zaki, a member of the Fatah party chaired by Palestinian President Mahmoud Abbas, called the move a "stab in the back" to Palestinians and Abu Ahmad Fuad, Deputy General-Secretary of the Damascus-based, left-wing Popular Front for the Liberation of Palestine, accused the UAE of betraying Palestinians and conspiring against Iran, according to Lebanon-based Al Mayadeen network.
Gaza-based Sunni Islamist Hamas movement spokesperson Fawzi Barhoum argued Israel was being rewarded for crimes against the Palestinian people, according to Qatar's Al Jazeera.