Candidates, White House Rip Trump Over Handling of Anti-Muslim Question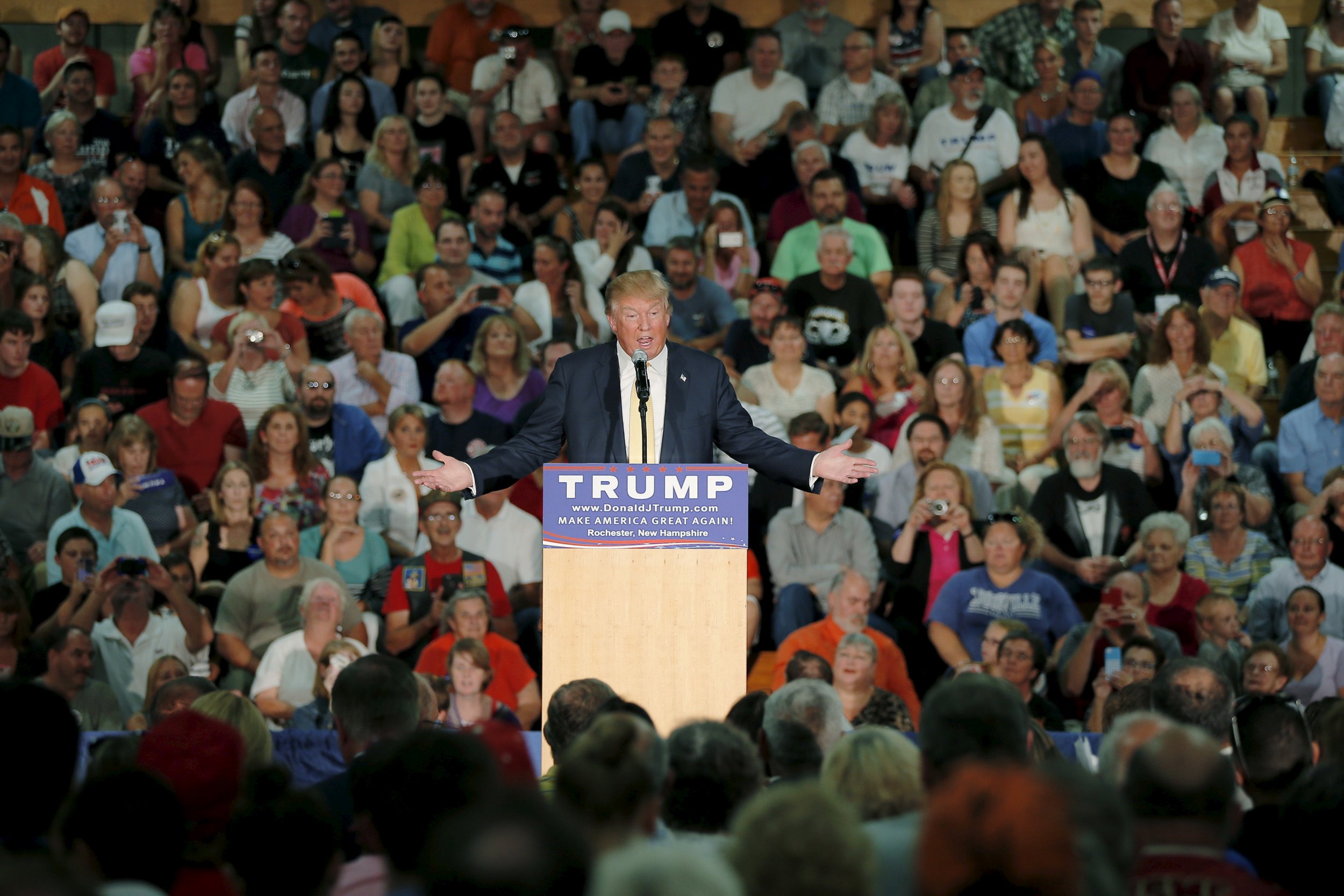 Updated | Republican presidential front-runner Donald Trump said something Thursday evening during a town hall event in Rochester, New Hampshire, that he now may wish he hadn't: "We're gonna have some fun now, because instead of making a speech, which I've been doing over and over and over, I want to take questions."
The first question of the evening, from an unidentified white man in a Trump T-shirt, was not actually a question but a statement. "We have a problem in this country. It's called Muslims," the man said. "We know our current president is one."
"Right," Trump responded.
"You know he's not even an American," the man continued.
"We need this question, this is the first question," Trump interrupted, seemingly vexed.
"But anyway, we have training camps growing where they want to kill us," the unidentified man continued. "That's my question: When can we get rid of them?"
Some observers have said the man's question was a reference to American Muslims in general, of which there are nearly 3 million; other have argued he was referring specifically to jihadist training camps. Either way, Trump's answer, or lack thereof—"We're going to be looking at a lot of different things"—had by Friday morning drawn criticism from other presidential candidates, both Republicans and Democrats.
Democratic front-runner Hillary Clinton took to Twitter to criticize Trump for "not denouncing false statements about [President Barack Obama]" and "hateful rhetoric about Muslims."
Vermont Senator Bernie Sanders, who is also seeking the Democratic nomination, criticized Trump in a tweet as well.
Friday afternoon, former Maryland governor and Democratic longshot Martin O'Malley piled on on Twitter.
And on NBC's Today Friday morning, Republican Governor Chris Christie of New Jersey said he "wouldn't have permitted that" at one of his presidential campaign events.
"If someone brought that up at a town hall meeting of mine, I would've said, 'No, listen. Before we answer, let's clear some things up for the rest of the audience.' And I think you have an obligation as a leader to do that," Christie added.
By Friday afternoon, the White House had also expressed its displeasure with Mr. Trump. At a press briefing, White House press secretary Josh Earnest answered a reporter's question about Trump by asking, "Is anyone really surprised this happened at a Donald Trump rally?" "The people who hold these offensive views are part of Mr. Trump's base, and Mr. Trump would be the first to tell you he's got the biggest base of any Republican these days," Earnest continued. Earnest also said any Republican presidential candidate who declined to denounce Trump's "cynical strategy" was countenancing those same views "in order to win votes."
Trump's campaign manager, Corey Lewandowski, told CNN Trump didn't hear the questioner's remark about Obama being a Muslim—even though Trump responded to the remark when it was made. "All he heard was a question about training camps, which he said we have to look into," Lewandowski said. "The media want to make this an issue about Obama, but it's about him waging a war on Christianity."
Trump has been a leading member of the so-called birther movement, which questions Obama's U.S. citizenship. As recently as 2012, Trump maintained that the president's birth certificate was "a fraud," which would have made Obama ineligible to be elected.
An 'extremely credible source' has called my office and told me that @BarackObama's birth certificate is a fraud.
This story was updated with additional comments from candidates and the White House.