Trump Sparked Anti-Semitic Meme Controversies Two Consecutive Fourth of Julys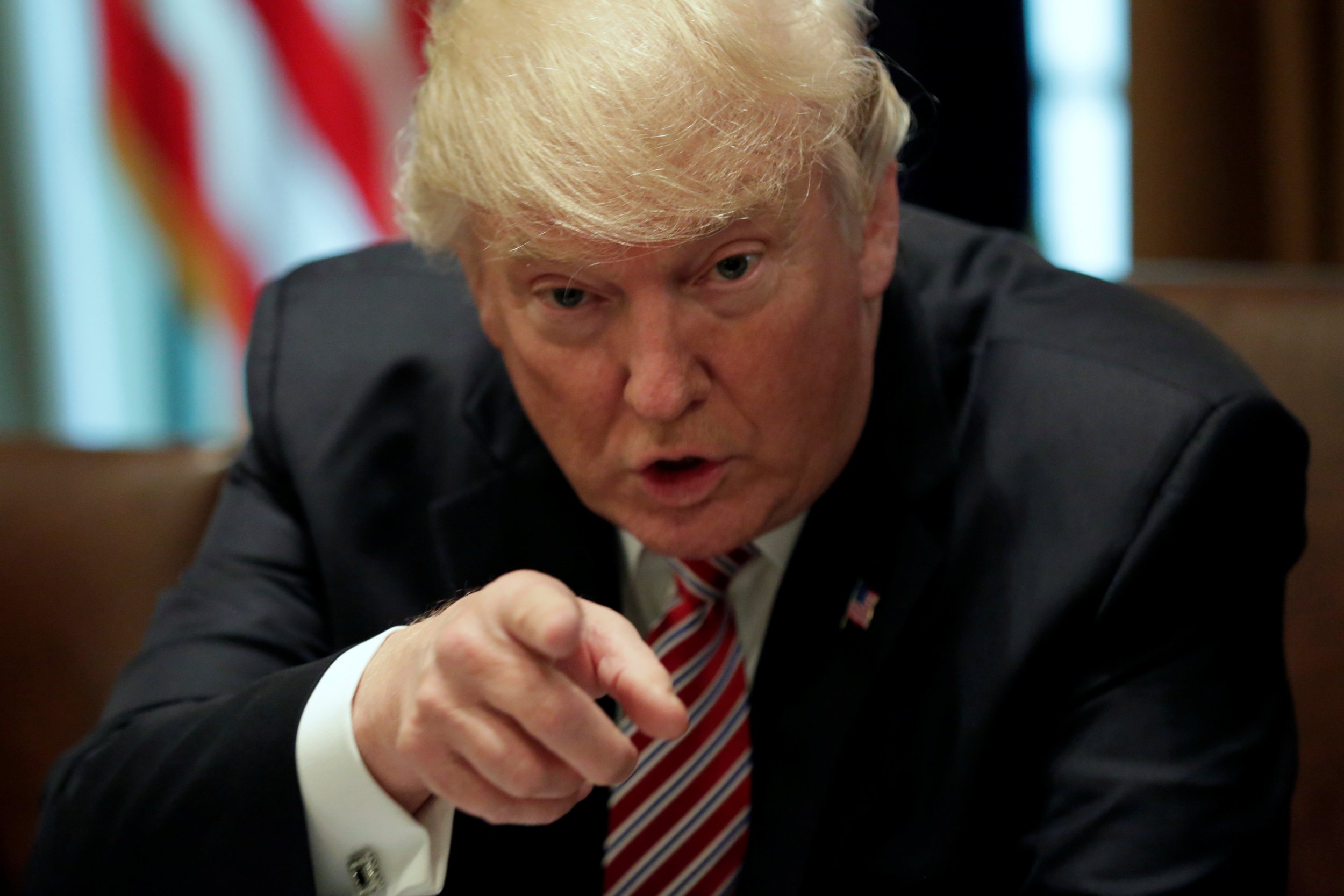 Picture this: It's just about the day the U.S. celebrates its independence. Donald Trump, or someone on his team, picks up a meme online that seemingly originated elsewhere and posts it to his Twitter account. Soon after, there are accusations of connections to anti-Semitism.
Somewhat improbably, this could describe both Fourth of July 2016 and 2017.
Just ahead of this year's holiday, Trump tweeted a doctored video that inserted a CNN logo over the head of a guy he body-slammed during a WWE appearance. This led to an outrage in its own right over the violence of the post and, before long, folks surfaced other work by the Redditor who took credit for creating a gif that seemingly led to the president's video. The Redditor, who had the username HanAssholeSolo, reportedly also posted a meme with CNN contributors accompanied by Jewish stars and the text "Something strange about CNN...can't quite put my finger on it..."
An entirely new controversy has risen out of this incident, as CNN discovered the identity of HanAssholeSolo and did not disclose it publicly, prompting some to accuse the network of blackmailing the person with that information. HanAssholeSolo, meanwhile, apologized in the story posted by CNN for creating offensive material in the past.
Regardless, the wrestling tweet from Trump, now the president's most retweeted ever, sparked a days-long controversy through Independence Day.
About this time last year Trump was fighting off a quite similar controversy, involving a Star of David (or "Sheriff's Star"), accusations of corruption, and Hillary Clinton. Trump tweeted a graphic that included a six-pointed star, money, a picture of Clinton and the text "most corrupt candidate ever." He was accused of using anti-Semitic imagery, since the star looked like a Jewish star. Trump's team claimed it was a "Sheriff's Star" and that they did not create the graphic.
"Dishonest media is trying their absolute best to depict a star in a tweet as the Star of David rather than a Sheriff's Star, or plain star!" the then-Republican candidate tweeted on the Fourth of July 2016. But the graphic Trump tweeted had previously appeared on an "anti-Semitic, white supremacist message board," CNN reported at the time.
"The social media graphic used this weekend was not created by the campaign nor was it sourced from an anti-Semitic site," Daniel Scavino, the campaign's social media director, said in a statement. "It was lifted from an anti-Hillary Twitter user where countless images appear."
While the two controversies are shaping up differently, both candidate Trump and president Trump have made it a habit to mark the Fourth of July holiday by seemingly signal-boosting the online community that traffics in anti-Semitic trolling.