Critics Of Israel Can Still Fight Trump's Anti-Semitism, Muslim Activist Linda Sarsour Says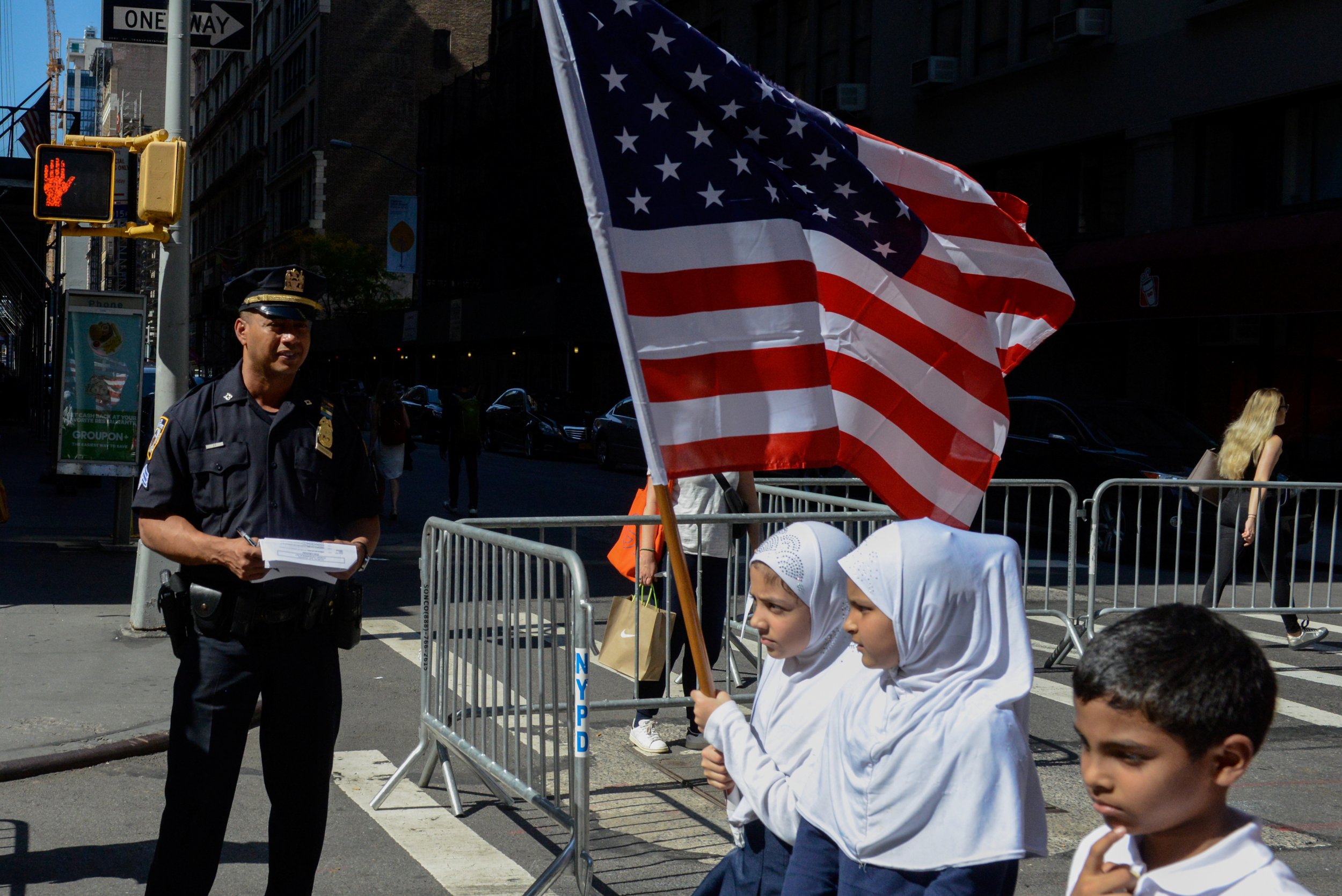 Progressive Americans must unite against President Donald Trump to fight anti-Semitism regardless of their views on Israel, a prominent and controversial Muslim activist said at a conference on anti-Semitism at the New School on Tuesday.
"Anti-Semitism is real, it's pervasive, and it's institutionalized in this administration," Linda Sarsour told Newsweek during a private conversation at the event, dubbed "Anti-Semitism and the Struggle for Justice." "The progressive movement has to take combating anti-Semitism seriously and put it as part of the agenda we are all working towards.
"There are actual anti-Semites who have some of the most powerful positions in this country," she added. "So that's real, and it's scary. We need to all be clear that we have to stand together to fight this administration, and whatever our political differences are on some Middle Eastern conflict cannot be the reason why we organize or don't organize together. There is a bigger fight to have."
Sarsour is a Palestinian-American political activist from New York who has won numerous awards for her advocacy on behalf of American Muslims and as a co-chair of the Women's March that became the face of the Trump "resistance." She is also a supporter of the boycott, divestment, and sanctions movement, known as BDS, which aims to put economic pressure on Israel so it changes its policies towards Palestinians. Many Israel supporters believe BDS is anti-Semitic.
As such, the organizers of Tuesday's event were criticized heavily for including Sarsour, who has been critical of Israel.
But Sarsour chalks the criticism up to Islamophobia, and says that even people who are critical of Israel have the right to weigh in on issues of racism and discrimination.
"I am helping to shift a narrative that you cannot continue to conflate anti-Semitism and a critique of the State of Israel," Sarsour told Newsweek. "In fact, the Jewish community is not a monolith. Not ever single Jew believes the state of Israel represents the entire Jewish faith. And I am on a panel today with people who also are Jewish and share that same sentiment with me."
Other speakers on the panel stressed that Jews need as many allies as possible in Trump's America, where anti-Semitic hate crimes have risen amid a resurgent neo-Nazi movement. Current and former Trump administration officials like Steve Bannon, Sebastian Gorka, and Stephen Miller have all been accused of anti-Semitism, and some suspect Trump himself sympathizes with neo-Nazis.
"I remember seeing the video of people screaming 'Blood and soil!' and I was truly terrified," Rebecca Vilkomerson, executive director of Jewish Voices for Peace, told the audience, referring to the deadly neo-Nazi demonstration that took place in Charlottesville, Virginia in August. "This week, Trump tweeted a link to a website that, among other things, has a flow chart showing Jews' control over the banking system. Anti-Semitism in the United States is frighteningly visible."
Vilkomerson also criticized what she called "institutional Judaism" for failing to stand up to Trump-allied anti-Semites. Earlier this month, Bannon and Gorka attended the Zionist Organization of America's annual gala.
"As long as you're pro-Israel, apparently you get a free pass," Vilkomerson said.
Most of the audience cheered and applauded the panel, which was moderated by Democracy Now host Amy Goodman. But the event wasn't without outburst.
"You called for jihad, this is the height of hypocrisy," one protester screamed at Sarsour as he was dragged out of the venue by security.
More than 30 NYPD cops and a private security force guarded the event, which had been threatened by members of the far-right. A small group of protesters also gathered outside the venue.
"The New School has every right to have forums on any issue. But I equate being anti-Israel with being an anti-Semite. And they have a panel loaded with speakers who are hateful," protester Charlie Bernhaut, a member of the organization Americans for a Safe Israel, told Newsweek. "Sarsour is an icon of the left. She seems to be reasonable, but she consorts with terrorists and doesn't believe Israel should exist."
Sarsour, however, appeared to take the protesters in stride.
"Apparently, I'm the biggest problem for the Jewish community. Literally, an existential threat," she said as the audience full of Jews laughed.