Trump Appears to Snub Pelosi's Handshake Moments Before Giving SOTU Address
Before beginning his State of the Union address Tuesday, President Donald Trump refused to shake the hand of House Speaker Nancy Pelosi.
As Trump handed Pelosi a copy of the address, she proferred her hand. Trump ignored it, turning instead to face the crowd of cheering politicians.
"Pelosi omitted the usual flourish when she introduced the president just now," tweeted New York Times correspondent Nicholas Fandos. "She would have normally said, 'I have the high privilege and distinct honor of presenting to you the President of the United States.' Instead, she just directly introduced him, without honor/privilege."
Political podcast Pod Save America asked in a tweet, "If you don't get a handshake from Donald Trump, do you win or does America win?"
After Trump ended his address, Pelosi stood and appeared to straighten her copy of the State of the Union before tearing it in half.
Trump has called Pelosi the "absolute worst speaker of the House in U.S. history" after she spearheaded impeachment proceedings against him in 2019.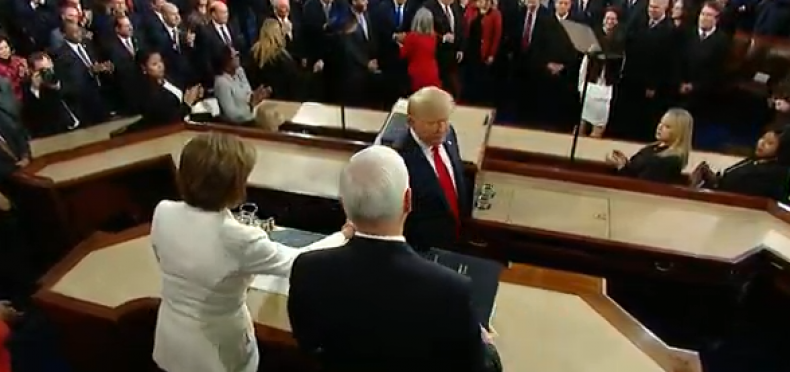 Pelosi and other House Democrats introduced two articles of impeachment against a whistleblower complained of potential improprieties in a July 2019 call with President of Ukraine Volodymyr Zelenskiy.
Trump allegedly asked the Ukrainian government to announce investigations into former Vice President Joe Biden and his son Hunter, who accepted a spot on the board of Ukrainian natural gas company Burisma Holdings while his father was vice president during the Obama administration.
In exchange for the announcement, Trump would allegedly release millions of dollars of security aid to Ukraine.
House Democrats considered that to be a quid pro quo request, tantamount to an abuse of presidential power.
"The actions of the Trump presidency have revealed the dishonorable fact of the president's betrayal of his oath of office, betrayal of our national security and betrayal of the integrity of our elections," Pelosi said during her announcement of the initial impeachment inquiries in September 2019.
In a December letter, Trump told Pelosi that Pelosi's treatment of the impeachment as a solemn process was "false" and insulting."
"You apparently have so little respect for the American People that you expect them to believe that you are approaching this impeachment somberly, reservedly, and reluctantly," Trump wrote. "No intelligent person believes what you are saying."
Pelosi denied allegations that her impeachment proceedings against Trump were rooted in a personal hatred for the man.
"This [impeachment] is about the Constitution of the United States and the facts that lead to the president's violation of his oath of office," Pelosi told reporters in December 2019. "I was raised in a way that is a heart full of love, and always pray for the president. And I still pray for the president. I pray for the president all the time."
Voting whether or not to acquit Trump is expected to be voted upon in the Senate on Wednesday.