Trump Appears to Suggest Obama Solicited Foreign Assistance to Damage His 2016 Campaign
After House Speaker Nancy Pelosi announced a formal impeachment inquiry yesterday, President Donald Trump appeared to suggest that former President Barack Obama had asked a foreign country to investigate him without offering any evidence.
The remarks were made during Trump's first official press conference since Pelosi announced the proceedings. The president on Wednesday attempted to deflect allegations against him onto his predecessor when a reporter asked if it's fine that he asked a foreign country to probe his political opponent.
"Well, that's what he did, isn't it?" Trump said. "Really, when you think about it, that whole witch hunt was started, and hopefully that will all come out."
"When they look at the information, it's a joke," he added. "Impeachment for that?"
The president suggested that the reports of the whistleblower complaint came out around the time of the U.N. General Assembly because his opponents wanted to distract from his meetings. "That was all planned," he said. "Like everything, that was all planned."
Trump also used his familiar rhetoric to describe the inquiry as a "hoax," "phoney" and a "total witch hunt" allegedly peddled by Democrats to remove him from office.
"It's very sad what the Democrats are doing to this country," he said during his roughly 20-minute address. "They're dividing, they're belittling, they're demeaning our country."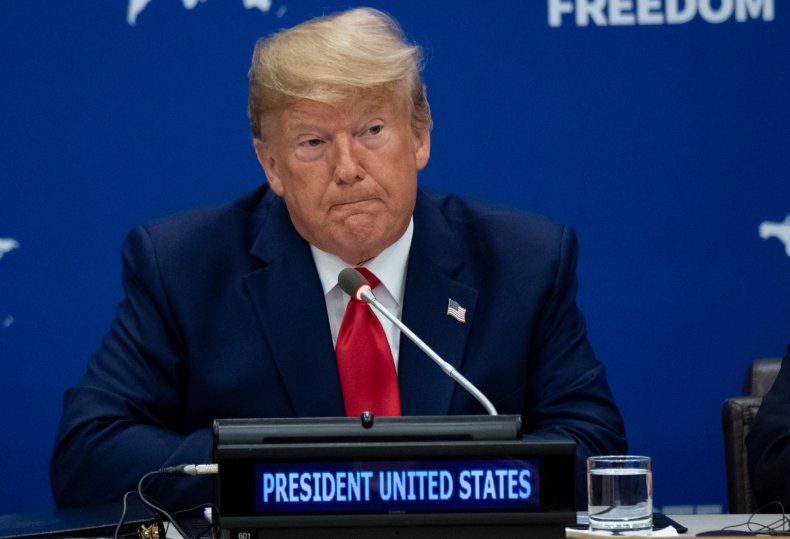 Hours before the president's remarks, the White House released a summary of Trump's call with Ukrainian leader, Volodymyr Zelensky, which showed that he had offered his own administration's Attorney General to help in an investigation into 2020 Democratic candidate Vice President Joe Biden's family.
According to the summary, Trump said to Zelensky: "There's a lot of talk about Biden's son, that Biden stopped the prosecution and a lot of people want to find out about that. So whatever you can do with the Attorney General would be great. Biden went around bragging that he stopped the prosecution so if you can look into it... It sounds horrible to me."
Despite the backlash from his critics over the contents of the document, Trump urged reporters and lawmakers in Congress to ask for a transcript of another conversation between him and Zelensky as well as two conservations that took place between the Ukrainian leader and Vice President Mike Pence. "You can have it anytime you need it," he said during the news conference.
The GOP-led Senate voted unanimously to have the whistleblower complaint released to the House and Senate Intelligence Committee on Tuesday afternoon. After some lawmakers read the complaint today, Republican Senator Ben Sasse said it detailed "lots that's very troubling," and discouraged other GOP members from rushing to "say there's nothing there."