Trump Has Named More Ex-Lobbyists to Cabinet-Level Positions in Three Years than Obama and Bush Did in Eight
In just three years in office, President Donald Trump has appointed more ex-lobbyists to cabinet-level positions than both Barack Obama and George W. Bush did during their two terms in the Oval Office.
According to a report published on Tuesday by the Associated Press, the number of former lobbyists who currently work or used to work in the Trump administration now totals seven. Meanwhile, in Obama's eight years as president he appointed five former lobbyists, while Bush appointed only thee.
Defense Secretary Mark Esper, Interior Secretary David Bernhardt and Acting Labor Secretary Patrick Pizzella are all ex-lobbyists. Dan Coats, the president's former director of national intelligence, also used to be a lobbyist.
Pizzella took over the Labor Department after its former chief Alex Acosta stepped down earlier this year amid backlash over his involvement with Jeffrey Epstein. Now, Pizzella's proposed replacement Eugene Scalia (the son of late Supreme Court Justice Antonin Scalia) is also a former lobbyist.
Liberal groups and labor unions are already challenging Scalia's nomination, citing his record for lobbying against labor regulations. Scalia also worked on behalf of some of the country's biggest companies, including JUUL, Facebook and Walmart.
Trump's acting chief for the Environmental Protection Agency, Andrew Wheeler, is also a former lobbyist. Before joining the environmental agency Wheeler lobbied for Murray Energy Corp, the country's biggest underground coal mining company.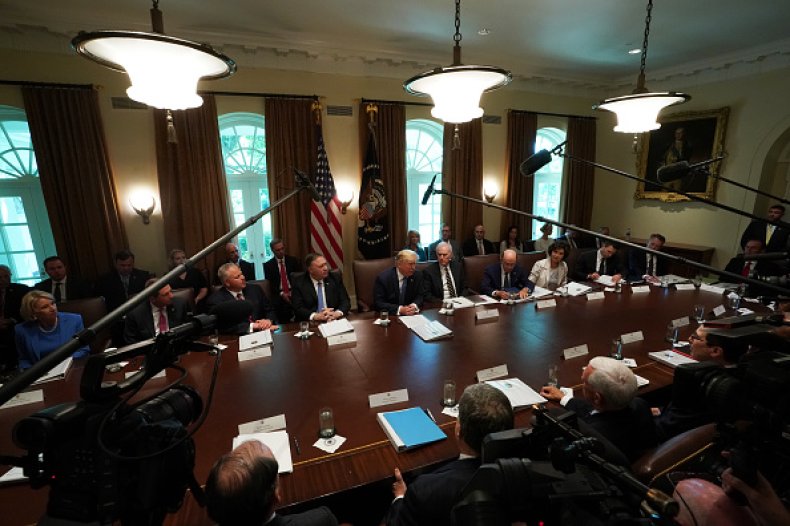 Trump's appointment of former lobbyists to cabinet-level positions seems to contradict his 2016 campaign promise to "drain the swamp" in Washington D.C.
But in the early days of his presidency, Trump issued an executive order that got rid of a number of lobbying restrictions that Obama had put in place. The order had removed the restriction barring lobbyists from taking on roles in the administration within any agency they had lobbied against in the previous two years.
Citizens for Responsibility and Ethics, a government watchdog group, slammed Trump's executive order shortly after it was signed. The group stated that "lobbyists bring special interest baggage with them when they pass through the revolving door to go to work in the very agencies they once lobbied. Obama banned this practice but Trump has brought it back."
According to the Associated Press, the amount of money spent on lobbying the federal government in 2019 is expected to exceed last year's total of $3.4 billion. It would be the most amount of money spent in the industry since 2010, according to the political money website OpenSecrets.org.