Trump Approval Drops to Lowest Point in 18 Months as U.S. Hits 50K New Daily Virus Cases
President Donald Trump's approval rating dropped to its lowest point in more than a year as the U.S. reported a record-high 50,000 new coronavirus cases on Wednesday.
According to a Real Clear Politics average of polling data, 55.8 percent of Americans disapprove of the president's overall job performance, while 41.5 percent approve. Meanwhile, 57.2 percent disapprove of Trump's handling of the coronavirus crisis, while 40.8 percent approve.
Throughout his first term, Trump's overall approval rating has been as low as 37 percent, which was reported on December 13, 2017. Since the start of the pandemic in March, he has faced criticism for his administration's handling of the virus outbreak and, most recently, his unwillingness to wear a mask. Based on a number of recent polls, a majority of Americans continue to be unhappy with this aspect of his job performance.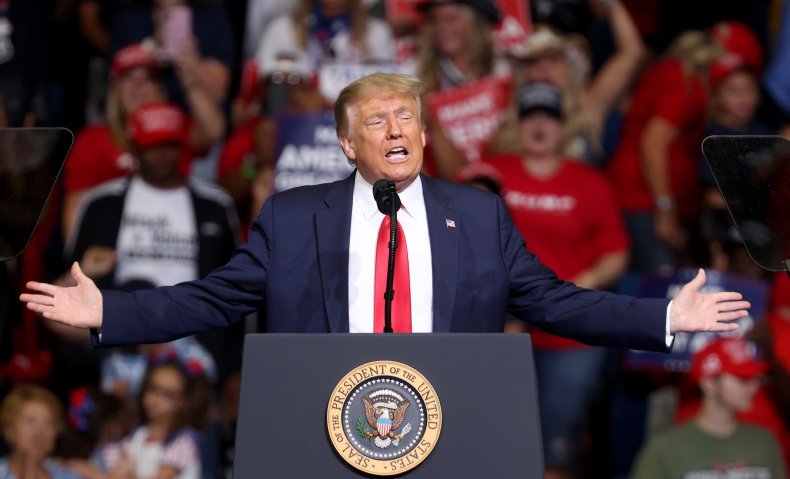 The most recent poll by Reuters/Ipsos, conducted among 946 registered voters between June 29 and 30, gives Trump an approval rating of 39 percent for his handling of the health crisis. The same poll also reported that just 20 percent of registered voters surveyed said the country was headed in the right direction.
CNBC, which surveyed 1,663 likely voters between June 26 and 28, said 41 percent of those surveyed approved of how Trump was handling the pandemic.
Meanwhile, a Hill-HarrisX Poll reported that 43 percent of Americans approve of Trump's handling of the crisis, while 57 percent of those surveyed disapproved.
Change Research reported that 43 percent of voters in battleground states approve of Trump's performance in dealing with the outbreak and that voters believe the country has opened too quickly.
A shift in attitudes toward reopening follows the recent severe surge in new coronavirus cases in such Southern and Western states as California, Florida, Arizona and Texas. Meanwhile, Johns Hopkins University reports that 10.7 million cases of the virus have been reported worldwide, with nearly 2.7 million of those cases in the U.S.—the most worldwide.
"If I could go back and redo anything, I would slow down the reopening of bars," Texas Governor Greg Abbott said, according to CBS.
Many of the same polls reported Trump's overall approval numbers were lower.
Real Clear Politics reported that polls from Politico and CNBC gave Trump an approval rating of just 39 percent, while an NPR/PBS/Marist poll conducted from June 22 to 24 gave him a 41 percent approval rating.
Rasmussen Reports, which maintains a daily approval index of Trump's overall performance as president, said that rating increased slightly, from 44 percent on June 26 to 46 percent on July 2.
Trump's highest approval rating, 47.4 percent, was reported on April 1, according to Real Clear Politics.
Newsweek contacted the Trump campaign for comment but did not hear back before publication.