Trump Approval in Iowa Poll Higher Than When He Was President
Former President Donald Trump has increased his appeal with Iowa voters since leaving office, recently reaching a historic high approval rating in a Des Moines Register/Mediacom poll.
Trump is set to hold a rally in Iowa on Saturday amid increased speculation of a 2024 presidential run, but he's unlikely to make any official announcement at the rally. The former president turned Iowa red in 2016 and while President Joe Biden is struggling in the state, Trump's approval has increased over the past few months.
A new poll from the Des Moines Register and Mediacom found Iowans gave Trump a 53 percent approval rating. This marks the highest approval rating Trump has ever received since the Register and Mediacom started conducting the poll, this most recent rating was two points higher than the one from March 2020, which was Trump's previous record high.
Trump's current approval rating is eight points higher than it was in March, the last time the poll was conducted. Among Republicans, Trump is more popular than Senator Chuck Grassley, who has represented Iowa in the Senate since being elected in 1980.
"I did not foresee the day when Donald Trump would be 10 points more popular with Iowa Republicans than the venerable Chuck Grassley," pollster J. Ann Selzer, president of Selzer & Co., told the Des Moines Register.
Trump won Iowa in 2016 by nearly 10 points but saw his margin shrink in 2020 when he was up against Biden. However, recent polling shows Biden struggling in the Hawkeye State, a historic swing state that's been trending more red in recent elections.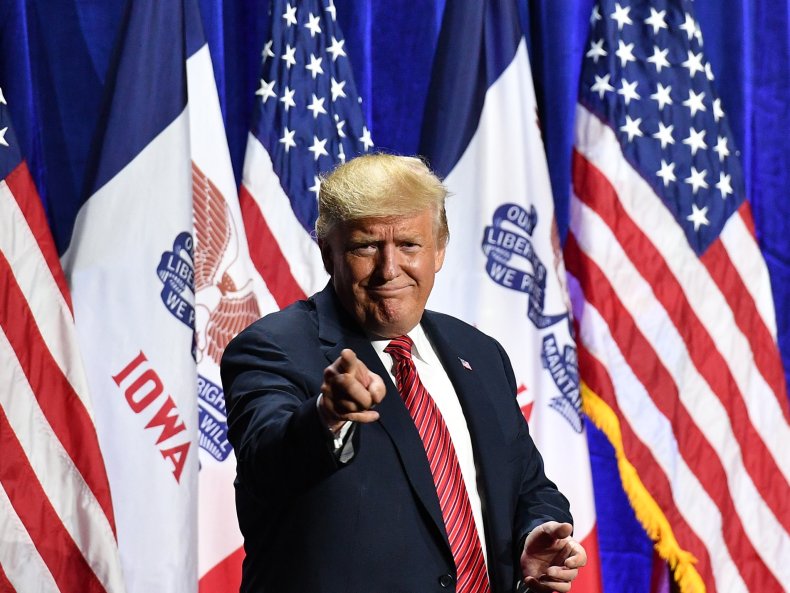 A recent Des Moines Register/Mediacom poll found Biden only had a 31 percent approval rating. It's a 12 point drop since the poll was conducted in June and lower than the historic lows of his last two predecessors.
Trump's lowest approval rating in the poll was 35 percent and former President Barack Obama's dipped to 36 percent. Seltzer called it a "bad poll" for Biden that's "playing out in everything that he touches right now."
Both polls surveyed more than 800 Iowans and had a margin of error of plus or minus 3.5 percentage points.
Vaccination status makes a significant difference in how survey participants view the two American leaders. About 86 percent of Iowans who say they aren't vaccinated and don't plan to become vaccinated against COVID-19 view Trump favorably. Only 4 percent of unvaccinated people approve of Biden's strategy for fighting the COVID-19 pandemic.
Saturday will mark Trump's first time back in Iowa since leaving office in January and feeds into speculation that he'll attempt to oust Biden from office. Trump's consistently teased a presidential run and recently said that the one thing that would likely keep him from running would be bad news from a doctor. However, his current focus seems to be on the 2022 midterm elections and helping Republicans regain control of Congress.
If Trump were to run, he's likely to command support from his typical base in Iowa, as 73 percent of evangelicals and 68 percent of rural residents have a favorable view of him. When it comes to men, Trump has majority support, but a majority of women, at 52 percent, view him unfavorably.
Although some hoped Trump's ban from social media and return to Florida would cause him to fade into the background of American politics, he's maintained a strong presence. Holding rallies, continuing to give interviews and putting out statements via email, Trump's assumed command of the GOP as its leader and is a frontrunner for 2024.
"It doesn't seem to be a case of 'out of sight out of mind,'" Seltzer said. "Maybe it's a little bit more of 'absence makes the heart grow fonder.'"