Trump's Approval Rating Equals Obama's Before 2010 Midterms and That's Bad News for the President
President Donald Trump's approval rating rose by four points in a poll released Thursday, but recent history indicates the Republican and his party could still be rocked in this year's midterm elections.
Trump's approval rating improved to 44 percent in the NBC News/Wall Street Journal poll, after earning 40 percent approval from voters two months ago. Much of that jump, among the highest Trump has received from polls, hinged on voters crediting the president for the performance of the U.S. economy.
But Trump's 44 percent approval also matches two previous presidents at the same points in their first term in office, just months before their parties experienced major losses in midterm elections.
President Barack Obama earned 44 percent approval in June 2010, a year and a half into his first term, and so did late President Ronald Reagan in June 1982, according to NBC.
Five months later, both the Democrat Obama and the Republican Reagan saw their respective parties lose a significant number of seats in the House of Representatives and Senate.
In 2010, after controlling both chambers, Democrats gave up six Senate seats while maintaining a slim three-seat majority, and lost 63 House seats to hand the Republicans a majority.
In the fall of 1982, Republicans were already the minority in the House but Democrats gained 26 more seats to strengthen their hold. Republicans were, though, able to keep and improve their majority in the Senate that year.
Republicans currently hold a 241-194 advantage over Democrats in the House and very slim 51-47 lead in the Senate, with two independents caucusing with Democrats.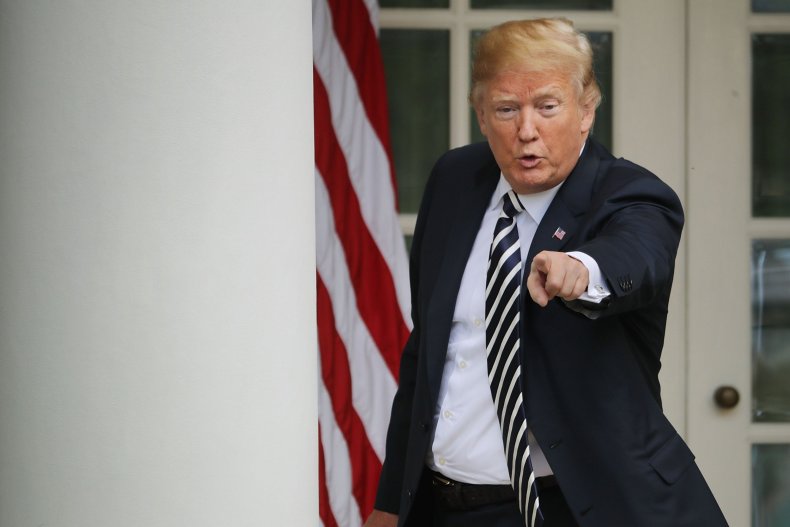 And, despite Trump's popularity within his own party and his avid supporters, Republicans may be vulnerable in a number of races around the country this fall. With Senators Jeff Flake and Bob Corker each opting to retire, both Arizona and Tennessee could be in play for Democrats, while Senate races in Texas, Mississippi and Nevada could serve as opportunities for Democrats to take at least one chamber of Congress.
Senate Democrats also have battleground races in Montana, West Virginia, North Dakota, Florida and Ohio, according to Ballotpedia.
But the NBC/WSJ poll also showed that voters were more likely to vote for a candidate who intended to challenge Trump. Fifty percent of registered voters preferred Democrats to run Congress, while only 40 percent wanted the GOP in charge.