Trump's Approval Rating Sinks to 17-Month Low as Election Looms Closer
President Donald Trump's average approval rating has sunk to a 17-month low with less than four months to go until the November elections, new polling data shows.
The approval rating tracker run by FiveThirtyEight found that the president had the backing of 40.2 percent of Americans on average, according to weighted calculations.
Trump's average job approval rating was last at that level on February 10, 2019—a little more than a month before the conclusion of the Special Counsel investigation into Russian interference in the 2016 elections.
The commander-in-chief's present disapproval rating has also hovered at a high not seen since early 2019 over the past few weeks.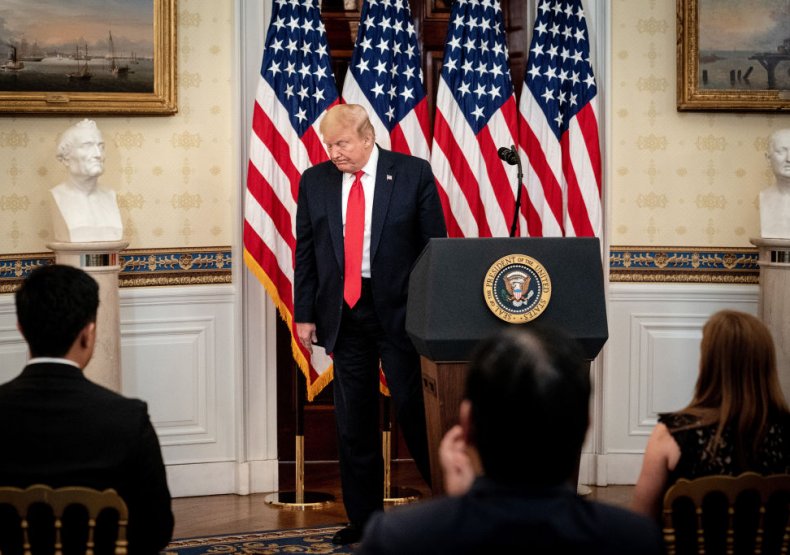 According to the FiveThirtyEight tracker, which weights its calculations on the quality of individual polls, Trump's average disapproval rating stood at 55.7 percent, giving him a net disapproval rating of 15.5 percentage points.
Several individual approval rating polls have been no more flattering to the president as voters have registered their disapproval of his handling of the coronavirus pandemic.
One survey released by Ipsos and Reuters this week found that Trump's approval rating stood at just 38 percent among U.S. adults surveyed between July 27 and 28. By comparison, 57 percent of voters said they disapproved of his performance in office, landing the president with a net disapproval rating of 19 percentage points.
A further 4.7 percent said they were unsure how they felt about Trump's performance in office thus far.
Asked who they trusted more to handle the U.S. recovery and coronavirus pandemic, only a third of Americans told Ipsos that the president would be their man of choice. Forty-one percent opted for former Vice President Joe Biden as the man best suited to lead the country forward on the issues.
Another tracker poll conducted by YouGov between July 25 and 27 found that 53 percent of American adults disapproved of the president, while 42 percent backed the job he was doing in the Oval Office.
The new polling data was released as coronavirus-related deaths in the U.S. neared the 150,000 mark amid a high increase in new cases being reported in several states.
According to the Johns Hopkins University COVID-19 tracker, more than 4.3 million cases of the coronavirus had been recorded in the U.S. as of Wednesday morning, along with 149,260 deaths.
The graphic provided by Statista below shows the 21 states now in the "red zone" of new COVID-19 infections.