Donald Trump's Approval Rating Slides to 36%, The Lowest It's Been Since January
Amid numerous political scandals and an unfurling trade war with China that shows little sign of de-escalation, President Donald Trump lacks the broad confidence of the American public, according to a new AP-NORC poll.
Sixty-two percent of U.S. adults disapprove of the way Trump is handling his job, compared with 36 percent who approve. Predictably, the partisan divides swing favorably or unfavorably towards the president depending on political affiliation. But, notably, the coveted class of self-identified political independents remains opposed to the president, with 65 percent disapproving of the way he is handling his job.
Trump's approval ratings have not been this low in the monthly AP-NORC survey since January.
While many of the conflicts and controversies that have emerged in recent months pertain to the trade war and Trump's management of the economy — including a warning sign that a recession may be on the horizon due to a metric known as the inverted yield curve — the public has not been scared off by the president's economic stewardship. Fifty-one percent disapprove of his handling of the economy, and 46 percent approve. Though this is a net negative rating, it indicates the public is largely divided on the matter, and represents Trump's highest job approval rating for any category measured in the AP-NORC poll.
Crucially, independents are evenly split on Trump's handling of the economy. While they tend to mimic Democratic margins opposing Trump on nearly every other issue, on the economy, independents break 44 percent to 47 percent against Trump.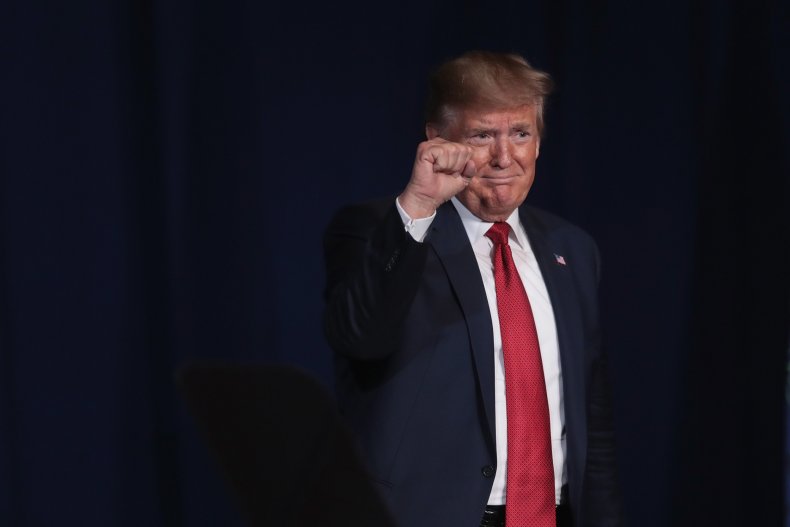 According to the Associated Press, Trump's overall job approval ratings have never slid below 32 percent or exceeded 42 percent in the series of surveys conducted by the news organization with NORC. No other president is believed to be confined to such a narrow range of polling outcomes, the AP said.
It is his handling of other issues, rather, that is contributing to the pronounced negative job approval rating among U.S. adults.
On gun policy, for example, 61 percent lack confidence in Trump's management as president. More than one in four Republicans disapprove of his handling of gun policy, as well. The poll was conducted in the wake of two mass shootings in El Paso, Texas and Dayton, Ohio.
After the incidents, Trump delivered a speech that cast blame on mental illness, video games and the internet for the phenomenon of mass shootings. He then indicated there would be action on universal background checks, which the public overwhelmingly supports, before Trump reportedly called National Rifle Association CEO Wayne LaPierre to announce his retreat on such legislative action.