Trump Approval Rating is Rapidly Declining Among His Key Base in Latest Warning Sign for President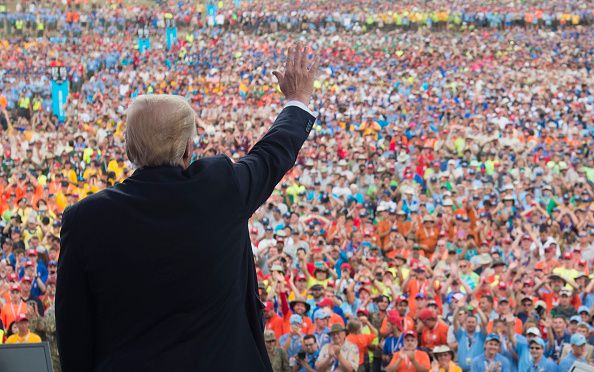 President Donald Trump's approval rating has slipped significantly among white voters, including blue-collar whites who make up much of his base, according to newly published data.
Trump is losing his formerly strong grasp on white voters without a four-year college degree, a group that he won with 66 percent in the 2016 presidential election. But in 2017, his average among the same group had dropped to 56 percent, according to more than 600,000 interviews conducted by the polling company Survey Monkey, reported by The Atlantic Thursday.
Related: Trump new approval ratings show he's the least popular president to enter a second year in office and it's not even close
White voters overall are turning away from the president as well, with 60 percent of the demographic disapproving of Trump's performance. While 48 percent of whites with college degrees voted for Trump in 2016, his support dwindled to 40 percent over the following year.
SurveyMonkey analyzed responses to questions about Trump's job performance in 2017 and broke down the numbers by race, gender, education level and age, a more detailed picture of approval ratings than is usually found in conventional polls of smaller sample sizes.
Trump narrowly won young whites on his way to the White House, but now white millennials largely disapprove of his performance. Among millennial white women with and without a college degree and young men with a degree, between 62 percent to 76 percent disapprove of the president. And there is a 49-49 percent split with young white men without a degree.
Slightly older voters were starkly split by gender, the survey found. White men older than 35 continue to support Trump, and his support rises even higher among those older than 50. But his approval rating fell further with middle-aged, blue collar, white women than with any other demographic group. White women without a college degree supported the president by 61 percent in 2016, but last year there was a 49-49 percent split.
Gender is also a strong factor in other demographic groups. African-American and Hispanic voters largely disapprove of Trump, but far more men supported the president than women in each group.
The survey also found that Trump's approval rating across all groups was 42 percent, with 56 percent disapproving.
Trump has battled record low approval ratings throughout his first year in office. A Gallup poll released this week indicated that he was the least popular president ever entering his second year in the White House.