Trump's Approval Rating Is Getting Better as Election Draws Closer: Polls
President Donald Trump's approval rating is slowly increasing with a little less than three months to go until election day, despite the continued spread of coronavirus and steep unemployment across the country.
According to FiveThirtyEight's approval rating tracker, 41.4 percent of U.S. adults back the president's performance in the Oval Office on average, while 54.7 percent disapprove.
Trump's net disapproval rating of 13.3 points is high, but still 2.4 percentage points lower than it was this time last month, when his net disapproval rating stood at 15.7 points.
The weighted FiveThirtyEight tracker found that 40.1 percent of Americans backed the president's record at the time, while 55.8 percent of U.S. adults told pollsters they disapproved.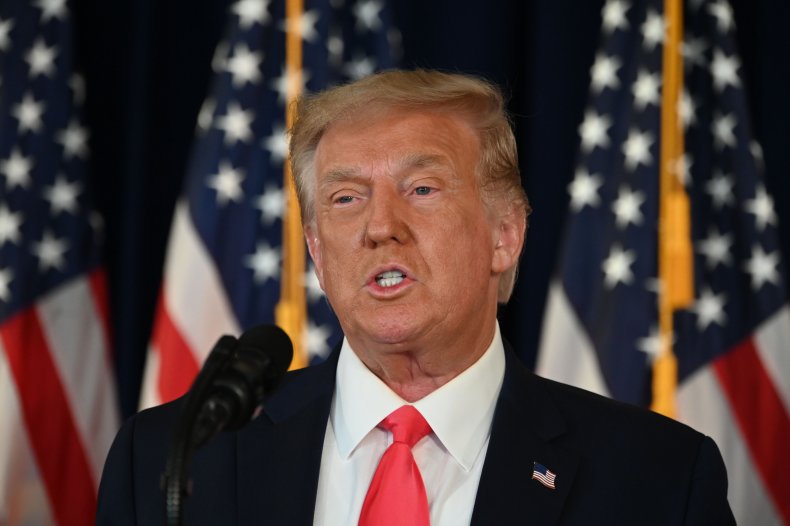 A few individual surveys have also started to look slightly more positive for Trump and his hopes of winning reelection in November.
Rasmussen Reports pollsters found that 48 percent of likely voters approved of the commander-in-chief's track record as of last Thursday, while 51 percent said they disapproved—giving Trump a net disapproval rating of just 3 percentage points.
When the same survey was conducted between July 30 and August 3rd, Rasmussen Reports found that the president's approval and disapproval ratings were neck-and-neck on 49 percent.
Other polls have revealed a far more negative perception of Trump's handling of the U.S. as it faces twin public health and economic crises.
Morning Consult pollsters found that the president had a 20 percent net disapproval rating in a poll conducted between July 31 and August 3, with 38 percent of voters backing him and 58 percent rejecting his record.
Another survey from Global Strategy Group revealed Trump had the same disapproval rating among registered voters, with fewer than four in ten (39 percent) approving of the president's performance thus far.
FiveThirtyEight's approval tracker showed Trump's average rating improving as U.S. coronavirus cases topped the 5 million mark over the weekend.
According to the Johns Hopkins University tracker, the U.S. has recorded the highest number of coronavirus cases as of Monday morning, with second-place Brazil reporting a little more than 3 million COVID-19 infections.
America has also reported the most coronavirus deaths at more than 162,000 of the 731,374 COVID-19 fatalities recorded worldwide.
Reacting to the latest coronavirus data on Sunday, former Vice President Joe Biden said the five million infections number "boggles the mind and breaks the heart."
"Five million is more than the entire population of Alabama—or of more than half the states in our union, for that matter," the Democratic nominee added. "Each time the number clicks up, it represents a life altered, a family stricken with anxiety, a community on edge. And for the families of the more than 160,000 souls who have died because of this virus, it is a pain that can never be undone."