Trump Approval Rating Reaches Highest Mark in Almost a Year Following Historic North Korea Meeting
On the back of a historic meeting between the leaders of North and South Korea, for which he has sought to take full credit, President Donald Trump's approval rating has jumped to its highest mark in almost a year.
Related: Where Will Trump Meet Kim Jong Un? President Names His Favorite Place for North Korea Summit
Trump's rating with Gallup as of Sunday stood at 42 percent, the highest it has been with the polling company since the start of last May. The president's disapproval rating is also at its lowest, 53 percent, in nearly 12 months.
The findings came just days after North Korean leader Kim Jong Un and his South Korean counterpart, Moon Jae-in, met for a historic summit in which they pledged to bring a formal end to the Korea War, 65 years after fighting was suspended by an armistice deal.
Trump, who regularly tweeted insults and threats at Kim through much of last year, has been credited by many, not least himself, for helping to create the landscape for peace talks.
"I spoke to the President of South Korea this morning for a long time. They just had a very good meeting. He gives us tremendous credit. He gives us all the credit," Trump said Saturday during a rally in Michigan during which he was cheered with chants of "Nobel," referencing the Nobel Peace Prize.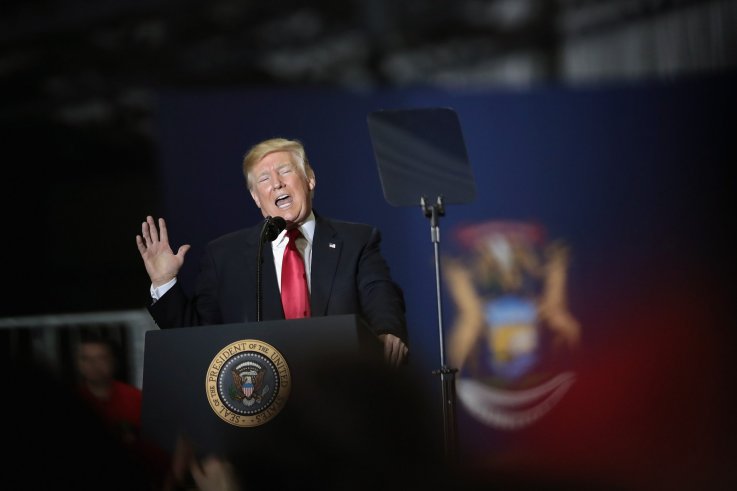 Trump is planning his own meeting with North Korea's dictator in the coming weeks.
"The United States has never been closer to potentially having something happen with respect to the Korean Peninsula that can get rid of the nuclear weapons, can create so many good things, so many positive things, and peace and safety for the world. So we'll see what happens," Trump said Monday during a press conference alongside Nigeria's president.
Trump has battled low—often record low—approval ratings throughout his 15 months in the White House and, with Gallup, has yet to match the high of 45 percent he received a week after his inauguration.
Trump Approval Rating Reaches Highest Mark in Almost a Year Following Historic North Korea Meeting | U.S.