Trump Approval Rating Same as Obama After First Year, at Least According to One Poll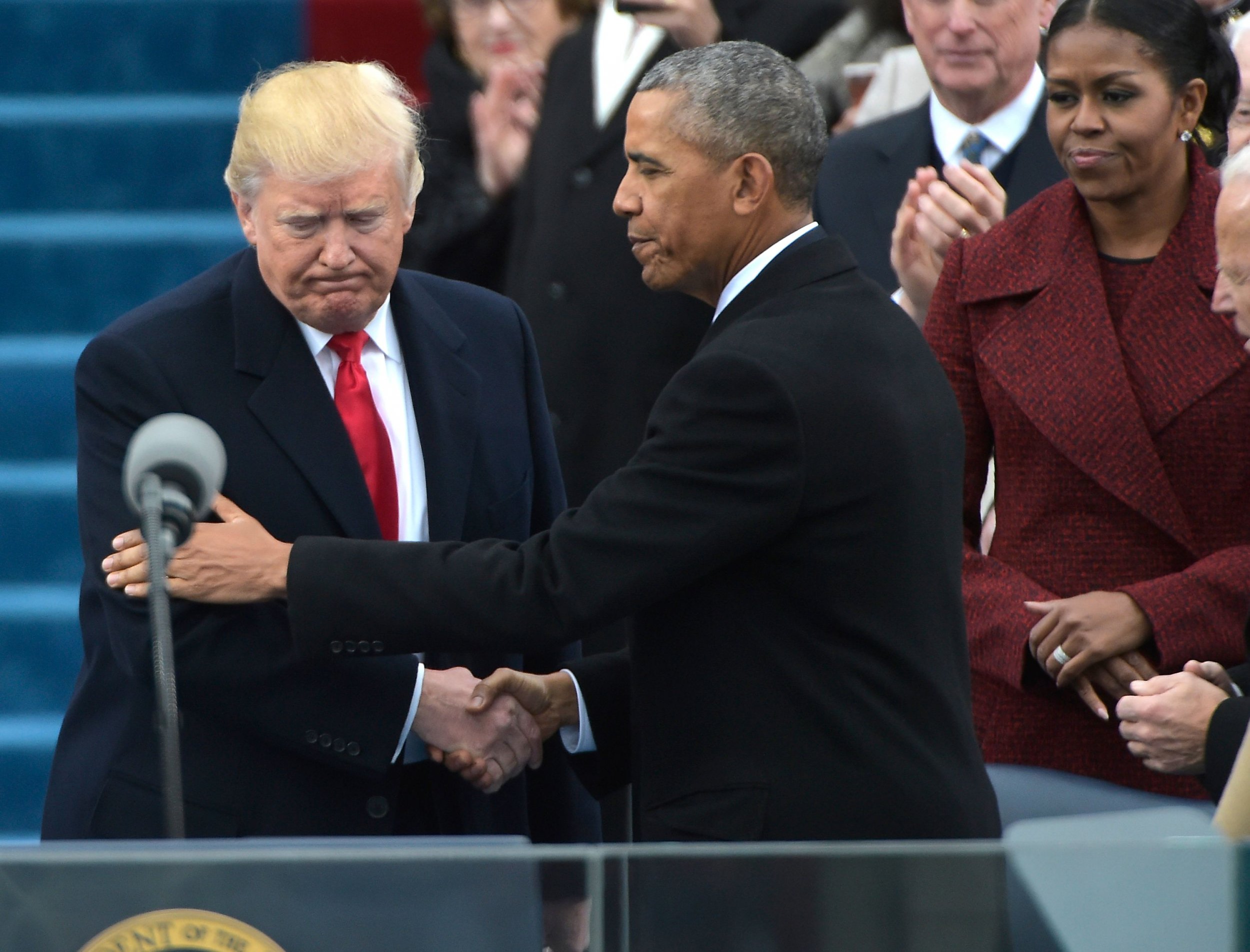 President Donald Trump and his predecessor, Barack Obama, have at least one thing in common: identical approval and disapproval ratings in one national poll after their first year in office.
Related: Obama compared Trump to Hitler, says Fox News host
Rasmussen Reports' latest poll showed Thursday that Trump had a 46 percent approval rating compared to a 53 percent disapproval figure, which were near the same percentages Obama received at the end of 2009.
Overall, Rasmussen, which has long found much higher approval rating figures for Trump than any other national poll, showed 29 percent strongly approved of Trump's work and 44 percent strongly disapproved.
Conservative blogger and Trump proponent Matt Drudge, of the Drudge Report, first pointed out Trump and Obama's mirrored ratings as recorded by Rasmussen.
"What about Obama at same exact date first year in presidency?? 46% APPROVE, 53% DISAPPROVE! " Drudge tweeted Thursday morning.
Indeed, Obama polled at 46 percent approval and 54 percent disapproval in Rasmussen's December 31, 2009, results, according to its historical index of the 44th president's ratings. However, only 24 percent of respondents strongly approved of Obama's work at the time, and 42 percent strongly disapproved.
Like most other presidents in their first year, Obama entered office with a high approval rating nationally. He registered a 67 percent approval, compared to 32 percent disapproval, on his inauguration day, according to Rasmussen.
Similarly, Obama had relatively strong approval numbers across party lines. During his first week in office, he could count upon the approval of 88 percent of Democrats, 41 percent of Republicans and 62 percent of independents, Gallup's poll from January 21 to 25, 2009, showed.
But as 2009 went on, Obama's support from Republicans plummeted to 16 percent while among independents it dropped to 47 percent.
Trump has routinely railed against approval numbers put out by mainstream media outlets, but he advertised Politico/Morning Consult's findings earlier this month. The results showed a 45 percent approval rating, much higher than other polls that had Trump in the low- to mid-30s after many controversies throughout his first year in office.
"MAKE AMERICA GREAT AGAIN!" Trump tweeted December 8.
However, the Politico/Morning Consult poll also reflected a 51 percent disapproval rating, with 60 percent of respondents viewing Trump as reckless and 54 percent believing him to be sexist.
Currently, Trump's average approval rating sits at 39.3 percent with 56.2 percent disapproving, according to RealClearPolitics' composite. The average has climbed of late with many polls showing ratings above of 41 percent or higher, like NBC News/Wall Street Journal (41 percent), The Economist/YouGov (43 percent) and the Harvard-Harris poll (41 percent).