Trump Approval Rating Plummets in 500 Counties With Rising Coronavirus Deaths
Donald Trump's approval rating has declined significantly in counties hit by a rising number of novel coronavirus deaths, while the president's reelection campaign trails in key swing states vital to victory in November.
Bloomberg reported Monday, citing data from Pew Research, that Trump has seen the fastest declines in his approval rating in some 500 counties where there have been more than 28 coronavirus deaths to 100,000 residents. Pew Research polling has shown that 17 percent of respondents that approved of Trump in March now disapprove of the president.
This comes as multiple recent polls show Trump trailing Democratic presidential candidate Joe Biden in several key swing states. The current Real Clear Politics averages of polls in Wisconsin, Michigan, Pennsylvania and Florida show Biden ahead by 5 or more points in each state. In Arizona—a longtime Republican-stronghold—Biden is ahead by an average of 3.5 points.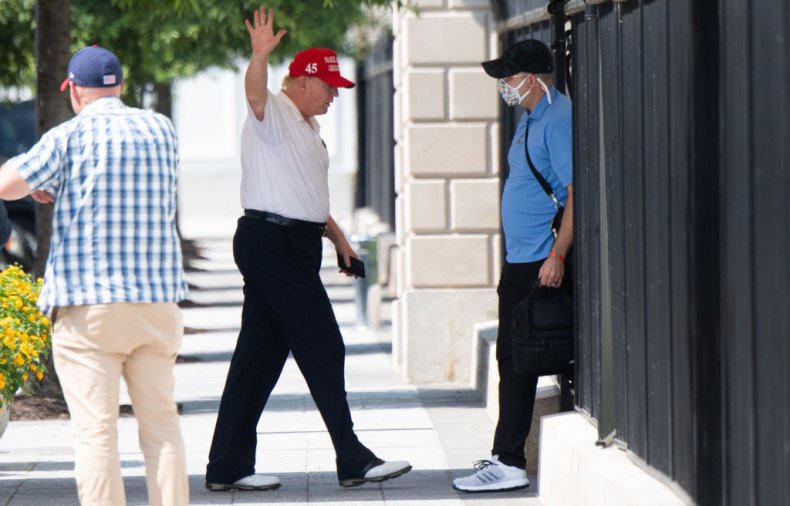 Several recent national polls have shown Biden ahead of Trump by double digits. A Monmouth survey conducted from June 26 to 30 showed Biden ahead by 12 points, with 53 percent compared with Trump's 41 percent. USA Today and Suffolk polls conducted from June 25 to 29 found the same results. Overall, the Real Clear Politics average of national polls showed Biden ahead by about 8.7 points.
Newsweek reached out to the Trump campaign for comment, but representatives did not respond by the time of publication.
The latest Pew Research polling, published June 30, showed that just 39 percent of respondents approved of Trump's job as president, while 59 percent disapproved. That's a decline of 6 points since March, when 45 percent of respondents said they approved of his performance. Meanwhile, the novel coronavirus pandemic continues to spread with new single-day increases in cases rising to record levels over the past week.
The U.S. reported more than 50,000 new infections on Thursday, Friday and Saturday, and then more than 45,000 new cases on Sunday. With more than 2.9 million confirmed infections and nearly 130,000 deaths, the U.S. remains the country with the highest number of cases and deaths in the world due to the novel virus. As new cases spike nationwide, many other wealthy nations have successfully curbed their infection rate and have seen a dramatic decline in their number of new cases.
While public health experts have continued to give dire assessments of the pandemic's trajectory, Trump has been dismissive of the growing number of infections. "And I think we're going to be very good with the coronavirus. I think that at some point that's going to sort of just disappear. I hope," Trump told Fox Business last week.