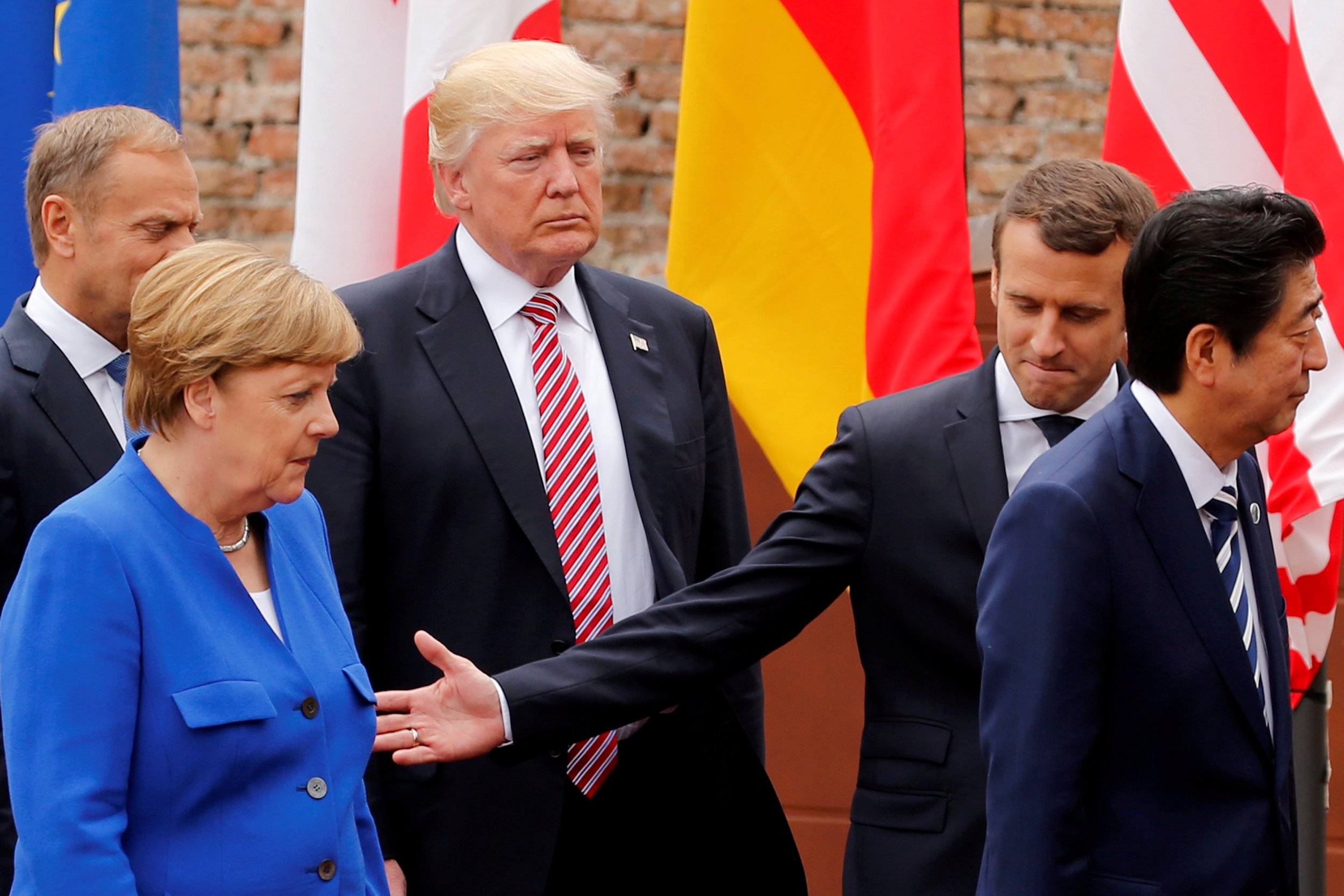 Mired in record low approval ratings at home, President Donald Trump is even less popular globally, with a majority describing him as dangerous, arrogant and intolerant. Those are the results of the Pew Research Center's annual survey on global attitudes toward the United States and its president, released Monday.
It found that, across the 37 countries surveyed, a median of just 22 percent had confidence in Trump to do the right thing when it comes to international affairs. Seventy-four percent said they had no confidence in the Republican. Adding insult to injury for the former real estate magnate, global confidence in the man residing in the Oval Office has plummeted since Trump became president.
Trump's predecessor, President Barack Obama, was viewed favorably by a median of 64 percent at the end of his second four-year term.
That dramatic shift has taken its toll on the image of the U.S. across the globe. A median of 49 percent now have a favorable opinion of the U.S., down from 64 percent at the end of Obama's presidency.
Confidence in the U.S. president has taken a particularly severe hit among many of the country's closest allies: Germany, the United Kingdom, South Korea, Japan and Canada.
Only 5 percent of Mexicans surveyed had confidence in Trump, in large part due to his stated intention to build a wall along the entirety of the U.S.-Mexico border. A full 94 percent of Mexicans said they opposed that plan. But opposition is not limited to Mexico: A median of 76 percent across the 37 countries surveyed said they did not approve of it.
Indeed, all of the major policy proposals featured in the survey had a higher median percentage of opposition than of favor. Other policy ideas mentioned include the withdrawal from the Iran nuclear deal, ending support for major trade agreements, Trump's executive order banning travel from six Muslim-majority countries and withdrawal from international climate agreements.
The survey was taken before Trump, who has proclaimed a slogan of "America First," formally announced the United States's withdrawal from the Paris climate accord, meaning his international standing may have sunk even further. That decision was greeted with widespread condemnation internationally.
Trump's ratings in many countries, notably in Western Europe, now bear a striking resemblance to those endured by George W. Bush during his two terms, in which the United States's international reputation took a severe hit.
Even Russian President Vladimir Putin, considered an adversary in many of the countries surveyed, enjoys a healthier global reputation. Compared to Trump's 22 percent, a median of 27 percent had confidence in Putin to do the right thing regarding world affairs. Chinese President Xi Jinping was slightly higher, at 28 percent. German Chancellor Angela Merkel was trusted by 42 percent, compared with 31 percent who said they had no confidence.
In a further indictment of Trump's international reputation, a median of 75 percent said they believed Trump was arrogant. The views on Trump's other characteristics do not get any better. A median of 65 percent said he was intolerant, and 62 percent said he was dangerous.
And while much of his notoriety before running for president was based on his stint as a personality on reality television, just 39 percent considered Trump charismatic. Even less—a median of 26 percent—said he was well qualified for the job of president. Only 26 percent believed that Trump's major campaign talking point (caring for ordinary people) was genuine.
Arguably, the sole piece of good news for Trump from the survey was that a median of 55 percent said he was a strong leader.
Given Trump's repeated war of words with his predecessor, though, it is the negative comparisons with Obama that may sting most. Notably, Trump inspired more confidence than Obama in just two countries: Russia and Israel.