Donald Trump's Approval Rating Slumps, Average Since Taking Office Is Lowest of Any Modern President at Comparable Point in Term: Poll
A new poll found that President Donald Trump's approval rating has slumped from its summer highs amid concerns that the U.S. economy is heading towards a recession in the coming year, right before the 2020 election.
The ABC News/Washington Post poll found that just 38 percent of the 1,003 adults surveyed in early September approved of Trump, down from his personal best of 44 percent in July. His disapproval rating was 56 percent, up from 53 percent in the last poll.
"His average rating since taking office remains the lowest on record for any modern president at a comparable point in his term, and he is the first never to have achieved majority approval," the poll, conducted by Langer Research Associates, said.
Sixty percent of those polled believe a recession is very or somewhat likely in the coming year. "That's within sight of the 69 percent who said so in November 2007, in advance of the Great Recession," the poll results state.
"In another measure, Trump gets far more criticism than credit for his economic stewardship. Americans by nearly a 3-1 margin, 43-16 percent, say his trade and economic policies have increased rather than decreased the chance of a recession in the next year."
A closely-watched bond market indicator signaled in August that a recession could be on the way. The yield curve inverted on 10-year and two-year U.S. Treasurys, which meant the shorter-term bonds had higher interest rates than the longer ones.
High demand for Treasurys with longer maturity dates allows the government to borrow at low interest rates on them. Ordinarily, shorter-life bonds carry lower interest rates because investors tend to prefer them as a less-risky option. Near-term economic forecasts are less muddy.
Historically, such an inversion has predicted a recession, though typically one happens between 10 and 36 months after. News of the latest inversion sparked fears that a recession is coming to end a record-breaking run of growth for the U.S. economy.
Bond investors were concerned about the global economic slowdown, with weak economic data from Germany and China, two manufacturing powerhouses, causing substantial worry. The ongoing and escalating U.S. trade war with China is also troubling investors.
President Trump has accused the media of "trying to force a recession" by reporting on the economic data and views from the market. "The Economy is strong and good, whereas the rest of the world is not doing so well," Trump tweeted in August.
"Despite this the Fake News Media, together with their Partner, the Democrat Party, are working overtime to convince people that we are in, or will soon be going into, a Recession. They are willing to lose their wealth, or a big part of it, just for the possibility of winning the Election.
"But it won't work because I always find a way to win, especially for the people! The greatest political movement in the history of our Country will have another big win in 2020!"
Trump has also attacked the Federal Reserve for not cutting interest rates further to support economic growth. The Fed's mandate is to create the financial conditions in which prices are stable, not to expand GDP, and it is supposed to be independent of the White House.
"The entirety of the Democrat Party and their allies in the press corps have been openly rooting for a recession, but the fact is that our economy remains strong and continues to grow," said Trump 2020 campaign communications director Tim Murtaugh in response to the poll.
On Tuesday, Trump tweeted: "ABC/Washington Post Poll was the worst and most inaccurate poll of any taken prior to the 2016 Election. When my lawyers protested, they took a 12 point down and brought it to almost even by Election Day. It was a Fake Poll by two very bad and dangerous media outlets. Sad!"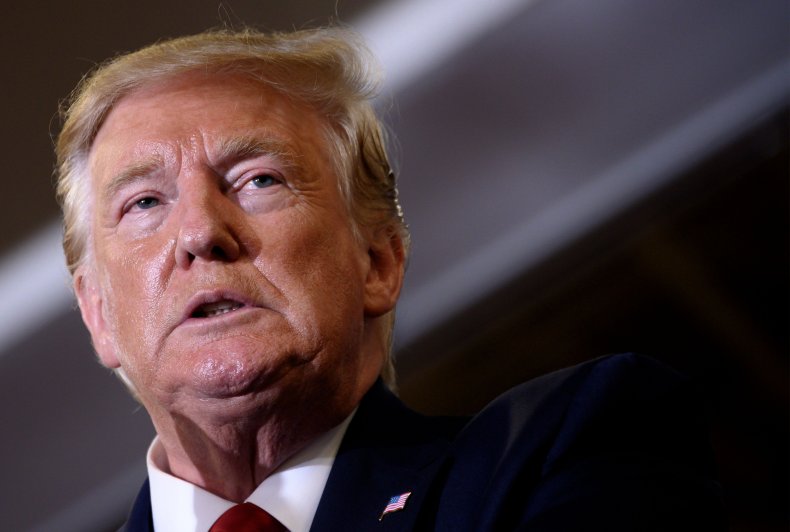 This article was updated with a tweet by Trump and a statement by Tim Murtaugh.