Even Donald Trump's Approval Rating Is Higher Than Support for Brett Kavanaugh to Supreme Court: Poll
President Donald Trump's low approval ratings were actually higher than support for his Supreme Court nominee in a new poll released Wednesday, as Judge Brett Kavanaugh faces an accusation of sexual assault from his high school days.
Only 31 percent of respondents offered support for the embattled Kavanaugh's potential confirmation, while 36 percent were against him becoming a Supreme Court justice, the Reuters/Ipsos poll showed.
The poll was conducted from September 11 to 17, as the allegation emerged that Kavanaugh had drunkenly groped a girl in the early 1980s when he was a senior at Georgetown Preparatory School. The accuser, a professor named Christine Blasey Ford, publicly claimed Kavanaugh and his friend, Mark Judge, cornered her in a room, pinned her to a bed, groped her and tried to remove her clothing and bathing suit. Ford also said Kavanaugh held his hand over her mouth to muffle her screaming.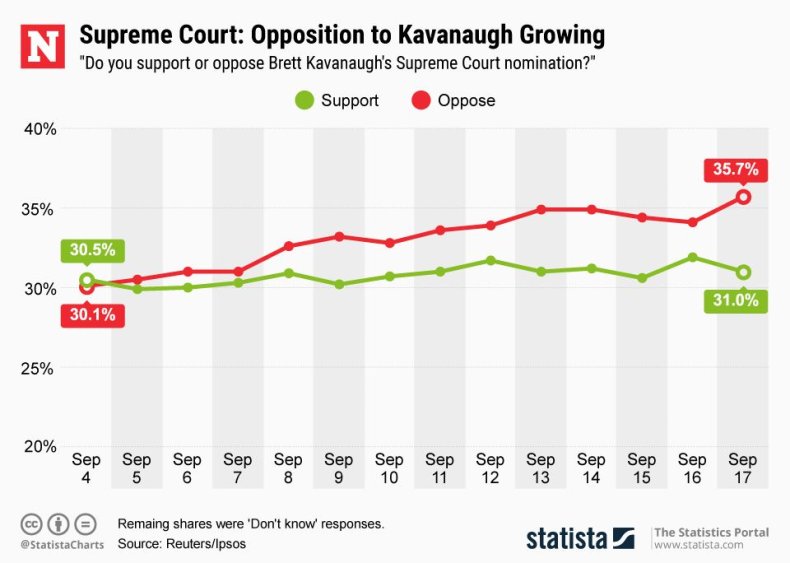 As illustrated by Statista, 64 percent of Republicans supported Kavanaugh's nomination, but that still stood in stark contrast to Trump's standing with members of his own party. The president has rarely seen GOP support dip into the low 80s. Earlier this year, he had 90 percent approval ratings from Republicans.
Kavanaugh had staunchly denied the accusations and said he would testify under oath.
Kavanaugh's poor support among voters made Trump's recent approval ratings appear strong. The president had seen a drop to the high 30s over the last month, with 36 percent of Americans approving of his job performance in a Washington Post/ABC News poll in late August.
Trump had previously averaged an approval rating of 40.7 percent and a disapproval rating of 53.7 percent.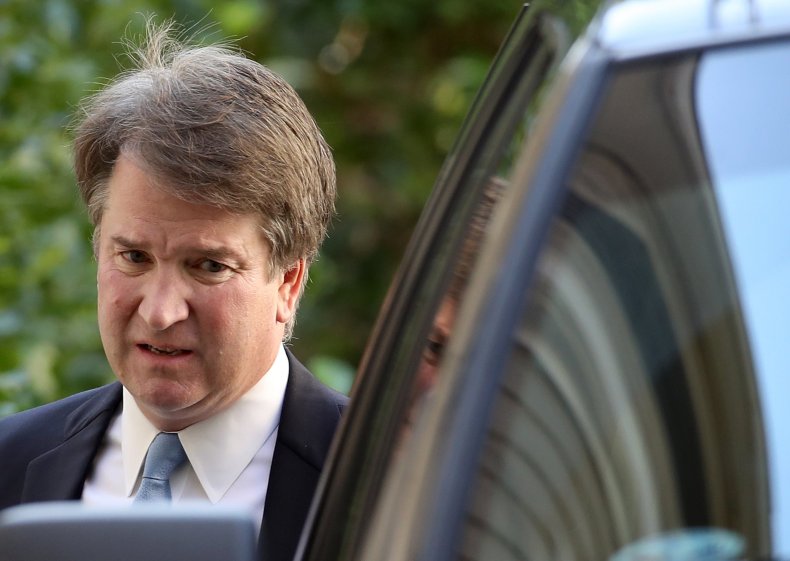 The president had blamed his poor approval ratings on negative media coverage, claiming his rating would be much higher if there were less "fake news" about his administration.
But Trump's ratings could dip even more if he cannot deliver his supporters a second Supreme Court judge who could potentially make the court more conservative following Judge Anthony Kennedy's retirement earlier this year.
Senator Chuck Grassley of Iowa, who chairs the Judiciary Committee, had set a hearing for Monday to allow Ford and Kavanaugh to testify, but Ford stated through her attorney that she would not do so until the FBI investigated the matter.
Republicans, as well as Trump, have stated Kavanaugh was still their pick for the bench and had not entertained the possibility of a new nominee prior to the fall's midterm elections.
Before he headed off to North Carolina Wednesday, Trump further backed Kavanaugh and claimed senators were treating Kavanaugh unfairly.
"Really, they're hurting somebody's life," Trump said. "Justice Kavanaugh has been treated very, very tough, and his family. I think it's a very unfair thing what's going on."
This article was updated to include an infographic.