Trump's Approval Rating Likely to Get Boost from Syria Strike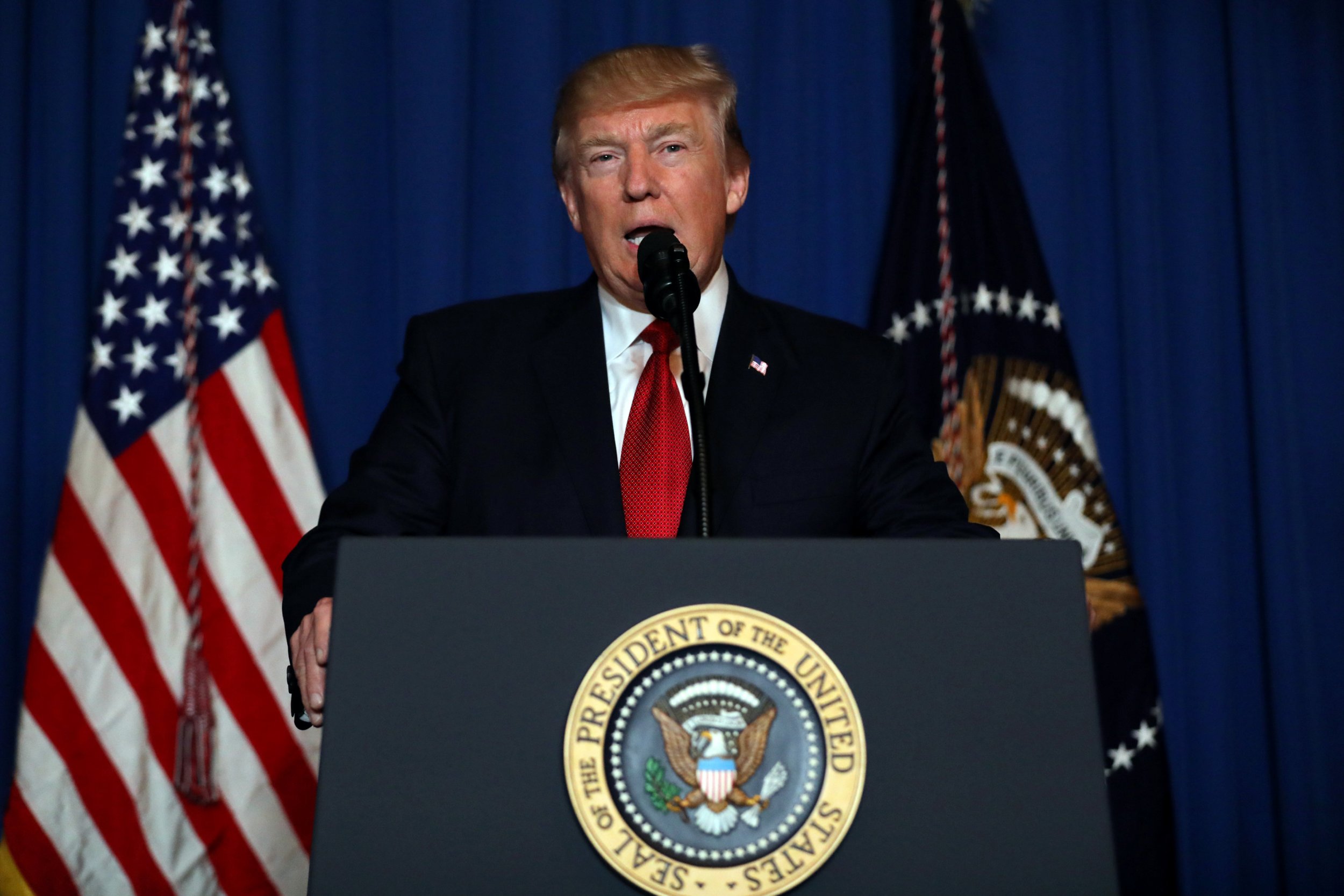 President Donald Trump has suffered from record-low approval ratings during his first months in the White House. But if history is any guide, those figures are likely to see a significant boost following Friday's strikes against Syria.
Trump ordered 49 Tomahawk cruise missiles to strike an airfield in the city of Homs in retaliation for what the White House has claimed was a chemical weapon attack carried out by President Bashar al-Assad against his own people earlier this week.
The action was condemned by Russia and Iran and there was opposition at home from many Democrats. There was also support from across the aisle, something which has been almost non-existent during Trump's early weeks as president.
Senate Minority Leader Chuck Schumer, a vocal critic of Trump, said: "Making sure Assad knows that when he commits such despicable atrocities he will pay a price is the right thing to do."
Senate Minority Leader Nancy Pelosi, meanwhile, called the military action a "proportional response."
Trump's agenda has thus far received as little support from Democratic voters as from Democratic lawmakers, with the latest approval rating conducted by Gallup putting it at just six percent. His support among independents was at 36 percent, contributing to his overall job approval rating standing at 38 percent at the start of this week.
If voters mirror Democrats in the House and Senate and are split in their reactions to the Syria strike, then his numbers are set for a significant increase. History, at least in terms of Gallup's tracking polls, has shown that there is nothing like military action to earn at least a short-term shot in the arm for an approval rating.
The previous Republican president, George W. Bush, saw the biggest jump of all following the 9/11 terror attacks and the launching of war in Afghanistan. At 51 percent in the days before September 11, 2001, Bush's approval rating had spiked to 90 percent on September 21 and remained at that level as action in Afghanistan began.
Eighteen months later, when the U.S. invaded Iraq, Bush's approval rating received another, if less dramatic, boost, going from 58 percent to 71 percent. That came despite protests against the military action in Iraq across the U.S.
Bush's father also saw his numbers increase following intervention overseas. The beginning of the Gulf War under George H.W. Bush saw his approval rating go from 58 percent to 82 percent. And Bush senior's former boss, Ronald Reagan, witnessed similar bumps during action in both Grenada and Panama.
Adding a note of caution for Trump, however, is the experience of President Bill Clinton. In the summer of 1995, the U.S. took a long-pondered decision to directly intervene in the conflict in Bosnia following the breakup of Yugoslavia. Clinton saw no boost to his approval ratings and even a slight decrease.