Donald Trump at Army Vs. Navy Football Game 2018: President to Officiate Coin Toss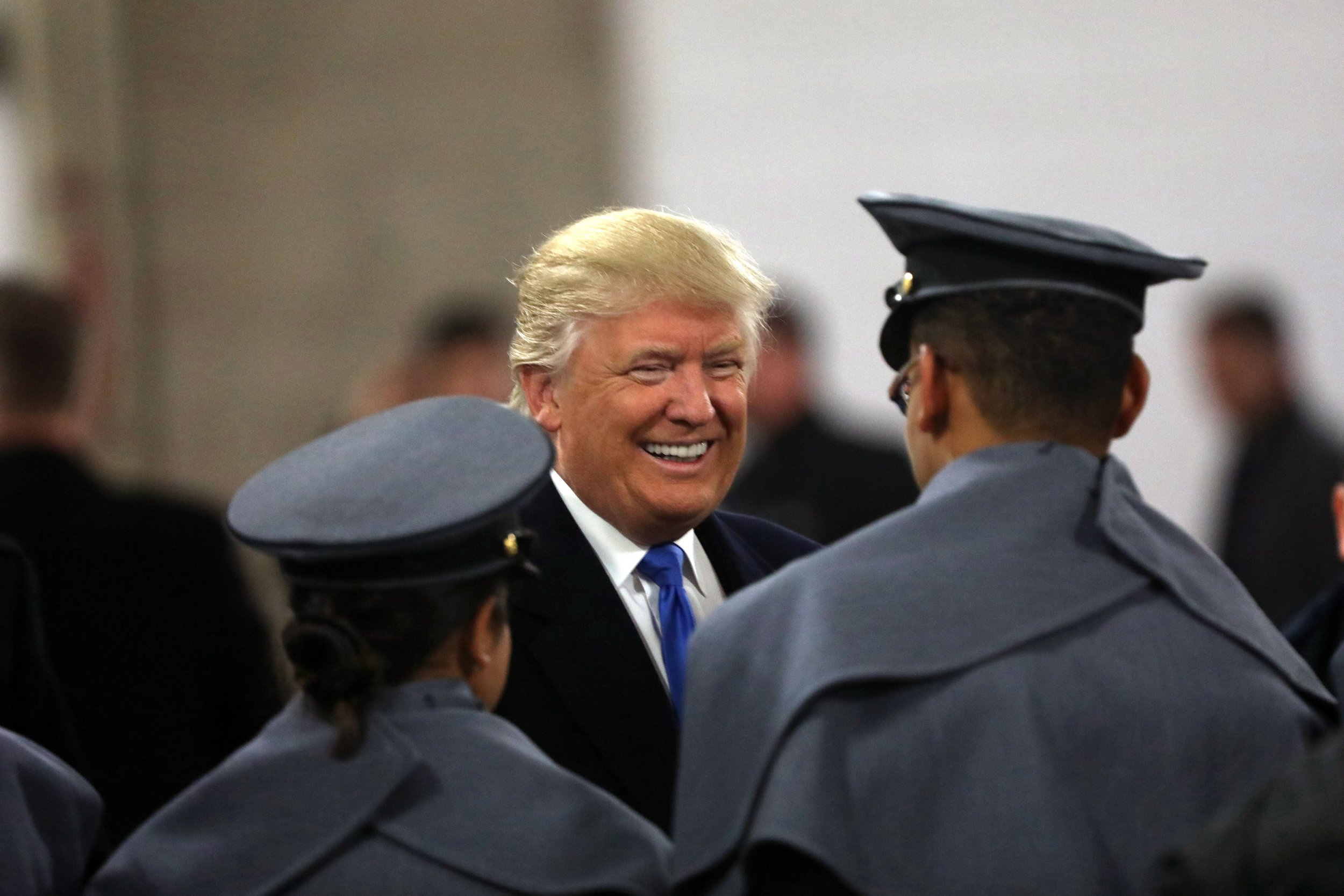 President Donald Trump will become the 10th sitting president of the United States to attend the Army vs. Navy football game, and his appearance is scheduled to include an on-field honor.
On Friday, the United States Military Academy known as West Point announced that Trump would officiate the coin toss during the 119th face-off between the West Point Black Nights and the United States Naval Academy Midshipmen.
"It's an honor to have the president in attendance as the nation watches these men fight one another with every ounce of their being on the field, but when it's all said and done, they will combine to form one of the most powerful fighting forces known to mankind—the U.S. Armed Forces," West Point said.
Trump attended the game in 2016, shortly after his presidential election victory, but skipped 2017's rivalry, saying he would be watching it on television. On Saturday he will become the 10th sitting president to attend the game, after then-President Barack Obama was a spectator at the 2011 game.
Vice Admiral Walter E. "Ted" Carter Jr., superintendent of the U.S. Naval Academy, called it an "honor" and "privilege" to have the commander in chief at the game. He also reiterated West Point's sentiment that outside of the gridiron showdown, the two branches are a cohesive front.
"This is the biggest rivalry in sports, but more than that, it is a visible demonstration to the American people that in spite of being rivals on the field their military is united and stands in defense of their freedom," Carter said.
The rivalry game was first played in 1890, the first year that the Army had an organized football team. Then-President Theodore Roosevelt started the tradition of attending the game in 1901, and of the 19 other men to serve as president following Roosevelt, eight attended the game while in office.
President Harry S. Truman attended the most games out of any president, making appearances at the stadium of at least six games, according to the Truman Library archives. During the matchup in 1950, Truman even conducted the coin toss.
Former Presidents Woodrow Wilson and John F. Kennedy each attended the game twice during their tenure. Kennedy was shot and killed shortly before the 1963 game. Out of the eight years President George W. Bush was in office, he watched the game from the arena three times. Former Presidents Calvin Coolidge, Gerald Ford, Bill Clinton and Obama all attended the game once.
While former President Dwight D. Eisenhower never attended the game as president, Al.com reported he was the only commander in chief to play in the game, which he did in 1912, for the Army.
The kickoff for the 119th game, being played at Philadelphia's Lincoln Financial Field, is scheduled for 3:00 p.m. EST.