Donald Trump and Joe Arpaio: A Bromance Forged in Birtherism and Xenophobia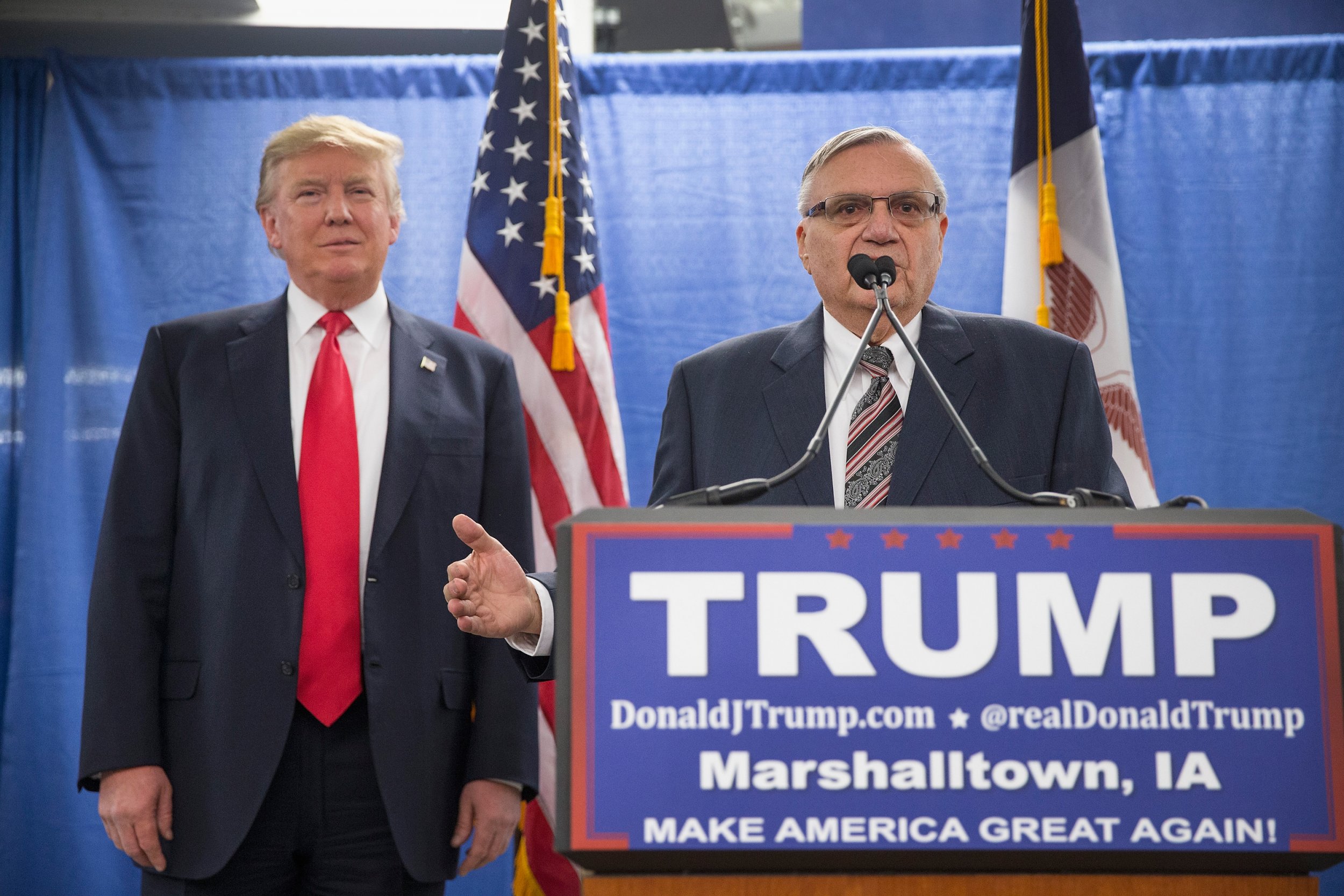 Days before the Iowa caucus, Republican candidate Donald Trump received the endorsement of Joseph Arpaio, the sheriff of Maricopa County, Arizona. "Everything I believe in, he's doing—and he's going to do it when he becomes president," Arpaio said. Trump took the podium after Arpaio's brief remarks and spoke in praise of the sheriff, whose brutality, venality and racism were by then thoroughly chronicled.
"He's the kind of guy we want on our team," Trump said. "He's tough, he's strong, and he's smart," the candidate elaborated, using the adjectives with which he often describes himself. (President Barack Obama, conversely, was deemed during the campaign "not tough, not smart.")
Trump never forgets an insult. And despite his obsessive demand for loyalty, he doesn't always reward it, as evidenced by the fates of New Jersey Governor Chris Christie and former New York Mayor Rudolph Giuliani, Trump campaign surrogates who never got the plum White House position they'd so shamelessly coveted. Arpaio was one of the lucky ones. Convicted on contempt of court charges earlier this summer for ignoring a federal order to stop the racial profiling of Latinos, he was pardoned by Trump last Friday.
The pardon was no surprise. Earlier in August, Trump informed Gregg Jarrett of Fox News that Arpaio was a "great American patriot" who had "done a lot in the fight against illegal immigration"; he teased the pardon at a campaign rally in Phoenix several days later. Still, the presidential absolution was met with the kind of bipartisan outrage that has become surprisingly commonplace in the Trump era. On social media, Arpaio's many violations of law, decency and human rights were enumerated in stomach-churningly detailed threads. It was the sort of stuff you'd expect from Siberia, circa 1936. But this was America, more or less today.
Arpaio's sins are revolting. They are also, unfortunately, beside the point. It's not as if Trump carefully studied Arpaio's record and decided that while there were some excesses, "Sheriff Joe" was on the whole a faithful servant of the people. In fact, even a cursory study of Arpaio's lengthy tenure in Maricopa County makes perfectly plain he should have been in federal prison long ago. Instead, the 85-year-old will likely end his life a free man, though a thoroughly disgraced one.
It's not just his endorsement of Trump that saved Arpaio from a lonely death in prison. The affinity is deeper than that, based on a shared vision of America, where frontier justice can be applied at will, where white is right, and where democratic norms and respect for the courts are abstractions for effete coastal intellectuals to whine about over arugula salad. The more you look at the convictions of these two men, the less surprising the pardon seems. If anything, it is surprising that Arpaio isn't in the Trump administration. Perhaps he will be—plenty of positions remain open, after all.
The questioning of the legitimacy of Obama's birth certificate was Trump's entrée to right-wing circles. Arpaio, never one to shy away from the camera or the microphone, also took up the call, vowing to have his own "Cold Case Posse" investigate the matter. Just in case you're wondering: No, Hawaii is not under the jurisdiction of Maricopa County. But racism has no borders.
It was one thing for a reality-TV huckster to undertake such a preposterous inquest, quite another for a law enforcement official to do so with the use of public funds. But that's exactly what Arpaio did, sending a deputy to Hawaii to root around in Obama's records.
You'll be shocked to learn that no conspiracy to conceal Obama's birthplace was ever uncovered by Arpaio and his sleuths. That wasn't the point, of course. The point was to get the attention of people like Trump. At this, the sheriff succeeded marvelously. "Congratulations to @RealSheriffJoe on his successful Cold Case Posse investigation," Trump tweeted in 2012, "which claims @BarackObama's 'birth certificate' is fake."
Trump has borrowed Arpaio's idea of "toughness," which is predicated on a combination of cruelty and contempt, both for people and institutions. Arpaio proudly called his outdoor Tent City jail a "concentration camp." The temperature there could reach 120 degrees. Several months ago, The Guardian asked Arpaio if comparing a county detention facility to Auschwitz was a good idea. He answered with Trumpian disregard: "What difference does it make? I still survived. I still kept getting re-elected."
Arpaio won six elections for Maricopa County sheriff, finally losing on the day that Trump won the White House. Both men stirred voters with law-and-order platforms, but neither seems to have much regard for law, at least as it's inscribed in the U.S. Constitution. During the presidential campaign, for example, Trump said he would institute interrogation techniques "a hell of a lot worse than waterboarding." He also opined that "torture works." It fell to those who'd served in the military to point out that, actually, it does not.
Police brutality works too, at least in Trump's vision of an orderly society. Speaking to law enforcement officers on New York's Long Island last month, Trump praised the efforts made against MS-13, a violent gang founded in Los Angeles and consisting mostly of Central Americans. "They're liberating the town, like in the old Wild West, right?" Trump said of those efforts, praising the officers who undertook them as "rough guys."
"Please don't be too nice," the purported leader of the free world counseled the men and women gathered before him. "Like when you guys put somebody in the car and you're protecting their head, you know, the way you put their hand over? Like, don't hit their head and they've just killed somebody—don't hit their head. I said, You can take the hand away, OK?"
Arpaio took the hand away. From 1996 until 2015, there were 39 suicides in Maricopa County jails, and an estimated 157 deaths overall. More than 400 sex crimes received no investigation on his watch, perhaps because Sheriff Joe was so busy giving Americans what they desperately desired: the truth about Obama's birth certificate. He was also harassing journalists and starring in his own ghastly reality-TV show, "Smile...You're Under Arrest."
Arpaio was convicted because he'd been told in 2011 to stop profiling Latinos in Maricopa County. He refused to do so, his arrogance recalling Trump's brazen but disconcertingly accurate observation: "I could stand in the middle of Fifth Avenue and shoot somebody and I wouldn't lose any voters."
But Arpaio did lose voters. And he should have lost his freedom too, after U.S. District Judge Susan Bolton ruled last summer that he'd disregarded the five-year-old federal order. "Not only did Defendant abdicate responsibility," Bolton wrote, "he announced to the world and to his subordinates that he was going to continue business as usual no matter who said otherwise."
Arpaio is lucky to have a friend in Trump, who fancies himself Sheriff Don: roughing up the "bad hombres" from Mexico, sticking it to the Chinese, punching those sanctimonious Germans in the eye, frustrating the dastardly, limp-wristed liberals of California and New York at every turn. It is a juvenile version of toughness, one shared by Americans desperate for some means to channel their dismay at a country getting darker, a world getting flatter.
At the Republican National Convention in 2016, Arpaio endorsed Trump. "The sheriff was jeered by anti-Trump protesters here earlier in the week, but has been a rock star inside the convention. Everywhere he went, people have asked to take pictures with him," reported The Arizona Republic, noting that the audience "erupted into chants" of "Build the wall!" when Arpaio declared that Trump's signature campaign promise would come to pass.
Well, there's no wall yet. And the Tent City jail that made Arpaio famous to some and infamous to others has been dismantled by his successor, Sheriff Paul Penzone. "This community wants to have a law enforcement agency that they can feel proud of," Penzone told NPR over the weekend, laboring mightily to avoid uttering Arpaio's name, as if it were a curse. "And they want to be able to travel around the country and not have to defend that Arizona is not a biased or racist state."
One can say the same of the country at large. The response to Trump's pardon of Arpaio—coming so quickly after the deadly violence in Charlottesville, Virginia, where three died in the midst of a white nationalist rally—has left the president increasingly isolated, now that Republicans seem to have discovered a sensation long unavailable to them: shame. In an astonishing exchange with Chris Wallace of Fox News, Rex Tillerson, the secretary of state, would not say that Trump represents American values. "The president speaks for himself," he said.
Trump speaks pretty well for Arpaio too.