Trump Arrives for Michigan Rally Under Pressure
Former President Donald Trump is set to hold a rally in Michigan on Saturday night to support his endorsed candidates, who are down in the polls and as he continues facing mounting legal pressure.
Trump is expected to speak at the Macomb County Community College Sports & Expo Center in Warren, Michigan, a suburb of Detroit, to rally around candidates he has supported, including Tudor Dixon in the battleground state's gubernatorial race. He is expected to speak at 7 p.m. EST, with the rally be streamed online by the Right Side Broadcasting Network (RSBN).
The Michigan rally comes a little more than a month ahead of the November 8 midterm elections. Michigan emerged as a key swing state in recent years—with Trump narrowly winning the state in 2016, and President Joe Biden flipping it back to Democrats in 2020. Both parties are hoping to sweep statewide offices, as well as win several competitive congressional races this year.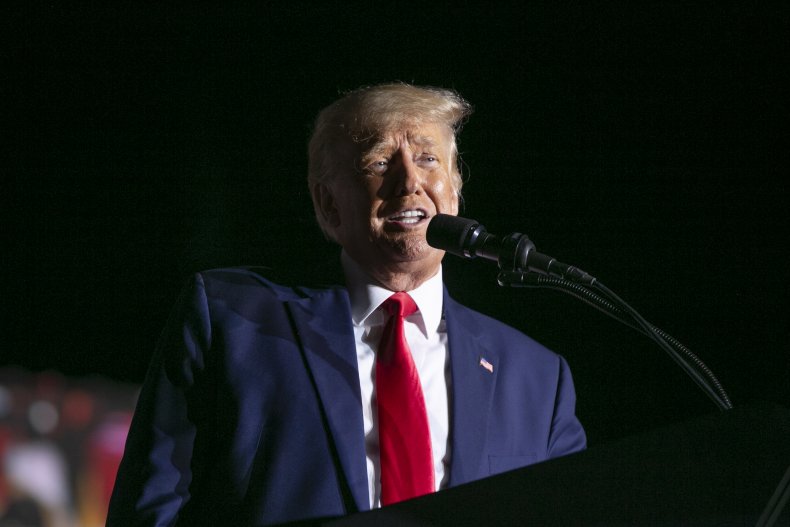 Trump's Candidates Down in Polls as Midterms Approach
Trump's rally seeks to boost Republicans, who have been struggling to gain traction in polls. The gubernatorial race, where Dixon will face off against incumbent Democratic Governor Gretchen Whitmer, is one of the most closely watched midterm races across the country. Whitmer became a foil to Trump during the COVID-19 pandemic, making her a top GOP target and popular governor among Democrats.
Trump's candidates were successful during Michigan's primaries, with his preferred candidates winning the primaries in the gubernatorial, attorney general and secretary of state races. In Michigan's Third Congressional District, Trump-backed John Gibbs also defeated incumbent Representative Peter Meijer, one of 10 House Republicans who voted to impeach Trump.
However, recent polling has raised questions about how his candidates will fare in the general election in the evenly divided state.
Whitmer appears to be favored to defeat Trump-backed Dixon, according to polls. Whitmer leads by an average of 11.6 percentage points, according to FiveThirtyEight's aggregate of recent polls.
Dixon's campaign, in a statement to Newsweek, touted a Trafalgar Group poll conducted from September 24 to 28 showing Whitmer leading Dixon by about 6 percentage points, though Trafalgar polls are seen as having a Republican tilt.
"We are excited to welcome President Trump to Michigan this weekend as we build momentum heading into October. The latest polling numbers prove what we already know to be true - Gretchen Whitmer is vulnerable, the momentum is on our side, and our message is resonating with Michigan voters," the statement said.
However, other independent polls show Whitmer with a greater lead. A September 15 to 19 EPIC-MIRA poll, sponsored by the Detroit Free Press and WJRT-TV, showed Whitmer leading Dixon by about 16 percentage points. The poll also found Attorney General Dana Nessel with a 13-point lead over Trump-endorsed Matthew DePerno and Secretary of State Jocelyn Benson with a 12-point lead over Kristina Karamo.
Trump Lawsuits, Investigations Continue Piling Up
The rally also comes as the former president faces several investigations and lawsuits that could threaten to impact a potential 2024 presidential run—though he remains popular among Republican voters. Trump maintains his innocence in each case, but the investigations could affect Republicans in the midterms.
In September, New York Attorney General Letitia James filed a lawsuit alleging Trump and three of his children of engaging in business fraud. She accused them of committing "numerous acts of fraud and misrepresentations," as well as "grossly" inflating Trump's net worth. Trump addressed the lawsuit during a rally in North Carolina last weekend, where he said James' "only goal" was to go after him amid the competitive midterm elections.
He also continues to face the Department of Justice's (DOJ) investigation into whether he improperly stored classified documents at his Mar-a-Lago residence following the FBI raid on the property in August. He was delivered a win this week by Judge Aileen Cannon, who overruled special master Judge Raymond Dearie's request for him to testify about which documents he declassified before he left the White House.
He also faces investigations into his conduct surrounding the 2020 election. He has claimed, without presenting substantial evidence, that widespread voter fraud was to blame for his loss. Georgia's Fulton County District Attorney Fani Willis is investigating whether his phone call in which he urged Secretary of State Brad Raffensperger to "find" more than 11,000 votes violated state law. Last month, she said the investigation could end in some people serving "prison sentences."
Newsweek reached out to the Whitmer campaign for comment.