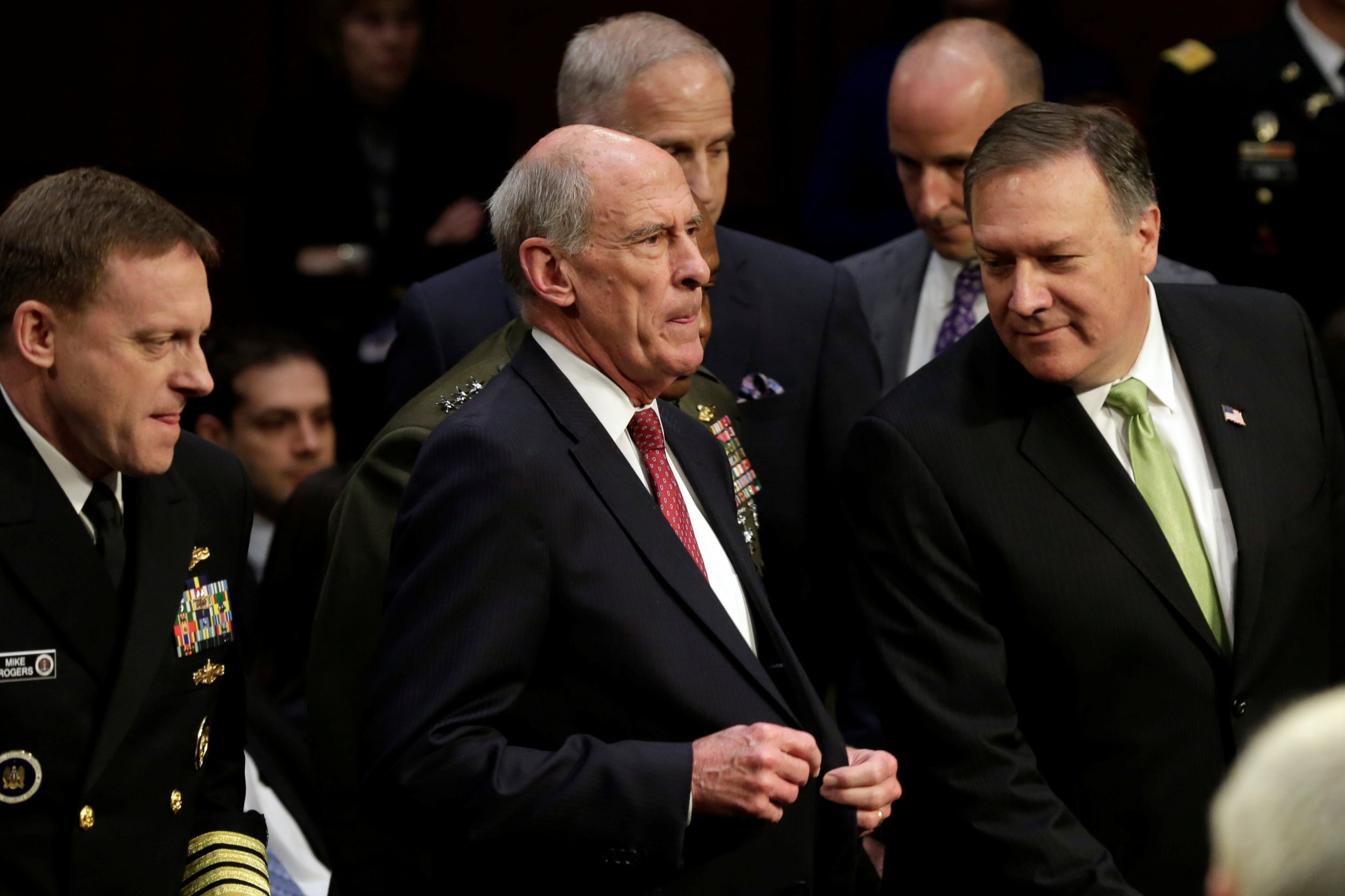 President Donald Trump asked two top U.S. intelligence officials to pressure former FBI Director James Comey to back off his investigation of fired National Security Adviser Michael Flynn, according to a Washington Post report.
The president made the request when he spoke with Director of National Intelligence Daniel Coats and CIA Director Mike Pompeo at the end of a meeting in March, according to officials who spoke with The Washington Post Tuesday. Coats had told them directly about the meeting and its content.
The official sources said Trump kept Coats and Pompeo behind after the meeting ended and complained about Comey's handling of the FBI's Russia investigation.
Two days earlier Comey had revealed during Senate testimony that Trump's associates and campaign team were under investigation as part of an FBI probe into Russia's interference in the 2016 election. American intelligence agencies believe Russia hacked U.S. political parties and lead a misinformation campaign to influence the result.
Coats will be asked about the meeting during testimony to the Senate Intelligence Committee early Wednesday. The FBI's Acting Director, Andrew McCabe, Deputy Attorney General, Rod Rosenstein, and Director of the National Security Agency, Mike Rogers, are all included in the hearing and are expected to answer questions about the ongoing Russia investigation.
Read more: U.S. lawmakers to press intel chiefs on Russia ahead of Comey hearing
Coats' associates told the Post that he discussed Trump's request with other officials and decided it was inappropriate.
In May, two current and two former officials told the Post that Trump appealed to both Coats and NSA chief Rogers in separate conversations to publicly deny there is any evidence his campaign colluded with Russia.
The latest revelations add weight to critics' allegations that the president attempted to obstruct justice by pressuring Comey to alter the course of an investigation.
After firing Comey on May 9 Trump said in an interview with NBC's Lester Holt that he fired the FBI chief because the Russia investigation is a "hoax."
Comey is set to testify about several meetings he had with Trump in the Senate Thursday. Reports about contemporaneous memos he drew up after the meetings indicate Trump requested Comey drop his probe into Flynn.
The former National Security Adviser was fired after less than a month on the job after it was revealed he misled Vice President Mike Pence about his conversations with Russia's ambassador during the transition. Flynn allegedly suggested the Trump administration would review sanctions against Russia for interfering in the election and seizing control of the Ukrainian region of Crimea.
To the chagrin of lawyers, Trump is expected to reply to Comey's testimony on Twitter.
Ahead of Coats' testimony Wednesday Office of the Director of National Intelligence (ODNI) spokesman Brian P. Hale told The Post in a statement that Coats "does not discuss his private conversations with the President."
Coats, Hale added "has never felt pressured by the president or anyone else in the administration to influence any intelligence matters or ongoing investigations."