Trump Asked Comey to Investigate Lurid 'Tape' to Prove to Melania Allegation Was False, Former FBI Director Claims
President Donald Trump was anxious about the infamous, and unverified, so-called "pee tape," James Comey claimed in his new book.
The president reportedly asked the former FBI director, whom he ousted in May, to investigate the salacious allegations stemming from the Steele dossier, which claimed Trump once paid Russian sex workers to pee on a Moscow hotel bed former President Barack Obama and Michelle Obama once slept in.
"He brought up what he called the 'golden showers thing' … adding that it bothered him if there was 'even a one percent chance' his wife, Melania, thought it was true," Comey wrote in A Higher Loyalty: Truth, Lies, and Leadership, which was obtained in advance by the New York Post.
Comey added that Trump went on to explain to him why it "couldn't possibly be true," and concluded by saying he was considering whether to ask Comey to "investigate the allegation to prove it was a lie."
According to Comey, Trump had been motivated by concerns that first lady Melania Trump would think the allegations could be accurate.
"I said it was up to him," Comey wrote, though he said he privately wondered: "In what kind of marriage, to what kind of man, does a spouse conclude there is only a 99 percent chance her husband didn't do that?"
Despite the president's stated intentions of hoping to avoid marital strife, Comey said he warned Trump that the public would perceive an investigation into the so-called "pee tape" much differently. He told Trump that an FBI-led probe might "create a narrative that we were investigating him personally."
Comey also alleges that Trump asked him "whether he seemed like a guy who needed the service of prostitutes," according to The Washington Post, whose staff also obtained an advanced copy of the book, to be released on Tuesday,
"He then began discussing cases where women had accused him of sexual assault, a subject I had not raised," Comey writes. "He mentioned a number of women, and seemed to have memorized their allegations."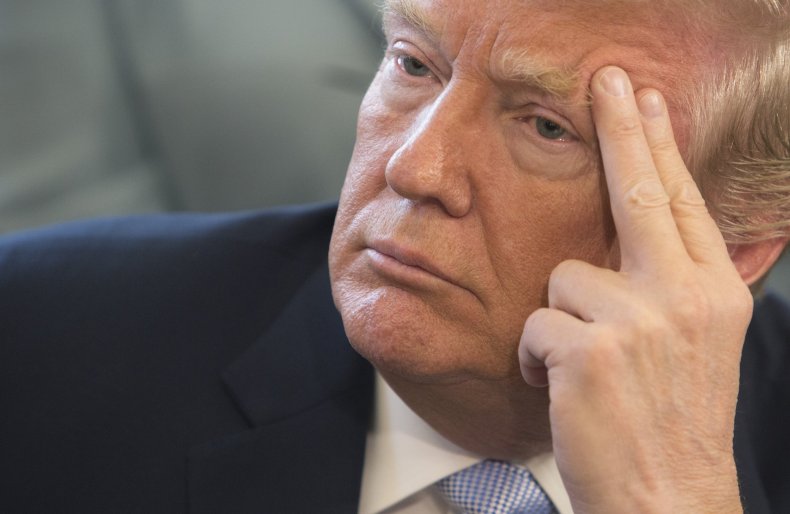 Publicly, Trump has vehemently denied any truth to the Steele dossier, which was published by Buzzfeed in January 2017, just a little more than a week before Trump was to be inaugurated.
Along with reports of the president's sexual proclivities, the dossier alleged that Russian operatives bolstered Trump's campaign with the aim of helping him to victory. Steele named former campaign staffers Paul Manafort and Carter page, as well as Trump's personal attorney, Michael Cohen—whose home and office were raided by the FBI this week—as being implicated in the Trump-Russia relationship that won him the election.
Republicans in Congress have done their part to defend the president against the allegations in the dossier, with Senator Lindsey Graham, Representative Mark Meadows and Representative Devin Nunes, who devoted a controversial memo to the cause, calling into question the legitimacy of the dossier and its basis for the Foreign Intelligence Surveillance Act warrant to mmonitor Trump campaign aide Carter Page.
Trump, for his part, has only obliquely alluded to the parts of the dossier that have most piqued public interest.
"Does anyone really believe that story?" Trump asked the press the day after the dossier was released. "I'm also very much of a germophobe, by the way," he added, by way of denying the "pee tape" allegations. "Believe me."