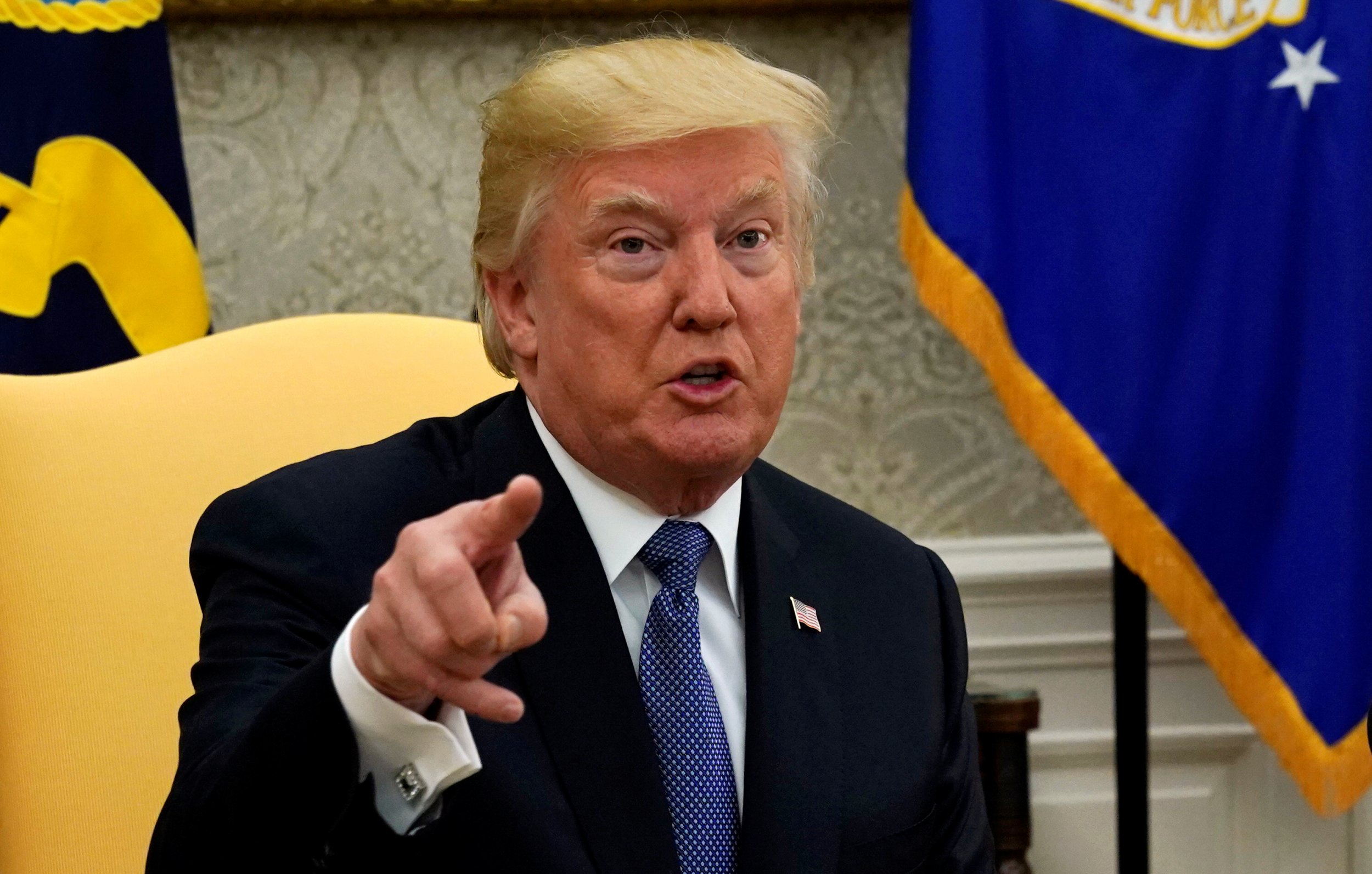 Updated | President Donald Trump said he wants the U.S. to have as many nuclear weapons today as it did before signing a nonproliferation treaty in 1968 during a meeting with America's military leaders in July, according to a report.
Two officials present at the Pentagon meeting on July 20 told NBC News about Trump's request.
When Trump was shown a slide of the decline of America's nuclear weapons stockpile since signing the Treaty on the Non-Proliferation of Nuclear Weapons in 1968, the officials said, he told the meeting he wanted the U.S. to have as many as it did at its peak.
America had a stockpile of 31,255 warheads in 1967 before signing the treaty with Russia and the United Kingdom. Today, that has been reduced to about 4,000, according to the Federation of American Scientists. In the 1980s, Republican President Ronald Reagan was unsuccessful in his push for complete disarmament with Russia.
The meeting included Chairman of the Joint Chiefs General Joseph Dunford, Secretary of Defense James Mattis, Secretary of State Rex Tillerson and Vice President Mike Pence, among other Trump administration officials who sit on the National Security Council.
The White House referred Newsweek's questions and request for comment to the National Security Council, which did not immediately respond.
An anonymous White House official told NBC News that America's nuclear weapons were not the main issue discussed in the Pentagon briefing.
Read more: Trump could start World War III because he treats presidency like "The Apprentice," says GOP Senator Bob Corker
Trump's stance on America's nuclear arsenal has varied. During his inauguration address on January 20, he said the U.S. "must greatly strengthen and expand its nuclear capability."
Yet in an interview with CNN during the 2016 primaries, he said, "I don't want more nuclear weapons."
After winning the election, Trump wrote on Twitter in December 2016 that "the United States must greatly strengthen and expand its nuclear capability until such time as the world comes to its senses regarding nukes."
Again, in August, he said in a tweet that his "first order as President was to renovate and modernize our nuclear arsenal. It is now far stronger and more powerful than ever before."
The meeting fell on the same day that Tillerson reportedly called Trump a moron and threatened to leave the administration, NBC reported on October 4. State Department spokeswoman Heather Nauert has said Tillerson never used those words of threatened to quit.
During the July meeting in which the president called for an increased nuclear arsenal, advisers outlined for him why the U.S. couldn't violate its treaty obligations, according to two senior administration officials.
At some level, criticism of Trump's request "is unfair," wrote Jeffrey Lewis, a nuclear weapons nonproliferation expert, on Twitter early Wednesday, because every president "needs to feel comfortable asking dumb questions without fear that it will leak."
On the other hand, he said, "Trump's reason for wanting more nuclear weapons—he doesn't want to be at the bottom of the curve—is, well, 'moronic."
The U.S. has not grown its nuclear arsenal while Trump has been president, but it is conducting a Nuclear Posture Review that is set to be complete by the end of the year. Officials told NBC that the review is attempting to address Trump's concerns.
Since North Korea began a series of tests of ballistic missiles July 4 that could potentially carry a nuclear warhead, the president has engaged in a war of words with dictator Kim Jong Un.
In early August, Trump threatened Kim with "fire and fury like the world has never seen before." Trump has downplayed the role of diplomacy and indicated military force is on the table to deal with the regime's nuclear weapons program.
When it comes to America's nuclear weapons, Trump is "all in for modernization," one official said, and "his concerns are the U.S. stopped investing in this."
The headline on this story was corrected to reflect the size of Trump's desired nuclear arsenal increase.