Trump Asked Pelosi on Tuesday 'Can We Work Something Out' About Whistleblower Complaint During Phone Call, MSNBC Reporter Says
Donald Trump asked House Speaker Nancy Pelosi whether they can "work something out" about the whistleblower complaint during a phone call made on the same day the Democratic leader launched a formal impeachment inquiry into the president, according to MSNBC correspondent Heidi Przybyla.
Pelosi on Tuesday afternoon announced that the House will move forward with a formal impeachment inquiry of Trump, despite the Democratic leader having long resisted calls from progressive lawmakers in her party to launch proceedings. Although Democrats have previously been divided and cautious over launching an impeachment inquiry, the tipping point for the House came after the recently exposed whistleblower scandal and the president's subsequent flubbed attempts at defending himself.
"Today I'm announcing the House of Representatives is moving forward with an official impeachment inquiry," Pelosi said in a scathing statement made a few minutes after 5 p.m. ET. "This week, the president has admitted to asking the president of Ukraine to take actions which would benefit him politically."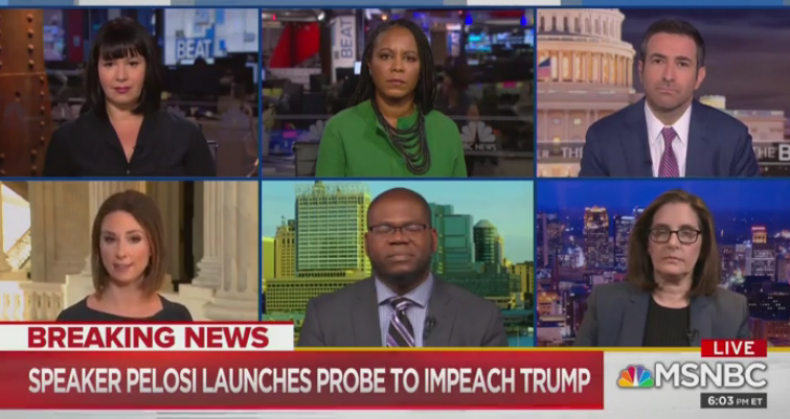 During a segment discussing Pelosi's announcement on MSNBC's The Beat, Przybyla explained to host Ari Melber that the Democratic leader briefed reporters about a phone call she received from Trump today, where the president attempted to diffuse the situation through negotiations.
"You're reporting that the speaker and the president spoke today," Ari Melber asked the reporter. "He's had a busy day at the U.N., but you're saying that the pressure led to this call?"
"Don't know what specifically set up the call, but we do know that there was a call between the two and in the call Donald Trump used language that we've heard him use before," Przybyla responded. "The president actually said to Nancy Pelosi, 'Hey, can we do something about this whistleblower complaint? Can we work something out?'"
"And [Pelosi] said, 'Yes, you can tell your people to obey the law,'" she added, "so she quickly swatted that down and made it clear that it is full steam ahead."
Following the segment, Przybyla clarified her reporting on Twitter. "The exact words I was given were that Trump said he'd like to 'figure this out,'" she tweeted. "Pelosi said: 'Tell your people to obey the law.'"
Przybyla's reporting of the call is based on information she received from sources in the Speaker's office.
Trump responded to the impeachment inquiry against him in a series of tweets on Tuesday night, where he called the move "PRESIDENTIAL HARASSMENT!" and "a total Witch Hunt!"
In a statement emailed to Newsweek, Trump 2020 campaign manager Brad Parscale accused Democrats of flipping a Joe Biden scandal into a Trump scandal.
"Democrats can't beat President Trump on his policies or his stellar record of accomplishment, so they're trying to turn a Joe Biden scandal into a Trump problem," he said. "The misguided Democrat impeachment strategy is meant to appease their rabid, extreme, leftist base, but will only serve to embolden and energize President Trump's supporters and create a landslide victory for the President."