Trump Asks Doug Collins If He Wants to Run Against GOP Governor Brain Kemp
President Donald Trump on Saturday suggested that Republican Congressman Doug Collins should run against Governor Brian Kemp in 2022 as he continued to scold Georgia officials for not doing enough to help him overturn the results of the 2020 presidential election.
In his first campaign rally since losing the election, Trump urged the crowd to vote for Republican incumbents Kelly Loeffler and David Perdue in the upcoming January 5 Senate runoff elections, which will determine control of the upper chamber and President-elect Joe Biden's ability to push through a Democratic agenda. The president also spent a significant portion of his address airing his personal grievances over losing the election and criticizing Republican Governor Brian Kemp for allegedly refusing to help his efforts to reverse his defeat.
At one point, Trump singled out Collins, who came third against Loeffler and Democrat Rev. Raphael Warnock in the special Senate general election, and asked him whether he would consider running against Kemp.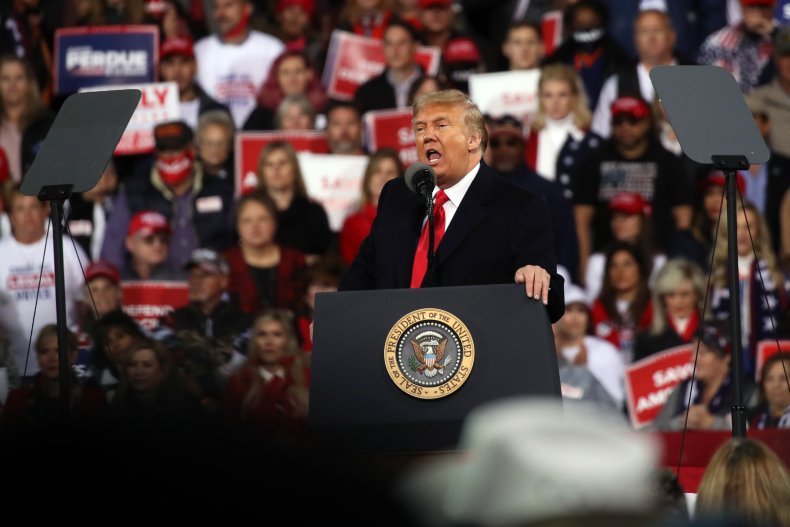 Collins "and Kelly had a great primary, a very strong primary," the president said. "They both did fantastically well, and he is on board and he is one of the greatest advocates I've ever met in Washington."
"I want to thank Doug Collins," Trump said to the Republican, who was watching from the crowd. "Thank you, Doug. What a job he does."
"Doug, you want to run for governor in two years?" he added. "He'd be a good-looking governor."
Newsweek reached out to the office of Congressman Doug Collins for comment.
The Trump campaign shared a clip of the remark and tagged Kemp. "President @realDonaldTrump asks @RepDougCollins if he wants to run for governor in 2 years," Team Trump tweeted. "cc: @BrianKempGA"
Trump criticized Kemp numerous times throughout his address on Saturday night as he continued to pressure Georgia Republicans to support his efforts to overturn the results of the 2020 presidential election.
He reportedly called Kemp earlier that morning and asked him to push state lawmakers to help him win. He also asked Kemp to facilitate an audit of absentee ballot signatures, but the governor noted that he doesn't have the authority to do so.
After their conversation, Trump tweeted, "I will easily & quickly win Georgia if Governor @BrianKempGA or the Secretary of State permit a simple signature verification." Kemp responded by noting that he had already "publicly called for a signature audit three times to restore confidence in our election process and to ensure that only legal votes are counted in Georgia."
But Trump still went for him at the rally. "Your governor could stop it very easily if he knew what the hell he was doing... thousands of illegal votes were cast in each state," the president told the crowd.
Most media outlets and television networks called the election for Biden more than three weeks ago. The Democrat has secured 306 Electoral College votes, but Trump, with 232 Electoral College votes, has refused to concede. Over the past month, he's filed nearly three dozen lawsuits in key states and repeatedly alleged unverified claims of widespread voter fraud in a campaign to flip the election in his favor. The suits have been largely unsuccessful and routinely tossed out of court.