Trump Asks if Mike Rounds is 'Crazy or Just Stupid' After GOP Senator Calls 2020 Race Fair
Former President Donald Trump is calling Senator Mike Rounds a "RINO"—Republican in name only—after the South Dakota conservative said the 2020 election wasn't rigged.
Trump said Monday that Rounds "just went woke" on the issue, and asked if the senator was "crazy or just stupid."
"The only reason he did this is because he got my endorsement and easily won his state in 2020, so now he thinks he has time, and those are the only ones, the weak, who will break away," the former president said. "Even though his election will not be coming up for 5 years, I will never endorse this jerk again."
Rounds refuted Trump's baseless claims about the 2020 race being fraudulent during an appearance Sunday on ABC News. The senator said "due diligence" was done to investigate accusations but no widespread irregularities were found.
"The election was fair, as fair as we have seen," he said. "We simply did not win the election, as Republicans, for the presidency. And moving forward—and that's the way we want to look at this—moving forward, we have to refocus once again on what it's going to take to win the presidency."
Rounds's comments were made following the first anniversary of the U.S. Capitol riot on January 6, 2021 as thousands of pro-Trump supporters stormed the building to disrupt the certification of Joe Biden's electoral victory. Rounds voted to certify the results, despite 147 Republican members voting to overturn the race.
Trump responded Monday by calling Rounds a "weak and ineffective leader."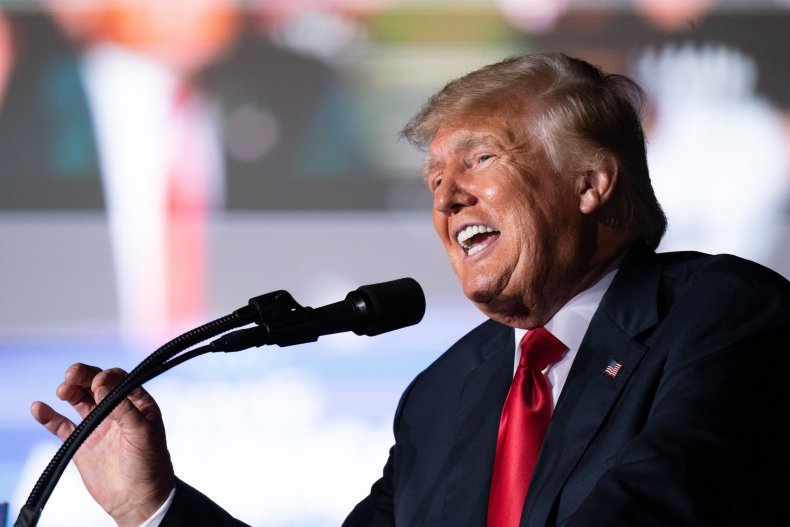 "The Radical Left Democrats and RINOS, like 'Senator' Mike Rounds, do not make it easy for our Country to succeed," the former president's statement read.
Newsweek reached out to Rounds's office for comment.
Trump has continued to baselessly claim the 2020 election was stolen, and has made a point of endorsing candidates for the midterm cycle who support his claims. Targets in the Republican Party include Wyoming Representative Liz Cheney, Michigan Representative Peter Meijer and others who have been critical of the former president and voted to impeach him over the Capitol riot.
But GOP operatives have warned that Trump's insistence on rehashing the 2020 race may only harm the party moving forward. Rounds told ABC News that they will be at a "huge disadvantage" if "we simply look back and tell our people don't vote because there's cheating going on."
Rounds won re-election to the U.S. Senate in November 2020. He defeated Democratic nominee Dan Alhers with roughly 66 percent of the vote.