Trump Says U.S.-Russia Relations Are Worse Than During Cold War
Amid the fallout from a devastating chemical weapon attack in Syria, President Donald Trump said on Wednesday that the relationship between the United States and Russia is worse now than it was during the Cold War.
The President launched a verbal attack on both the Syrian government and its Russian allies via Twitter.
"Our relationship with Russia is worse now than it has ever been, and that includes the Cold War," Trump tweeted. "There is no reason for this. Russia needs us to help with their economy, something that would be very easy to do, and we need all nations to work together. Stop the arms race?"
He added that the Special Counsel's investigation into 2016 election meddling has further strained the relationship between the countries. He placed the blame squarely on Obama loyalists, and said attorney Robert Mueller, who is leading the probe, is "most conflicted of all."
His remarks were part of a series of early-morning tweets regarding rising tensions between Russia and Syria and the United States. He warned that the Russian government should "get ready" for a missile attack against its ally.
"You shouldn't be partners with a Gas Killing Animal who kills his people and enjoys it!" the president said, referring to the relationship between Vladimir Putin and Syrian President Bashar al Assad.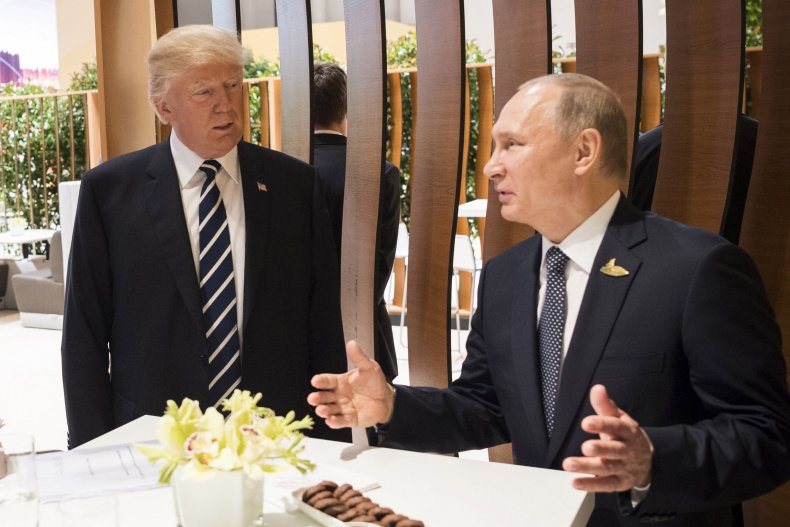 On Monday, the president had vowed to respond "forcefully" within "the next 24 to 48 hours" to the Syrian military's alleged use of toxic chemical gas in Douma, a rebel-held town that had been resisting government forces amid a 7-year-old civil war. The attack, for which the Syrian government has denied involvement, killed at least 40 people and injured at least 500 more.
In response to the tweet, Russian Foreign Ministry spokeswoman Maria Zakharova said a looming missile strike would be counterproductive and prevent inspectors from investigating the site of the attack..
"Smart missiles should be fired at terrorists and not at the legitimate government which has been fighting terrorists," Zakharova wrote on Facebook. "Or is the trick to destroy all the traces with a smart missile strike and then there will be no evidence for international inspectors to look for?"
The Organisation for the Prohibition of Chemical Weapons, a watchdog group, said it had asked Assad for permission to enter Douma on a fact-finding mission. "The team is preparing to deploy to Syria shortly," the organization said in a Tuesday statement.
Trump's tweet was presumably in response to a threat from Russia's ambassador to Lebanon, in which the diplomat said that the Russian military would defend its ally and knock down any incoming missiles.
"If there is a U.S. missile attack, we—in line with both Putin and Russia's chief of staff's remarks—will shoot down US rockets and even the sources that launched the missiles," the ambassador told al-Manar TV, a TV station affiliated with Hezbollah.