Turning Asylum Seekers Away In Response To Coronavirus Outbreak 'Will Endanger More Lives,' Rights Groups Warn
The Trump administration's reported plans to clamp down at the U.S.-Mexico border and start turning away asylum seekers and migrants who try to cross into the U.S. has sparked fears among immigration advocacy groups that more lives could be put in danger.
According to The New York Times, the government is expected to announce a new rule requiring Border Patrol agents to immediately return anyone who tries to cross the U.S.-Mexico border outside designated ports of entry back to Mexico.
Citing four administration officials, the Times said asylum seekers would not be held in U.S. immigration facilities for any length of time, nor would they be given due process. They would simply be driven to the nearest port of entry and forced to return to Mexico.
Otherwise, the officials said, designated ports of entry will remain open to U.S. citizens, as well as green card holders and others with proper documentation allowing entry into the U.S., barring those who have already been restricted from entering the U.S. amid the coronavirus outbreak.
In a statement sent to Newsweek, Department of Homeland Security (DHS) spokesperson Heather Swift said: "President Trump is 100 percent focused on protecting the American people from the coronavirus and all options are on the table."
Human Rights First Director of Refugee Protection Eleanor Acer has warned, however, that "turning people seeking refuge back to danger is not the answer." Instead, she has said, "this decision will endanger more lives."
Already, Acer said in a statement shared with Newsweek, the Trump administration's "Remain in Mexico" policy, which has forced tens of thousands of asylum seekers and migrants to wait in Mexico while their immigration claims are processed, has "resulted in unprecedented danger" for asylum seekers.
Human Rights First has documented hundreds of reported incidents of violence and other crimes against people forced to remain in Mexico under the policy, including children.
Instead of turning asylum seekers and migrants away or taking them into detention, Acer said, the DHS "should be paroling asylum-seekers and using its parole authority to end the Trump Administration's horrific 'Remain in Mexico' policy."
"The president has long made clear he wants to slam the door–and close the border–to men, women and children legally seeking refuge. The administration says that it can't safely hold people who seek asylum in detention, but there is no requirement that asylum-seekers from Cuba, Guatemala, El Salvador, Honduras, Venezuela and other countries be detained for extended periods in this country as they seek asylum," she said. "That cruelty is a policy choice of the Trump Administration that violates human rights treaties and U.S. law."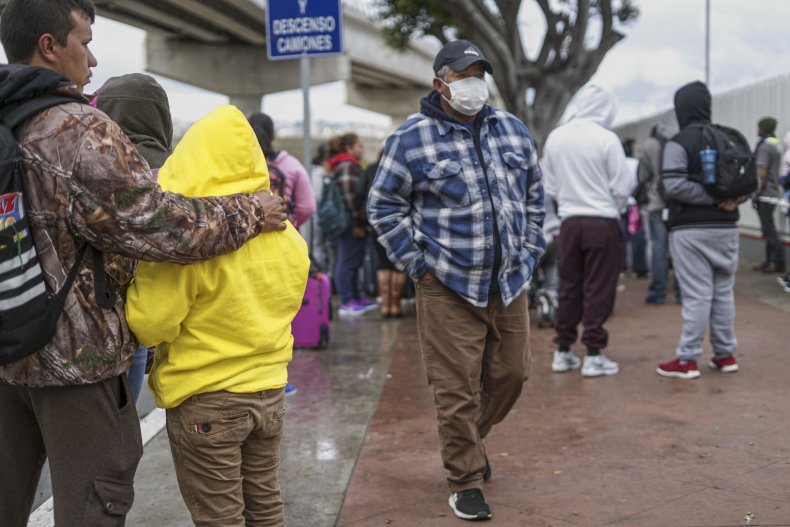 "The Trump Administration has long refused to parole asylum-seekers from immigration detention facilities, despite U.S. laws and regulations providing for parole and despite U.S. treaty commitments that prohibit unnecessary and arbitrary detention," Acer continued. "If the Trump Administration is actually concerned about risks in detention facilities, it should immediately change its draconian detention policies, parole asylum-seekers and others from facilities used by Immigration and Customs Enforcement (ICE)."
Already, there have been widespread calls for ICE to release asylum seekers who could be considered vulnerable to COVID-19. Just this week, the American Civil Liberties Union and other rights groups sued ICE demanding that they release vulnerable detainees.
"Decisions relating to the pandemic should be guided by public health officials, not by the Trump Administration's long-standing agenda to close the border to refugees seeking asylum," Acer said, adding: "The administration is using the pandemic as a pretext to advance its long-term goal of curtailing asylum rights for people fleeing persecution."
In a statement, Frank Sharry, the founder and executive director America's Voice, joined in condemning the Trump administration's reported plans, suggesting that the expected announcement was simply a way to draw attention away from the government's handling of the coronavirus outbreak.
Mimicking a meeting, Sharry jokingly wrote: "'We're getting hammered for screwing up the virus response. What do we do?' Dark man in the corner snarls: 'Shut the southern border to brown asylum seekers. Our people will cheer, the lame stream media will go nuts, and we'll own the libs.' POTUS: 'Do it'."
It is unclear when exactly the Trump administration plans to announce the policy shift, however, such an announcement could come as soon as Wednesday morning. Newsweek has contacted the White House for comment.
Updated: This article has been updated with comment from the DHS.