Trump Attacks on Vindman Are a 'Painful Irony' After President Pardons War Criminals, Congressman Says
President Donald Trump and his allies have once again been condemned for attempting to undermine Lieutenant Colonel Alexander Vindman as he gave evidence to House impeachment investigators Tuesday, with Rep. Denny Heck suggesting that attacks on the Iraq War veteran had "rich but incredibly painful irony."
Vindman, the director for European Affairs for the United States National Security Council, is one of the few officials involved in the House impeachment inquiry into Trump with first-hand knowledge of the call that sparked the probe.
This means he has fast become one of the most important figures in the ongoing public depositions regarding the president's conduct, and a key target for Trump and his allies.
Vindman's record—like that of the other public witnesses to date—shows a commitment to public service that Democrats hoped would frustrate Republican efforts to smear him as an untrustworthy or partisan witness.
But this has not stopped Trump and his supporters from trying. Indeed, even while Vindman was speaking with House investigators Tuesday, the official White House Twitter account posted a message questioning the NSC staffer's judgement.
During the deposition, Heck asked Vindman about his service record and attacked those who sought to malign the Purple Heart recipient in defense of the president.
Vindman was wounded while on a tour of Iraq in 2004, the vehicle he was traveling in blown up by an IED.
Asked by Heck whether he considered leaving the service after the incident, Vindman replied, "No. Frankly, congressman, I suffered light wounds."
"I was fortunate compared to my counterparts in the same vehicle and I returned to duty, I think it may have been that same day," he continued. Vindman then went on to complete the remaining 10 or 1 months of his combat tour.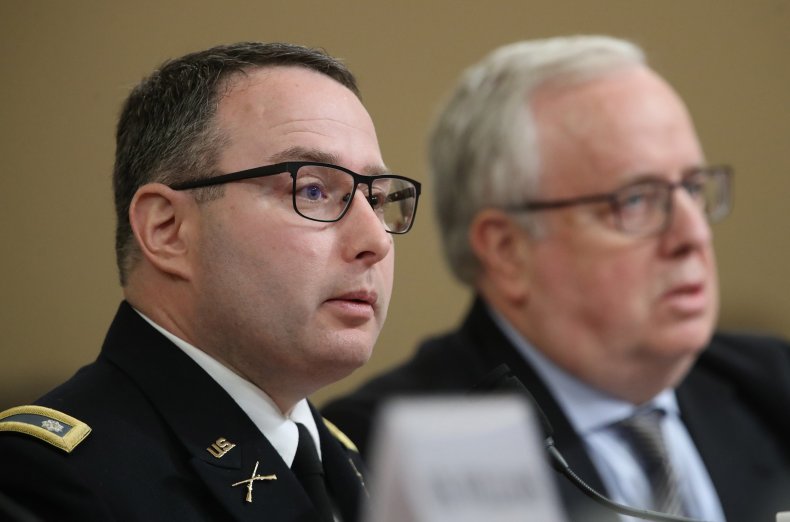 Trump has positioned himself as a staunch ally of the military, regularly citing the increase in the Pentagon budget during his tenure and promising to strengthen the armed services.
Last week, the president pardoned two Army officers accused of committing war crimes in Afghanistan and Iraq—including the killing of civilians—despite widespread opposition, including from senior military officials.
Heck told Vindman Tuesday he finds it a "rich but incredibly painful irony" that the president could attack a decorated veteran like Vindman having pardoned convicted criminals.
Heck said that within a week of pardoning the war criminals, Trump "is engaged in an effort—and allies on his behalf including some here today—to demean your record of service and the sacrifice and the contribution you have made."
"I can only conclude, sir, that what we thought was just the president as the subject of our deliberations in this inquiry isn't sufficient to capture what is happening here," Heck continued. "Indeed, what's subject to this inquiry and what is at peril is our constitution, and the very values on which it is based."