Harvard Law Professor Says Trump Attacking Witness During Impeachment Hearings is Another 'Impeachable Offense'
President Donald Trump attacking a witness during his impeachment inquiry hearings on Friday is a separate "impeachable offense," a Harvard Law School professor opined.
Trump tweeted attacks at ousted U.S. ambassador to Ukraine Marie Yovanovitch—whom the president described as "bad news" in his controversial July 25 call with Ukraine president Volodymyr Zelenskiy—as she offered her testimony before the House Intelligence Committee.
"Everywhere Marie Yovanovitch went turned bad," Trump tweeted on Friday morning. "She started off in Somalia, how did that go? Then fast forward to Ukraine, where the new Ukrainian President spoke unfavorably about her in my second phone call with him. It is a U.S. President's absolute right to appoint ambassadors."
Harvard law professor John Coates noted, "the President of the United States is publicly attacking a witness in a Congressional impeachment hearing while she is testifying."
He is lying about her, her record, and the Constitution, and is threatening her—itself an independent impeachable offense," Coates concluded.
Coates added that "once caught in a crime, Trump's mob-schooled instinct is to intimidate witnesses—yet another crime," and shared a link on whether Trump committed witness tampering.
Coates did not immediately respond to a request from Newsweek to elaborate on his tweet.
Trump's impeachment inquiry arose from his July call to Zelenskiy where he requested an investigation on 2020 Democratic candidate Joe Biden.
Cases for impeaching Trump could include that he solicited a quid pro quo for U.S. military aid to Ukraine amid the Biden probe request, and directing his personal lawyer Rudy Giuliani to push the country to investigate Biden as well as a theory that Ukraine was involved in tampering with the 2016 presidential election on the behalf of Hilary Clinton. An additional case could be Trump improperly pushing out Yovanovitch, who served from 2016 until May. In his call with Zelenskiy, Trump said Yovanovitch was "going to go through some things."
During the hearing on Friday, House Intelligence Committee Chairman Adam Schiff asked Yovanovitch to comment on Trump's real time attacks on her and if it affects witnesses' willingness to speak.
"It's very intimidating," Yovanovitch said.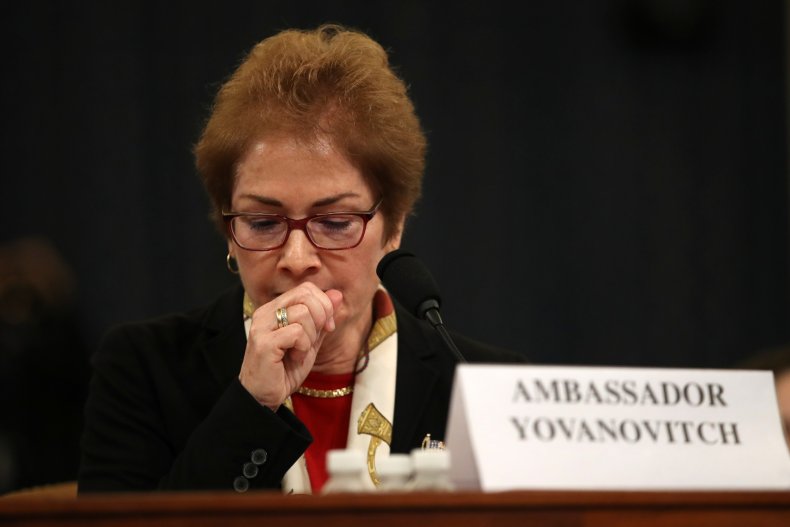 Jordan Libowitz, a spokesman for the watchdog Citizens for Responsibility and Ethics in Washington (CREW), did not go as far as calling Trump's attack a new impeachable offense, but did express concern about its implications.
"While this isn't a judgement if this rises to a criminal issue [because I don't think we're there yet], it certainly is a pretty serious optical issue," Libowitz told Newsweek. "It appears he is using his platform to go after people participating in a constitutionally-mandated process."
Newsweek staff writer Alexandra Hutzler contributed to this report.