Trump Attacks African-American Merck CEO who Resigned in Protest at President's Failure to Condemn White Supremacists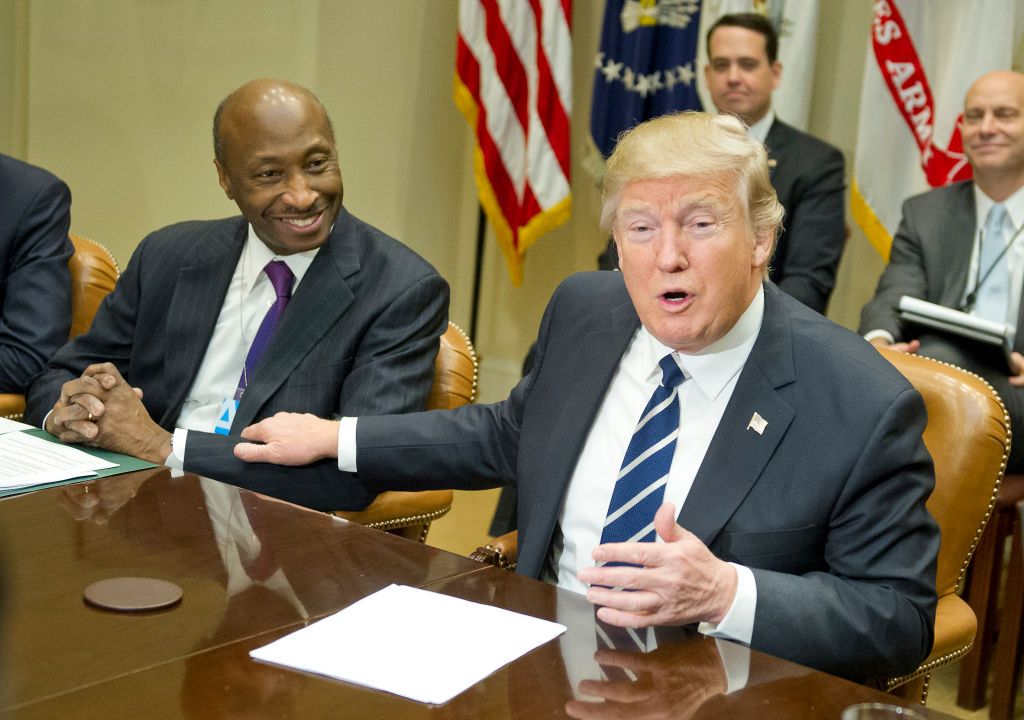 President Donald Trump has criticized an African-American pharmaceuticals executive who resigned from a federal manufacturing panel in protest at Trump's failure to explicitly condemn white nationalists after Saturday's violence in Charlottesville, Virginia.
In a statement posted on Twitter, Kenneth C. Frazier, chairman and chief executive officer at Merck pharmaceuticals, announced Monday he was resigning from the President's American Manufacturing Council.
"America's leaders must honor our fundamental views by clearly rejecting expressions of hatred, bigotry and group supremacy, which run counter to the American ideal that all people are created equal," Frazier said in the statement. "As CEO of Merck, and as a matter of personal conscience, I feel a responsibility to take a stand against intolerance and extremism."
Frazier is one of a small handful of black executives of Fortune 500 companies in the U.S.
Trump faced widespread criticism from Democrats and Republicans after his statement on the violence at a far-right protest in Charlottesville. White supremacists and other groups in the so-called alt-right had gathered to protest the removal of a statue of a Confederate general, with the gathering turning violent and resulting in the death of a counter-protester, run down by a man in a car. Trump had on Saturday failed to condemn white nationalists outright in a statement on the situation, instead referring to violence "on many sides."
"We condemn in the strongest possible terms this egregious display of hatred, bigotry and violence on many sides—on many sides," Trump said at a press conference from his New Jersey golf course, where he is taking a 17-day break.
Less than an hour after Frazier's announcement Monday, Trump responded on Twitter as he departed for a day trip back to Washington from his Bedminster, New Jersey, course.
"Now that Ken Frazier of Merck Pharma has resigned from President's Manufacturing Council, he will have more time to LOWER RIPOFF DRUG PRICES!" he tweeted.
Trump is under building pressure to unequivocally condemn the white supremacists behind Saturday's protests, in which activist Heather Heyer was killed when a car drove into a group of counter-demonstrators. Police believe the man behind the wheel was James Alex Fields, who was earlier Saturday pictured at the protest with members of white supremacist group Vanguard America.
The White House has since sought to clarify Trump's comments, with a spokesman saying in a statement that Trump's condemnation included the Klu Klux Klan and neo-Nazi groups.
Trump has yet to mention the white nationalist violence on his @RealDonaldTrump Twitter account, which he favors for making public statements and attacking opponents.
Critics say the administration has repeatedly failed to criticize white supremacist violence, while being hasty to condemn attacks around the world where Islamist extremists have been involved.