Trump Attacks Germany at NATO Summit, Says It Is Controlled by Russia
President Donald Trump kicked off the much-anticipated NATO summit in Brussels with an attack on Germany, claiming it is controlled by Russia.
Citing the expanding flow of Russian natural gas into Germany and the rest of Europe, the president said the country is "a captive of the Russians," the Guardian reported.
The belligerent remarks were made at Trump's first engagement at the two-day summit in Belgium as he sat for breakfast with NATO Secretary General Jens Stoltenberg. He went on to brand the relationship between Berlin and Moscow "inappropriate."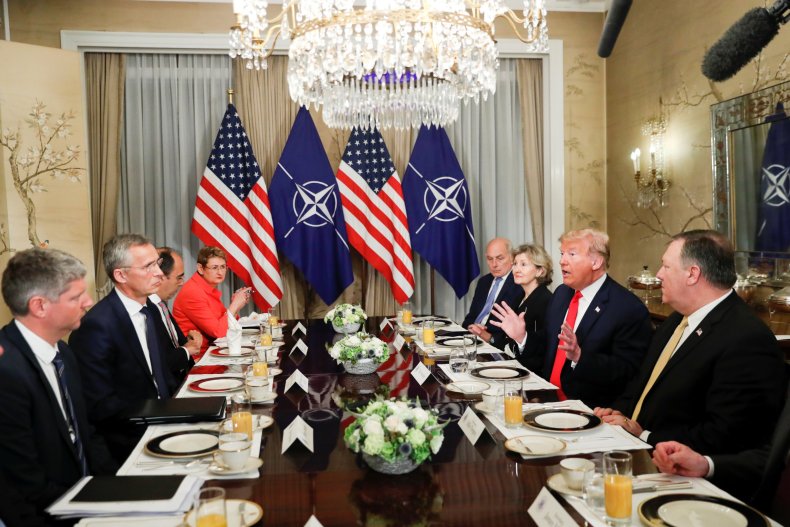 The Nord Stream 2 project—an $11 billion extension of the existing Nord Stream natural gas pipeline by the Kremlin-backed gas giant Gazprom and five European nations—will double Russia's gas export capability to Germany to almost 250 billion square feet per year. It is expected to become operational by the end of 2019.
The U.S. has opposed the project because of its political implications, but work has begun regardless. Trump criticized Gerhard Schröder, Germany's former chancellor, who is now the chair of the Nord Stream AG consortium overseeing the pipeline. The president said such a relationship was improper and that the project "should have never been allowed to have happened."
"Billions and billions of dollars being paid to the country we are supposed to be protecting you against," Trump said to Stoltenberg. "Ultimately, Germany will have almost 70 percent of their country controlled by Russia with natural gas," the president claimed, equating natural gas supply with political control. "Germany is totally controlled by Russia," he argued.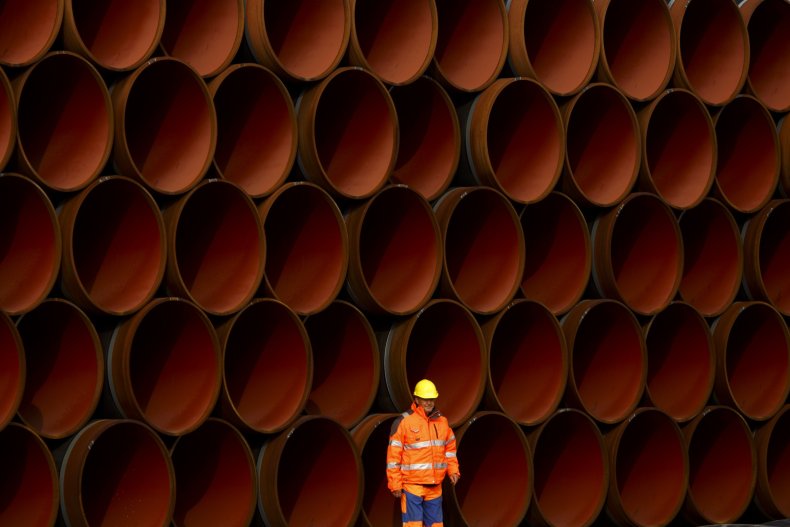 German Chancellor Angela Merkel hit back at Trump's attacks, noting that her country "can make our independent policies and make independent decisions." The four-term leader also said Trump underestimated the value of German involvement in NATO. "Germany is the second-largest provider of troops, the largest part of our military capacity is offered to NATO and until today we have a strong engagement towards Afghanistan," she told reporters. "In that we also defend the interests of the United States."
The NATO summit is part of a seven-day, three-nation trip for the president. After concluding his business in Brussels, he will spend three days in the U.K. He will then fly to Helsinki, where he will meet with Russian President Vladimir Putin. For NATO leaders, seeing Trump jet off for an amicable summit with Putin after a difficult two days in Brussels would be a diplomatic nightmare.
On his way to Europe, Trump sent a number of uncompromising tweets, setting the tone for what could be the most factious meeting in NATO's 69-year history. A longtime critic of the transatlantic alliance, Trump believes the U.S. carries too much of the financial burden in maintaining the NATO defense network in Europe, and has warned he may scale back U.S. commitments unless fellow members increase their input.
As part of their NATO commitments, all members are supposed to allocate at least 2 percent of their GDP to military spending. But since the fall of the Soviet Union almost 30 years ago, few nations have delivered on this pledge. "Other presidents never did anything about it because i don't think they understood it, or they just didn't want to get involved," Trump suggested, warning he would take a very different approach. "We're not going to put up with it, we cant put up with it," he said.
NATO states have now agreed to up their spending, but this will take time, and Trump is not known for his patience. Indeed, at his first meeting of the day, Trump said the U.S. would not wait for an expansion in spending "over a 10-year period—they have to step it up immediately."
This article has been updated to include comments from German Chancellor Angela Merkel.