Trump Calls Haiti a 'Shithole' as Haitians Remember Anniversary of Devastating Earthquake That Killed Thousands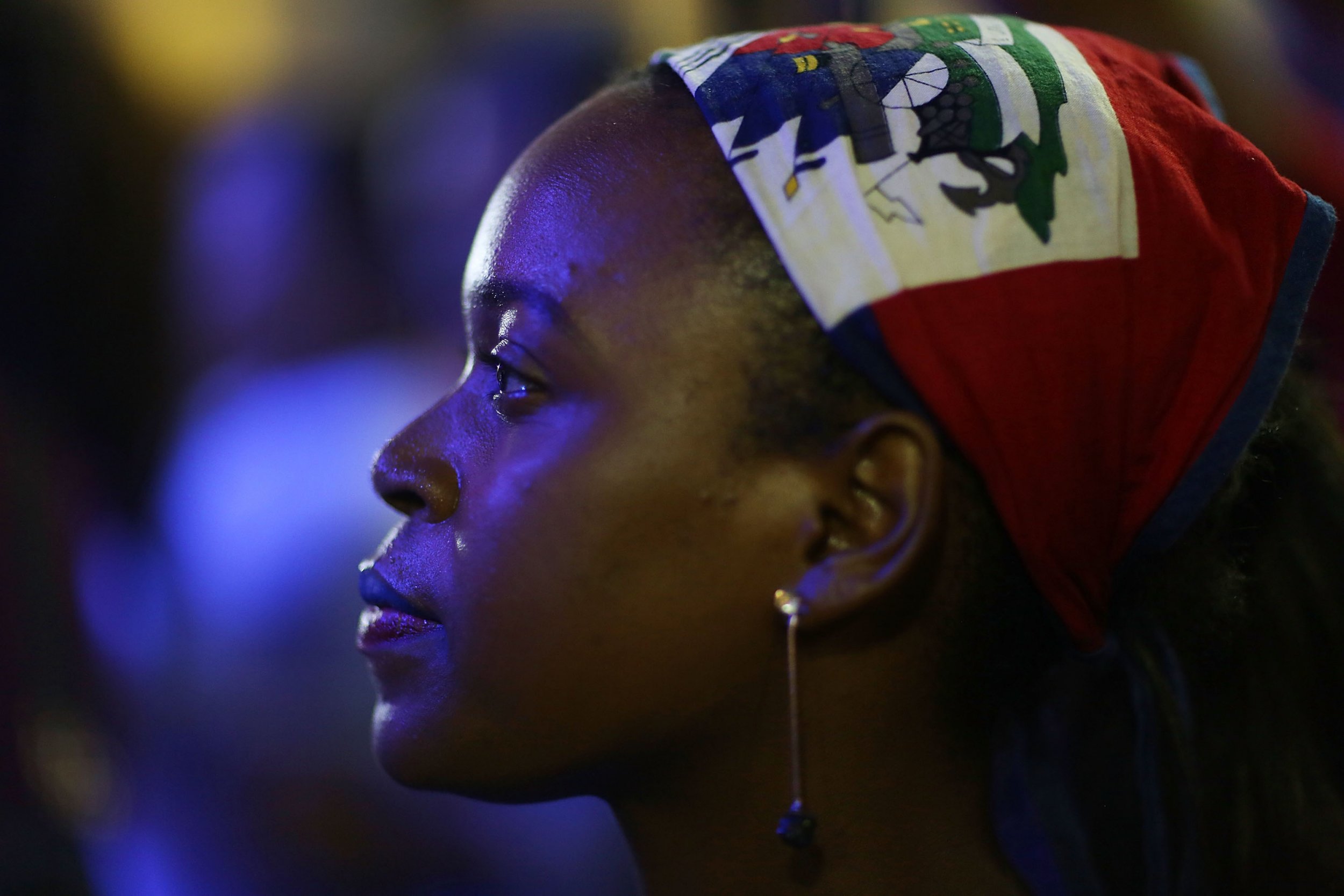 On the day Haitians everywhere remembered the thousands of lives lost and the devastation caused by the earthquake eight years ago, President Donald Trump delivered another blow to the country, reportedly calling it a "shithole."
The remark, the latest disparaging comment from the president about Haiti, did not fall on deaf ears.
Haitians and Haitian Americans were once again outraged by the president who had reportedly once said Haitians "all have AIDS." Haitian government officials Friday said the president's comments reflected a "racist view of the Haitian community," according to the Associated Press.
"This could not come at a worse time," Marleine Bastien, executive director of FANM Ayisen, an advocacy and social service agency in Little Haiti, told Newsweek. "Trump's disparaging comments last night added salt to this fresh, raw wound."
During a meeting Thursday, the president took issue with lawmakers discussing protections for immigrants from Haiti, El Salvador and Africa, according to The Washington Post.
"Why are we having all these people from shithole countries come here?" Trump reportedly said.
The president later denied making the comments, saying he "never said anything derogatory about Haitians," but it is too soon for Haitians to forget. Clyde Vanel, New York assembly member for the 33rd District, said Trump's comments came at a time when many Haitians were already in mourning.
"What's unfortunate on this day, when we should be commemorating such a devastating event that happened, we are talking about vile, racist comments from the president," Vanel told Newsweek.
Vanel flew to Haiti after the earthquake in 2010 that killed nearly a quarter of a million people; some remain missing today.
"I saw the strength the human spirit and the resiliency of the Haitian people," said Vanel. "I saw people digging each other out of the rubble."
Vanel said he planned on visiting Haitian churches Friday to commemorate the earthquake and speak with those who lost loved ones.
After the earthquake, Haitian Americans spent weeks anxiously checking Facebook pages and dialing in to Haiti, hoping to hear that their family members and friends had made it out alive. On Friday, the memory of the earthquake still haunts them.
Bastien said Trump's comments were re-traumatizing Haitians: "This is really having a big, psychological, traumatic impact on our collective being as a people." Her organization, FANM Ayisen, has received people seeking counselors for extra help.
FANM Ayisen members plan on marching through Little Haiti to commemorate the earthquake anniversary Friday afternoon. The organization now must also hold a press conference to address Trump's comments.
When campaigning in Little Haiti, Trump had promised to be a "champion" for Haitians. Later, he said Haitians had AIDS and then cut Temporary Protected Status (TPS) for Haitians, giving an estimated 60,000 Haitians only months to remain in the U.S.
"He has used Haiti as a political football," Rosemonde Pierre-Louis, chairperson for the Haitian Roundtable, a Haitian professional association, told Newsweek.
Haitian politicians have spent the past two days addressing the president's comments. Republican Representative Mia Love called Trump's comments "unkind, divisive, elitist." Others went further, calling the president's comments straight-out racist.
"The notion that he would make such a comment in the context of that meeting really reflects something beyond racism—it reflects a mental instability," Illinois State Senator Kwame Raoul told Newsweek.
Democrat Massachusetts State Senator Linda Dorcena Forry, who is Haitian, said that now, more than ever, is the time to mobilize. "There is a lot of more work to be done," Forry told Newsweek. "We have to continue to respond."
Haitian American political leaders plan on convening later this month to demand more time for Haitians on TPS.