Trump Has 'No Humanity' for Attacking McCain, Who Is Dying, Over Health Care Law, Critics Say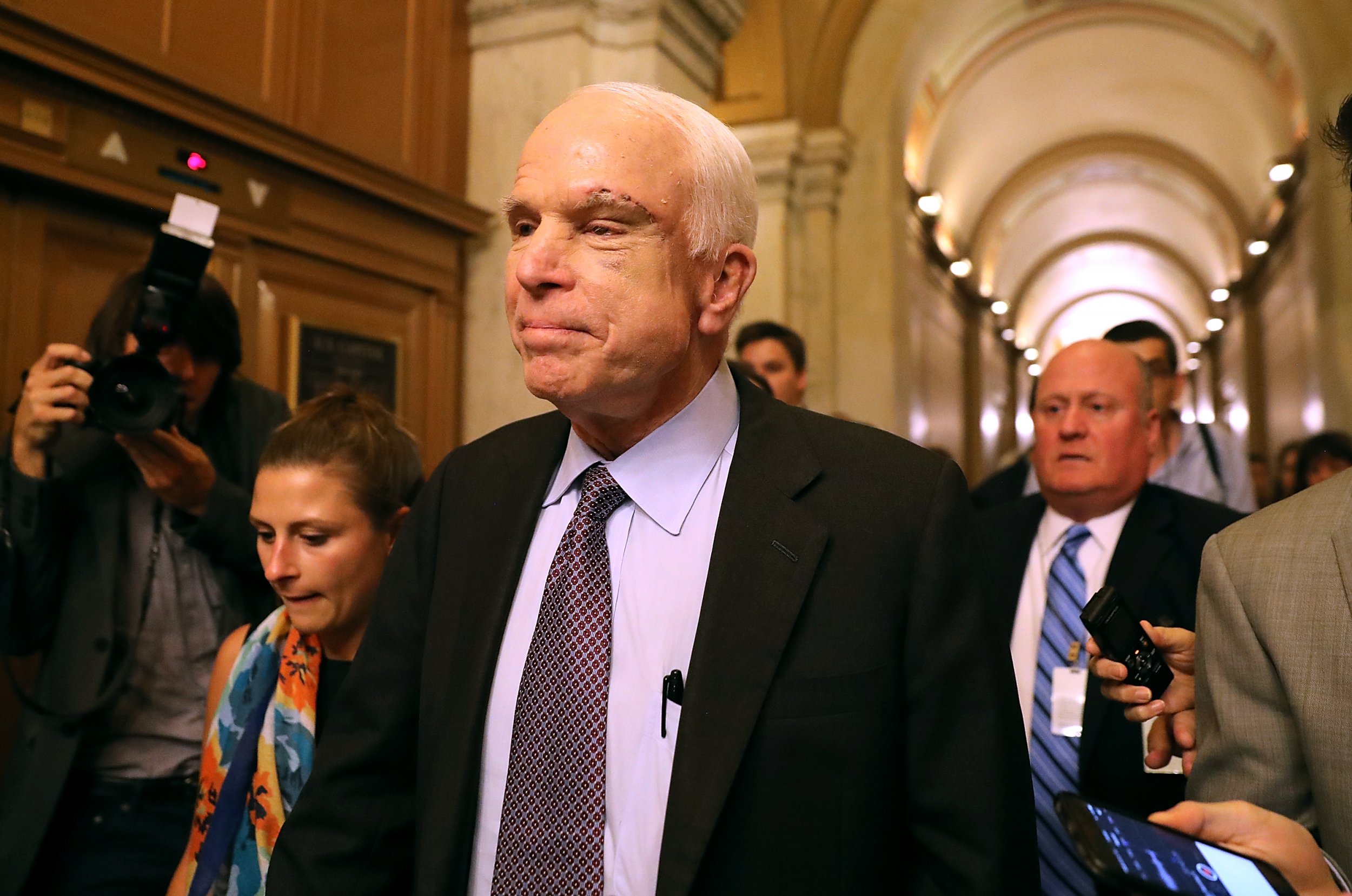 President Donald Trump attacked John McCain over his refusal to back the Republican health care bill, hours after the Arizona senator revealed that his health prognosis for a brain tumor was "very poor."
In an old clip posted by Trump on Twitter, McCain criticizes Obamacare and echoes calls to repeal and replace the bill.
Trump accused the senator of a flip-flop.
"A few of the many clips of John McCain talking about Repealing & Replacing O'Care. My oh my has he changed-complete turn from years of talk," Trump wrote.
In a CNN debate on the issue Monday night, Republican Senator Lindsay Graham, one of co-authors of the Republican Graham-Cassidy bill designed to replace the Affordable Care Act, defended McCain when informed of Trump's attack.
"John McCain was willing to die for this country. So I would say to any American who has a problem with John McCain's vote that John McCain can do whatever damn he wants to. He's earned that right," said Graham.
MSNBC host Joe Scarborough defended McCain in a segment on health care on his show Morning Joe Tuesday.
"You have no humanity," Scarborough said. "You have a man who is dying, and you're using him for political punch lines on talk radio and also in audiences in Alabama?"
"And by the way, for people watching at home, if you're in the audience and John McCain is getting attacked, and he's fighting for his life—unless you were raised in a barn, keep your mouths shut," Scarborough continued. "Show a little respect. Show a little dignity. Show a little class."
In a local Alabama radio show that aired Monday, Trump had criticized McCain for his opposition to the health care bill, and at a rally in the state Friday, the president attacked him for refusing to vote to repeal Obamacare in July.
On Twitter, critics also questioned the appropriateness of Trump's attack.
"Of course, go after the guy with brain cancer: Trump pins blame on McCain as latest GOP health-care bill sinks," wrote John Dean, a White House counsel under President Richard Nixon.
McCain said last week that he would not vote for the Graham-Cassidy bill, and on Monday night, Maine Senator Susan Collins became the third Republican to oppose the bill. Collins's decision effectively tanked the bill, which now lacks the votes it needs.
Earlier in the week, McCain had told CBS's 60 Minutes that his doctors' prognosis for his brain tumor was "very, very serious."
He was asked whether he cast a "no" vote during the recent Senate vote on Obamacare to get back at Trump, who in a campaign trail jibe last year said McCain wasn't a war hero because he'd been captured by the enemy during the Vietnam War.
"If I took offense at everybody who has said something about me, or disparaged me or something like that—life is too short," McCain responded. "You've got to move on. And on an issue of this importance to the nation, for me to worry about a personal relationship, then I'm not doing my job."
He said that Trump had not apologized for the insult, and that they had been raised with different values.
"I'd be glad to converse with him. But I also understand that we're very different people. Different upbringing. Different life experiences," McCain said. "He is in the business of making money, and he has been successful.... I was raised in a military family. I was raised in the concept and belief that duty, honor, country is the lodestar for the behavior that we have to exhibit every single day."