Trump Stays Silent on Hawaii Missile Alert, Retweets Conspiracy Theorist and Attacks Michael Wolff Instead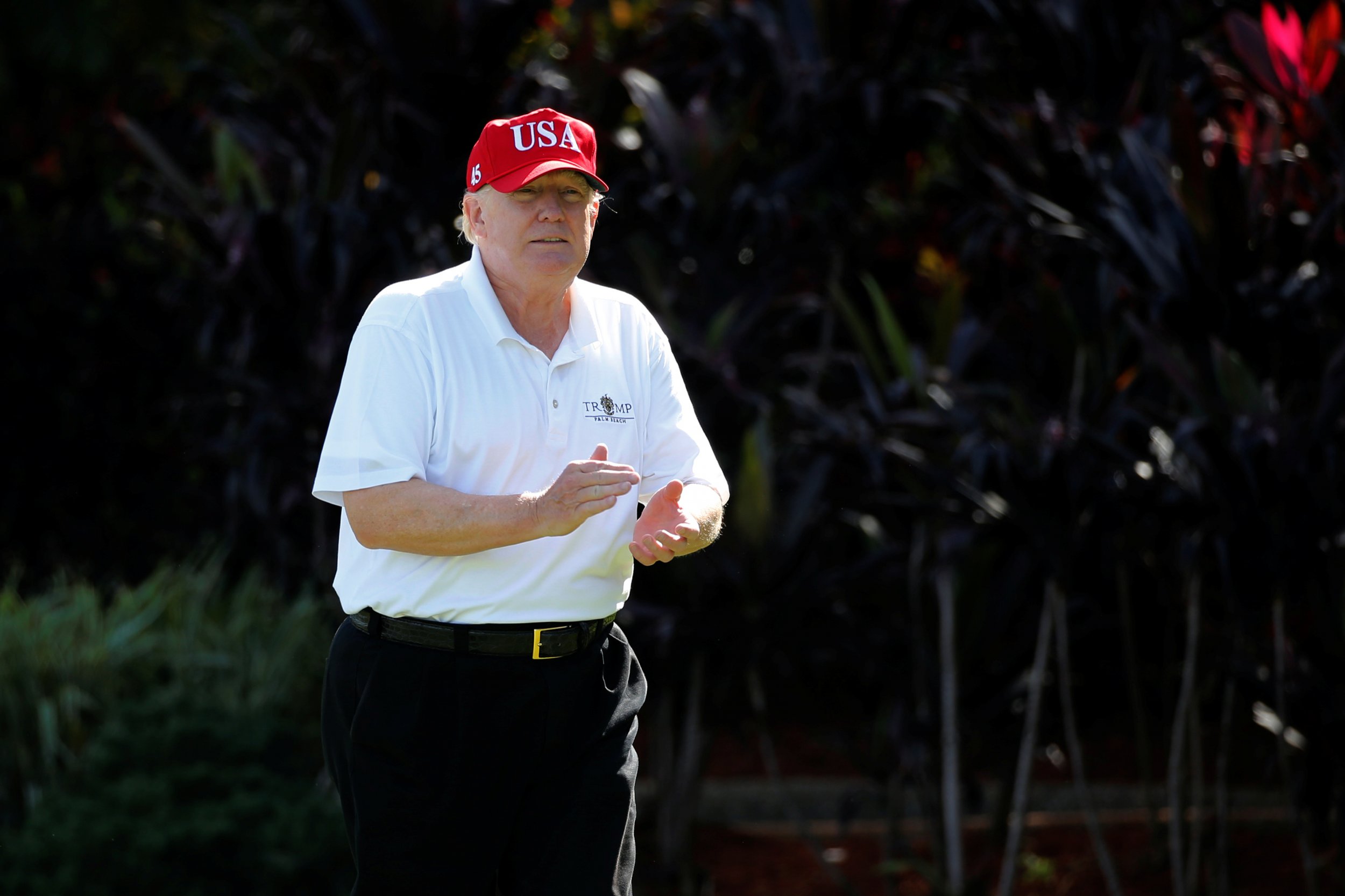 President Donald Trump renewed his attacks on "fake news" and shared a message by an alt-right conspiracy theorist in tweets Saturday—but was criticized for his silence over Saturday's false missile alert in Hawaii.
Trump retweeted a message by Jack Posobiec—an alt-right activist who has spread baseless conspiracy theories about the death of former DNC staffer Seth Rich, and claimed that Hillary Clinton ran a child sex trafficking ring from a DC pizzeria.
The tweet claimed to show Senator Dick Durbin—who has confirmed reports that Trump called develping world nations "shithole" countries in a recent meeting—calling for an end to chain migration, or family migration. In the clip Durbin in fact calls for chain migration to be limited but not ended.
The president also drew criticism for failing to reassure Hawaiians after false ballistic missile alert plunged the island into nearly 40 minutes of panic, before being declared a false alarm.
Trump was on the links at the Trump International Golf Course in Florida after the emergency alert was issued at approximately 1:09 p.m. EST, before leaving for Mar-a-Lago at around 1:38 pm, according to pool reports.
State officials and the U.S. military's Pacific Command has confirmed there was no actual threat to the state, but Hawaiians waited for nearly 40 minutes for officials to retract the warning.
In his first tweet after the incident—which has been blamed on an official pressing the wrong button—Trump renewed his attack on Fire and Fury author Michael Wolff.
"So much Fake News is being reported. They don't even try to get it right, or correct it when they are wrong. They promote the Fake Book of a mentally deranged author, who knowingly writes false information. The Mainstream Media is crazed that WE won the election!" the president wrote.
White House deputy press secretary Lindsay Walters said in a statement cited by The Huffington Post that the president had been "briefed on the state of Hawaii's emergency management exercise."
"This was purely a state exercise," she added.
A White House official told CNN that the president was briefed in person by national security adviser H.R. McMaster, deputy national security adviser Ricky Waddell and White House chief of staff John Kelly. Politico reported that the situation did not prompt a reaction from the president's national security team because the alert was false.
At the time of publication, Trump had issued no statement on the incident.
Trump was criticized for continuing his round of golf as Hawaii panicked, and for his silence on the incident.
"For 38 minutes American citizens in Hawaii braced for a ballistic missile strike ... and @realDonaldTrump continued his round of golf in Florida on his 120th taxpayer funded vacation day in less than a year," tweeted former Pentagon official Morris Davis.
"Trump knew within minutes no missile was hurtling toward Hawaii. He was golfing. They told him. He did not tweet out that info. He kept golfing. People thought they & their families were going to die FOR 38 MINS. Then when the panic was over he tweeted how media is so mean to him," tweeted author Reza Aslan.