At Davos 2020, Trump Could Have Awkward Encounters With Greta Thunberg, Zelenskiy, George Soros And Others
Donald Trump is set to appear on the international stage at next week's World Economic Forum in Switzerland, but if the past is any indication, the appearance may not be smooth sailing for the president.
Trump, who is already under immense political scrutiny at home as the Senate prepares for his impeachment trial, is likely to be one of the most influential and controversial world leaders to attend the annual event.
Other big names expected to attend include Finnish Prime Minister Sanna Marin, German Chancellor Angela Merkel, Democratic mega-donor George Soros, Ukrainian President Volodymyr Zelenskiy and teenage climate activist Greta Thunberg. Nearly 3,000 leaders from 118 countries are expected at the gathering, which will take place in Davos from January 21 to January 24.
This year, the forum's theme is "Stakeholders for a Cohesive and Sustainable World" and will be largely focused on the intensifying global climate crisis. Trump's anti-environmental-regulation policies and his skepticism about global warming, which was seen in his pullout from the Paris climate accord, are likely to make him a target throughout the event.
World Economic Forum President Børge Brende confirmed as much to CNBC on Wednesday. He said that Trump will probably be questioned on his environmental beliefs during the event and that "we like frank conversations to move the world forward."
Next week will also be the first time that Trump will cross paths with Thunberg since the two squared off at the United Nations climate change summit last year. A video of the 16-year-old Swede staring directly at the president went viral. The moment happened just after Thunberg delivered an emotional speech slamming world leaders for their inaction on climate change.
While Trump hasn't seen Thunberg in person since the U.N. meeting, he has taken aim at the teenager on Twitter. In December, the president tweeted that "Greta must work on her anger management problem, then go to a good old fashioned movie with a friend! Chill Greta, Chill!" Thunberg was quick to respond by using the remark for her new Twitter biography: "Currently chilling and watching a good old fashioned movie with a friend."
Weeks after the Twitter episode, Thunberg took a swipe at the president, saying that she "wouldn't have wasted my time" talking to Trump about the dangers posed by climate change if the two had had a chance to speak at the U.N. summit.
"Honestly, I don't think I would have said anything because obviously he's not listening to scientists and experts, so why would he listen to me?" she said.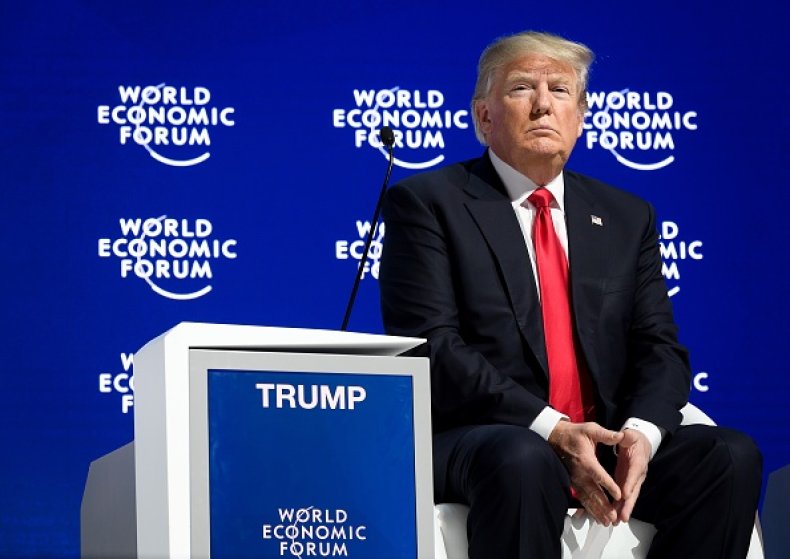 Another Trump foe who will be at the Davos summit is Soros. The liberal billionaire investor has been one of the president's most prominent critics. Soros has created a new super PAC ahead of the 2020 election to support Democratic candidates and causes.
Zelenskiy's presence at the global forum could also put Trump in an awkward position. Trump's dealings with the Ukrainian leader are at the center of his impeachment trial. This will be the first time the two leaders have met since the House of Representatives voted to impeach him.
Congressional Democrats charge that the president abused his power by withholding nearly $400 million in military aid to Ukraine in exchange for a politically motivated probe by that nation into former Vice President Joe Biden and his son Hunter. Trump has denied these charges, but a number of his associates have implicated him in the alleged scheme.
On top of Trump's scandals, experts at Eurasia Group and Control Risks have named "American politics" the biggest threat facing the world in 2020, according to a new CNN report.
Trump actually skipped the economic conference in 2019, citing concerns about the "safety of our nation" amid the partial government shutdown over border security. His cancellation cost U.S. taxpayers at least $3.2 million for car rentals and unused hotel rooms, according to Quartz.
But it seems as though the president has no qualms about traveling abroad during his impeachment trial, which is expected to begin January 21. White House principal deputy press secretary Hogan Gidley told reporters on Wednesday that Trump is "absolutely" comfortable about attending the forum.
"He is scheduled to go, and we're prepared to go, but we'll see what happens," Gidley said. He added that Trump is "focused on doing his job, focused on making the lives of all Americans better."