Trump Spends Juneteenth Hyping Rally, Tweets Threats to Tulsa Protestors
Friday appeared to be just like any other day on President Donald Trump's Twitter account.
He criticized the Supreme Court upholding Deferred Action for Childhood Arrivals, decried "terrible" Fox News for a "phony poll," touted his approval rating among Republican voters and hyped up the crowd size for his weekend rally in Oklahoma.
Trump also ridiculed top infectious disease doctor Anthony Fauci, endorsed several Republicans and warned that "Any protesters, anarchists, agitators, looters or lowlifes who are going to Oklahoma please understand, you will not be treated like you have been in New York, Seattle, or Minneapolis. It will be a much different scene!"
But noticeably absent from his 20 social media posts as of Friday afternoon to his more than 82 million followers was a mention of Juneteenth, the 155th anniversary of an historic day that honors the official end of slavery on June 19, 1865, news that came more than two years after the Emancipation Proclamation took effect.
Trump did not make any public appearances Friday, with the only item on his daily schedule being a midday intelligence briefing—although public schedules don't always include all of a president's activities.
The absence of an acknowledgment comes as the country is at a major self-reflection point on racial injustice and police brutality, and while Congress works to pass a sweeping police reform package.
It also stood in stark contrast to Republicans on Capitol Hill, some of whom issued public statements of their own.
The only mention of the holiday came from White House press secretary Kayleigh McEnany, who read a prepared statement from behind a lectern to reporters that she said was from Trump.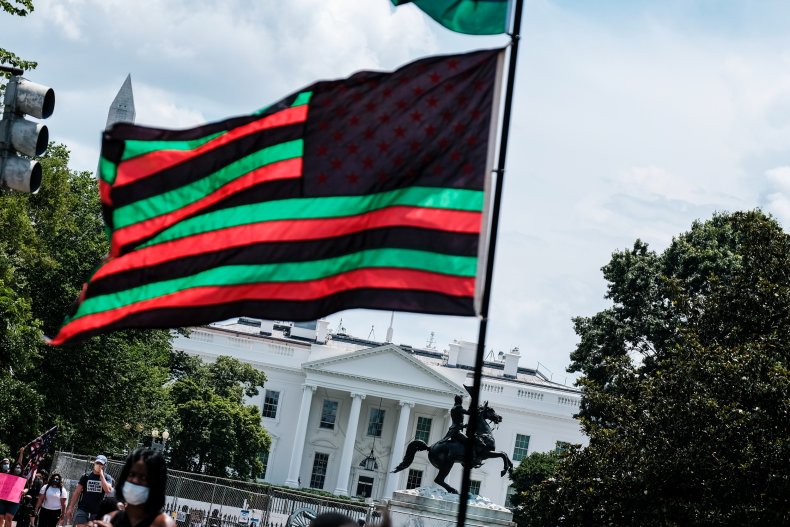 "Juneteenth reminds us of both the unimaginable and injustice of slavery, and the incomparable joy that must have attended emancipation. It is both a remembrance of a blight on our history and a celebration of our nation's unsurpassed ability to triumph over darkness," McEnany said.
She continued: "That ability is rooted in the fundamental goodness of America, and the truths upon which we as a nation declared and into our status as the subjects of a monarch and emerged as a free and independent people. Those truths that all men are created equal by the hand of God, endowed by our creator, with the right to life, liberty and the pursuit of happiness."
Trump originally scheduled his rally in Tulsa for Friday but was forced to push it back to Saturday amid fierce backlash for planning such an event on Juneteenth and in the hometown of the Tulsa race massacre of 1921.
In a series of tweets last week, Trump wrote that he decided to move the date after "[m]any of my African American friends and supporters" reached out "to suggest that we consider changing the date out of respect for this Holiday, and in observance of this important occasion and all that it represents."
Trump has taken credit for spawning news coverage of the unofficial national holiday, despite its longstanding existence and the racial justice protests that have been taking place for weeks in the wake of George Floyd's death.
"I did something good: I made Juneteenth very famous," Trump told the Wall Street Journal, referring to news coverage of the rally date. "It's actually an important event, an important time. But nobody had ever heard of it."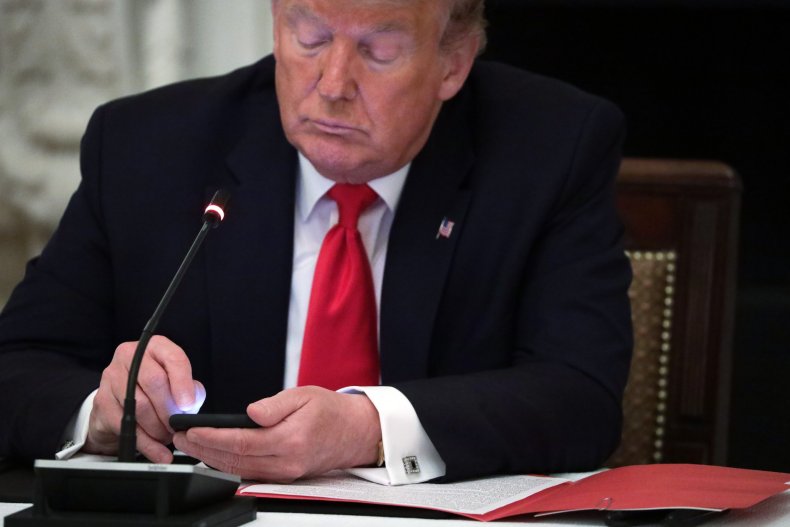 Elected officials honored Juneteenth in various ways.
Amid a national push for Congress to establish Juneteenth as an official federal holiday, Senator John Cornyn (R-Texas) said Thursday that he planned to file a bill that would do just that. Slaves in Texas were the last to be freed after federal troops arrived in Galveston, thus creating Juneteenth.
"It's an opportunity to reflect on our history, the mistakes we have made, but yet how far we've come in the fight for equality, and a reminder of just how far we still have to go," Cornyn said on the Senate floor. "That is especially true this year."
Cornyn wasn't the only one to propose such a measure.
Democratic Senators Tina Smith (Minn.), Edward Markey (Mass.), Cory Booker (N.J.) and Kamala Harris (Calif.), as well as Representative Sheila Jackson Lee (D-Texas), have unveiled similar but separate pieces of legislation.
Some governors, such as Andrew Cuomo (D) in New York and Ralph Northam (D) in Virginia, deemed Juneteenth a holiday and gave state employees the day off. Texas made it a state holiday back in 1980.
Several companies, including Nike, Twitter, Ben & Jerry's, Netflix, Lyft, Uber, Target, Mastercard, J.C. Penney. Adobe, Quicken Loans, Tumblr, and Postmates, also made Juneteenth a paid holiday for their workers.