Trump Avoids London: Baby Balloon Makes Me Feel Unwelcome
President Donald Trump is well aware of the protests his visit to the U.K. has spawned, according to an explosive interview with a British tabloid newspaper.
The president's comments—made during the NATO summit in Brussels earlier this week—were published soon after Trump sat down with Prime Minister Theresa May for a black-tie reception at the 18th century Blenheim Palace. As the two sides were making nice over dinner, Trump's trademark diplomacy was creating waves throughout the British press.
Among a selection of inflammatory remarks, the president said he was well-aware of the protests that have been organized to mark his visit. He even addressed the now-famous Trump Baby balloon that would fly above the largest London march, saying it made him feel unwelcome.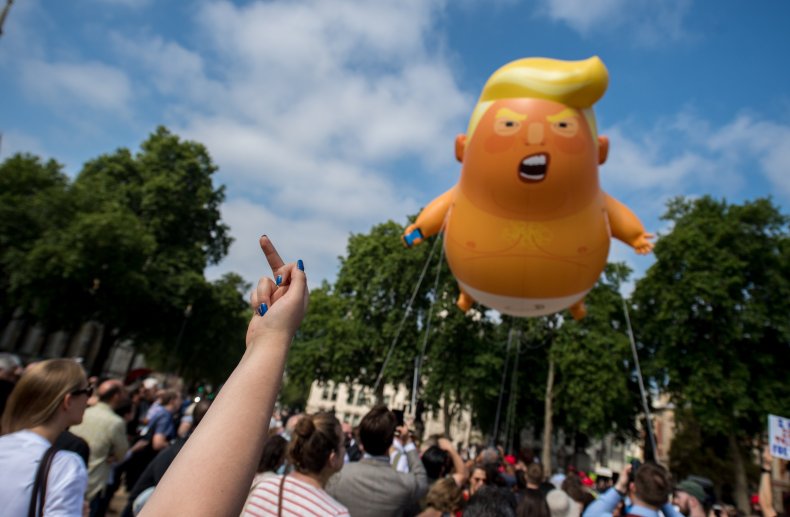 "I used to love London as a city," the president told The Sun. "I haven't been there in a long time. But when they make you feel unwelcome, why would I stay there?" he continued. "I guess when they put out blimps to make me feel unwelcome, no reason for me to go to London."
The balloon is already flying above Parliament Square in central London, as demonstrators head to rallying points ahead of marches throughout the day. Though organizers have promised a peaceful, carnival atmosphere, Trump's comments have elicited angry responses from British politicians.
Related: President Donald Trump in the U.K. to meet Prime Minister May and the Queen
Trump lashed out once more at London Mayor Sadiq Khan, with whom he has always had a combative relationship. "You have a mayor who has done a terrible job in London. He has done a terrible job," Trump claimed. "Take a look at the terrorism that is taking place. Look at what is going on in London," he said.
Khan has given permission for the Trump balloon to take to London's skies today. On Friday morning, he told BBC radio that the U.K. has a "long and rich history of the rights and the freedoms to protest, the freedom of speech, the freedom to assemble." As for the balloon, "Can you imagine if we limited freedom of speech because somebody's feelings might be hurt?" Khan said.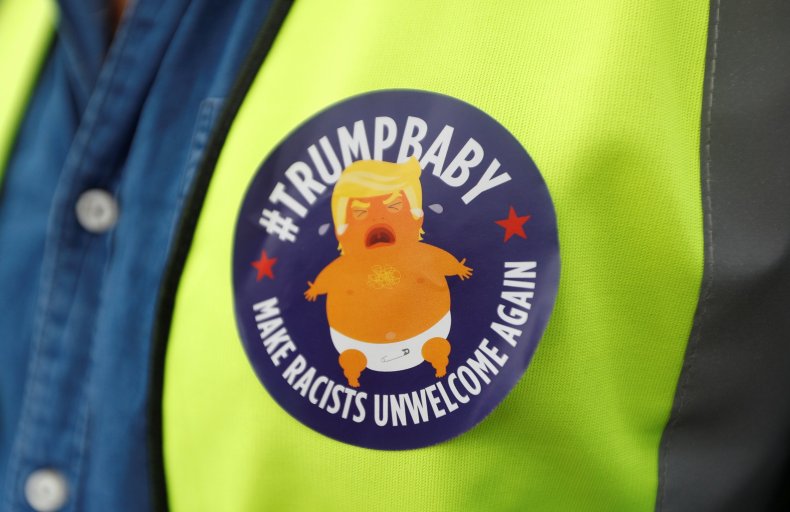 Responding to Trump's latest barbs, Khan simply said he thought it was "interesting that President Trump is not criticizing the mayors of other cities" that had suffered terror attacks. It has been speculated that Trump's disdain for the mayor could be because of his Muslim faith.
Trump will spend the majority of his trip outside of London. Having dined at Blenheim last night, he will spend the day watching a military exercise at Sandhurst military academy before heading to the prime ministerial estate at Chequers for a working lunch with May and Foreign Secretary Jeremy Hunt. Later today, he and Melania will have tea with Queen Elizabeth II at Windsor Castle.
Meanwhile, thousands will be taking part in two separate London protests. The Bring the Noise women's demonstration will kick off the day's action, marching from the BBC headquarters down to the British seat of government in Parliament Square. Later, the Together Against Trump protesters will go from just outside Regent's Park to Trafalgar Square.