Jimmy Kimmel Fires Back at Trump's Fake News Awards With 'Dishonest and Corrupt President Awards'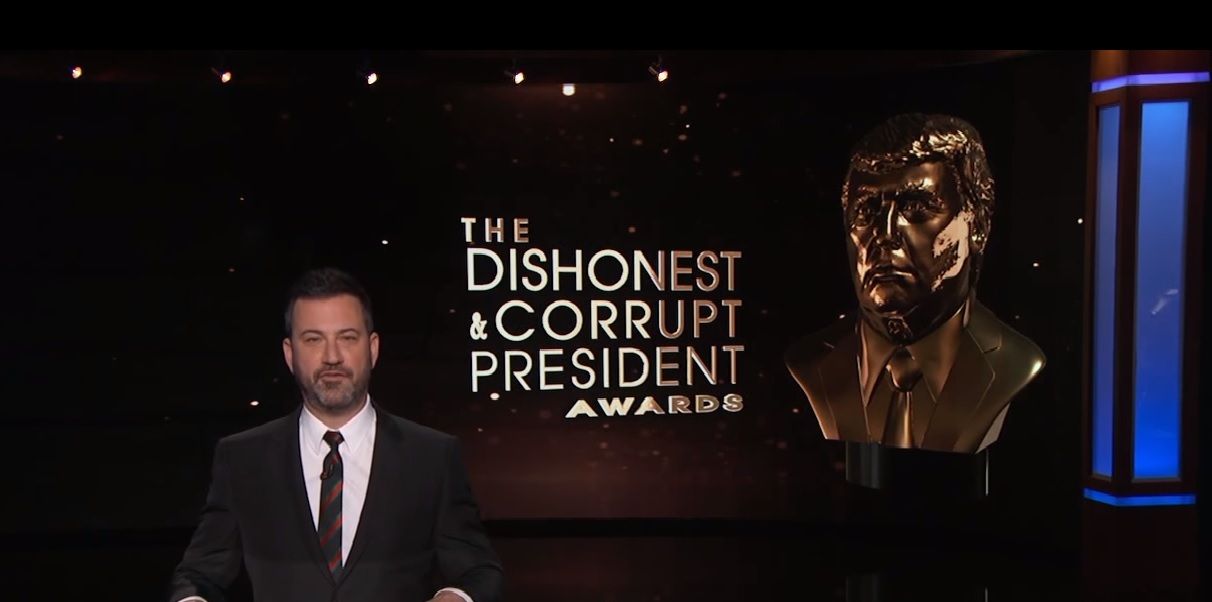 On Wednesday, President Trump unveiled his promised Fake News Awards, ostensibly hoping to embarrass national media publications for stories they had already retracted or publicly corrected. (Newsweek earned one of the awards for a quick post about Polish First Lady Agata Kornhauser-Duda evading the president's handshake. She later came back and shook Trump's hand, making the earlier post what Trump so eloquently calls "fake news.")
That night, Jimmy Kimmel acknowleged Trump's "honors" with a bit that featured "Wolf Blitzer" accepting a Fake Newsie (a trophy topped with a golden middle finger). And on Thursday, the late-night host hit back harder by announcing some prize winners of his own: The Dishonest & Corrupt President Awards.
Kimmel recognized "winners" in four categories, such as "Best Self-Proclaimed Bestness" and "Best Fabricated Numbers." Kimmel even handed out trophies—a kind of cylinder on a base topped with a small Trump bust.
The comedian's mock award show ribbed Trump for his insinuations that Barack Obama was born in Kenya, not Hawaii; for his insistence that he has "the best words" and loves the Mexican people; and his statement that he knows tax law better than anyone.
It would seem like a Sophie's choice to recognize one nominee over another, but Kimmel powered through. The winner of the "Best Fabricated Numbers" category, for example, was Trump's assertion that 3 to 5 million people had voted illegally in the 2016 presidential election. It bested Trump's claims that he has appeared on "14 or 15" Time covers and that his net worth is "over $10 billion."
Newsweek subscription offers >
Jimmy Kimmel Fires Back at Trump's Fake News Awards With 'Dishonest and Corrupt President Awards' | Culture